I have known Rik for years and I just recently met Christa.... I had seen the band play at Wacko and loved their high energy and how tight they were as a band. I recently sat down with Rik and Christa and asked them a few questions.... I hope you enjoy my interview with the nucleus behind the The Woolly Bandits.......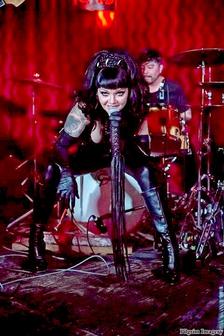 PUNK GLOBE: I had such a Fun time recording with you all. Rik how did you get involved with this project?
Rik: Mike Vallejo from Circle One asked me to play bass with him and Brian Migdol (Black Flag) just for fun. They had a studio that they could jam at for free, cause one of Brian's family members worked there. Then they had the idea to play a bunch of songs that we all liked growing up and that turned into, Hey! lets record them and get different people to play and sing. We wanted our friends, people we've played with and People we have never played with, ya know just have fun recording.
Its now snowballed into this cool compilation project and more people are jumping on board, the cast of kooks are so good..
PUNK GLOBE: Tell the readers who the key players are in the band, some of the special guest who will be recording with the band.
Rik: Sure, Mike Vallejo (Guitar) Brian Migdol (Drums) and I'm on bass, on all tracks. Dez Cadena is doing lead guitar on "Born To Loose" Casey Royer sings on "Neat, Neat, Neat. Ferall Hotlz "Stranded", Liz McGrath "Fix Me", Christa Collins "Ever Fall In Love", Suzi Moon "American In Me". We have Dave Vanian set up for "Pushing Too Hard" and a bunch more surprises, oh yeah and recently Bill Close from The Freeze came on board and is laying down some 2nd geeter. oh yeah .........Ginger Coyote on "Teenage Kicks... Many more TBA
PUNK GLOBE: Do you have a projected release date. Any chance of playing some live shows?
Rik: No project release date as of yet. But there is interest in putting together a live show.
We decided to start releasing tracks as we finish them, and then when it's complete we'll press some vinyl with all the tracks in a compilation form. Working title is "High School Confidential", we want pics of everyone on it when they were in high school and Raymond Petibon is doing the cover or so I think he is. all songs will be played first on Rodney Bingenheimer's Sirius radio show on The Underground Garage channel. We'll have a release Party and round up everyone involved on the record to perform live. Rodney said he'll host the show.
PUNK GLOBE: You and your wife Christa have your own band The Wooly Bandits . How long have you been together, who else is in the band?
Rik: The Woolly Bandits was originally a 3 piece, started by myself, Mark Bellgraph, and Dave Klein called The Warts. we all played with Sky Saxon in The Seeds , so we sprouted from that whole project, we changed the name to The Woolly Bandits (nickname Sky's friend Mama Sweet had for him) Sky hated The Warts name, he also hated The Woolly Bandits . Christa joined the band in 2009 and it became a whole other beast. We have gone through different forms and members, been quite a ride, currently we have Tom Dolan on Keys and revolve 3 drummers, Mark Benquechea, Kelly Kusumoto an Josh Jones. We've had over 20 drummers haha ouch! We really became a band when Christa joined.
Christa: I would say Rik is the core of the Woolly Bandits. It was his brain child and he is the captain that keeps the ship moving.
PUNK GLOBE: How did you come up with The Woolly Bandits as a name? I guess Rik pretty much answered the question. Christa, what is your take on the name?
Christa: It's an ode to the late great Sky Saxon of The Seeds. Rik put together a great line up to do a revamp of the Seeds and they did several national and European tours together. There was a lot of interest in who Sky's backing band was, which got Rik thinking there would be an opportunity there to branch off beyond the Seeds. There was a woman named big Mama Sweet Sky would stay with when he was living in LA. She would call Rik when she had enough of Sky's antics. One day she told him, "ooh child you need to get this man outta here. He coming up here trying to suck on my toes and steal loving on me... He ain't nothing but a Woolly Bandit..." and so we were named for Sky.
PUNK GLOBE: You recently went on a mini tour. Tell the readers about your show.
Christa: The tour was so much fun! We are not your typical band in that we require a certain amount of audience participation. Music is cathartic and we all need a lot of that right now! We want our audience to dance, to scream, to get up on stage with us and let your freak flag fly! If I feel like you're not being engaged, you will likely end up with me in your face provoking it out of you, or bent over a speaker for a flogging, whatever the situation requires. The last run of shows were great! Everyone was very enthusiastic and I had lots of willing participants/ victims.
PUNK GLOBE: I first met you through our mutual friend Paige Darling, who was close with Greg Shaw who started Bomp Records. Did you ever have play Paige in a band. Did you work with Greg Shaw?
Rik: Never had a band with Paige but her band the Darlings and my band with Liz McGrath called Tongue, we played shows together. Paige and I spent a lot of time with Greg, she was his roommate for a while and we were kicking it together, we'd babysit for him and try some of his extensive collection of psychedelics, but not at the same time!. He was so much fun and a unique character on the scene, he was kind of like a psychedelic, Rock And Roll Shamen. i first met him when I was playing bass in a band called The Venusians, I was 18. The Venusians had just moved to L.A. from Boston, really cool garage rock band, this was around 89, lead by Jeff Kabot (vocals) and Jeff Martin (guitar). No one liked Garage at that time everything was butt rock and Glam Metal. Greg heard us and we recorded a doomed record for Bomp/Voxx Records.
The recording was all done, when at the photo shoot the drummer and i got into a fight, the band essentially broke up at that point, with no band Greg shelved it. Years later he would joke with me and say, "well if any of you get famous or die tragically i'll releaser it." I guess it will never be released.....or will it? The Jeff's we're a big influence on me in more ways than music, There is a direct line between them and The Woolly Bandits, we recorded several of their songs, sadly Greg has passed over but yeah good times.
PUNK GLOBE: White Trash Debutantes played some wild shows with Tongue. What memories do you have from those days?
Rik: One of the best is when we played with White Trash Debutantes near the military base in Oceanside I think? somewhere on the way to San Diego, anyways all these young jarheads showed up all wound up. I never saw any one handle guys like this before, you had them on the floor riding on their backs and spanking and making them dance, amazing! oh yeah and you always had hot Japanese go go dancers/back up singers, what more can you ask for?
PUNK GLOBE: Tell us more about Tongue. How did you and Liz Mcgrath hook up?
Rik: Whoa that's a long one, well, we met at an underground warehouse party I was throwing in Vernon through our friend Tracy. Liz wanted to do a punk band, she loved Crass, one night we got together and I saw her drawings and read her lyrics, so twisted coming out of this cute tiny little half Chinese/ Irish girl. I loved it, and devoted 100% to that band for over 8 years or so. We did two albums and a single, on a few comps and did a shit load of shows and some touring.
so many stories, so little space.
PUNK GLOBE: Besides you and Liz, who else played in Tongue?
Rik: Originally I brought in my friend Jason Coda (Guitar), he brought in Todd Shiroma (Lead Guitar) Chris Cunningham (Drums) then we had a falling out with them and got Ivan X (Guitar) and Kevin Steger (Drums) thats the line up most people know.
PUNK GLOBE: Tell the readers how you met Sky Saxon:
Rik: I met Sky when I was about 18 at Silvery Moon studios which used to be near Trashy Lingerie in West Hollywood. The Venusians were recording an album there for Bomp/ Voxx Records. the producer Gary Stern says "oh btw stick around guys, Sky Saxon and Arthur Lee are gonna swing by" I was like wha??? I had been listening to them for years, my parents had those albums. I actually spent more time with Arthur back then but he went to jail soon after. I wound up staying in touch with sky, he would jump in and sing with The Venusians once and while, he was borderline homeless back then but always skated on his name and fame. Wild Times.
PUNK GLOBE: Rik, you have played with so many bands. Tell us who and when?
Rik: Oh Boy, well my first band was called 80 Proof, I know, sounds like a lame hair Metal band name but I assure you we weren't, just loved alcohol at the time. I was a teenager. We mostly played covers but did record a few originals. My uncle Randy was in the band, he was two weeks younger than me but played the guitar years ahead of me, so I played bass and we both sang. we both joined The Venusians, I payed with Son Gun, Tongue, Caustic Resin, The Stains, Decry, The Seeds, The Sloths and I know I'm forgetting a bunch. The Glitter Critters, that was a fun little side recording project that Rodney Bingennheimer actually imagined. I'm on Bass, Christa on vocals, Kevin Preston (Prima Donna) Guitar and Clem Burke (Blondie) Drums, were playing this at Wacko for the first and probably only time at Rodney Bingennheimer's record release party for his Christmas Compilation, we did "Little Drummer Boy" on that.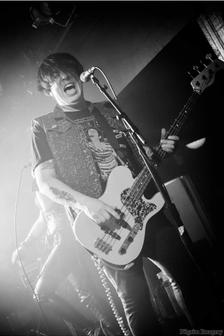 PUNK GLOBE: Christa, tell us more about your musical background.
Christa: I come from a very different place than Rik, which I think is why we have so much fun and our shows are so well rounded. I grew up performing with artist like Little Richard, Brian Wilson, and Micheal Jackson just to name my favorites. I did a national tour of Les Miserables which was thee best job I have ever had! I have played stadiums and performed for tens of thousands of people, which is a great high! But I learned a lot being on the road with the Bandits and the DIY punk ethic. I already had it, to the degree that I always made my own clothes, follow the golden rule, and had a heart for community and rebellion. Rik helped me recognize and hone my skills, and turned me on to obscure music I probably would have never known otherwise like Klaus Nomi and psych garage music. I'll never forget the feeling I had the first time I watched a video of Iggy Pop walking on the audience smearing peanut butter on his chest. That was an awe inspiring light bulb moment for me, I wanted to be doing that!
PUNK GLOBE: Christa did you have vocal training?
Christa: I didn't have any professional voice training until I booked a job with a big corporation who shall remain nameless. Let's just say they have a rodent as a mascot. I got to work with Seth Riggs who has worked with everyone from Natalie Cole, to Gwen Stefani, and Micheal Jackson which is how I eventually got to work with MJ
PUNK GLOBE: Wow! Who are some of your musical inspirations?
Christa: Going back to some of my earliest inspirations it would have to be Cookie Monster "C is for cookie" and Gem and the Holograms, though I secretly liked the lesser known Misfits better because they felt edgy and dangerous. David Bowie, Klaus Nomi, Iggy Pop. Loretta Lynn, Wanda Jackson and Kitty Wells, when I'm feeling country. Leadbelly and James Brown who may be the punkest of them all.
Rik: The Monks, Kinks, Seeds, Love, Pretty Things, The Stooges, Beatles, The Jabbers, Dead Boys, Ramones, Soft Cell, Adolecents, The Damned, Fear, The Everly Brothers, Little Richard, Chuck Berry, Bo Diddly, Howling wolf, Lightning Hopkins, Frank Sinatra, Slayer, Tiny Tim, Screaming jay Hawkins. My Dad for trying to make me go to college and give up music. And whole bunch of my friends bands. It's an ever expanding and contracting list. oh yeah Mushrooms too.
PUNK GLOBE: Who are some of your favorite bands that you have played with?
Christa: The Bandits played with other Punk bands? Yes, we played with the Damned, the Weirdos, The Adolescents, the Gears, and opened for Iggy Pop once.
PUNK GLOBE: Christa, Have you played in any other bands prior to The Woolly Bandits?
Christa: Well I had a noise "band" with my old roommate called Furburger... we only played within the confines of our loft to a couple neighbors, homeless people, and the shadow person who loved knocking bottles of booze off our counter and walking through my room naked at 5am. The Woolly Bandits was my first real band experience.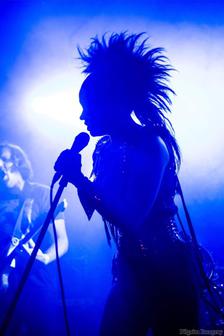 PUNK GLOBE: Tell us about some of your favorite shows with the Woolly Bandits.
Christa: Some of my favorite shows were in Europe. We were in a small commune town called Christiana. They had to use a dolly lift with chains to get our equipment up to the second floor where the stage was. The audience was incredibly enthusiastic and by the 3rd song into our set they had stomped a hole into the floor. One of the scariest shows I've had was in Germany. We were in Berlin playing Wild at Heart. This enormous man comes to the front and mid song he grabs me off the stage and starts swinging me around above his head. I realized in that moment I could either fight it, which felt dangerous, or surrender to his weird swing dance. I felt like a rag doll toy for Godzilla. Eventually he put me back down on stage. Our first national tour Rik got me a wireless mic. We were in Oregon and the club was in a building that was being refurbished. I disappeared for a bit and eventually the entire crowd went outside. The band had no idea what was going on... until I started singing again. I scaled the scaffolding like King Kong and finished the show for the entire block hanging from one hand. That's why I love these guys. They always roll with whatever chaos I create on stage.
PUNK GLOBE: What's in store for the future with The Woolly Bandits?
Rik: Who knows, who ever knows anything thats gonna happen?
PUNK GLOBE: Describe yourself in 3 words
Christa: don't like labels
Rik: Ditto, Ditto, Kiddo
PUNK GLOBE: Any last words for Punk Globe readers
Christa: There's an argument out there that "Punk is dead". I think if you believe that you put too much stock in a Genre of music or fashion style. Punk is a state of mind and that's something that can't be commodified by an industry. There's a societal push in the other direction but we must never lose a desire for critical thinking!
Rik: Think about stuff Dummy.