A Photographic History,
1955 to the Present
Brooklyn Museum to Present First Major Museum Exhibition Devoted Exclusively to Rock Photos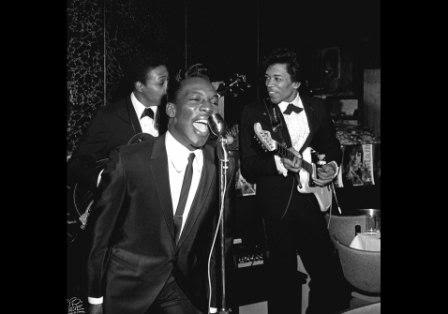 William "PoPsie" Randolph, Jimi Hendrix and Wilson Pickett, Prelude Club, Atlantic Records Release Party. May 5, 1966. 100 year archival paper, 20 x 20 in. (50.8 x 50.8 cm) Michael Randolph, Executor to the Estate of: William "PoPsie" Randolph. Lender: Michael Randolph.
BROOKLYN, NY.- Who Shot Rock & Roll: A Photographic History, 1955 to the Present, the first major museum exhibition to acknowledge photographers for their creative and collaborative role in the history of rock and roll, will be on view at the Brooklyn Museum from October 30, 2009, through January 31, 2010. The exhibition is curated by photographic historian and author Gail Buckland and features many rare and never-before-exhibited photographs.
Who Shot Rock & Roll is organized by the Brooklyn Museum and will travel to venues to be announced at a future date.
From its earliest days, rock and roll was captured in photographs that personalized and frequently eroticized the musicians. Photographers were handmaidens to the rock-and-roll revolution, and their work communicates the social and cultural transformations that rock helped bring about from the 1950s to the present. This exhibition is a history not of rock and roll, but of the men and women who have photographed it and given the music its visual identity.
Featuring approximately 175 works by 105 photographers, Who Shot Rock & Roll is organized in six sections: images taken behind the scenes; snapshots of young musicians at the beginning of their careers; photographs of live performances that display the energy of the bands on stage; images of the crowds and fans; portraits that go beyond the surface and celebrity of the musicians; and conceptual images and album covers highlighting the creative and collaborative efforts between the image makers and the subjects.
Among the works on view are such iconic images as William "Red" Robertson's erotic 1955 photo of a pelvis-thrusting Elvis Presley which appeared on his first album; The Clash's London Calling album cover by Pennie Smith depicting Paul Simonon smashing his Fender bass guitar; the contact sheet of Bob Gruen's portrait of John Lennon in a sleeveless New York City T-shirt; Don Hunstein's photograph of Bob Dylan walking with his girlfriend Suze Rotolo down a snowy Greenwich Village street; David LaChapelle's image of Lil Kim as a bikini-clad cop; and Anton Corbijn's shoot of U2 for their Joshua Tree album. The exhibition will also feature photographs by Diane Arbus, Annie Leibovitz, Woodstock photographer Barry Feinstein, Jim Marshall, Ryan McGinley, Linda McCartney, Mark Seliger, and Albert Watson.
http://www.artdaily.com/index.asp?int_sec=2?_new=31278
Conscience is a man's compass, and though the needle sometimes deviates, though one often perceives irregularities when directing one's course by it, one must still try to follow its direction.
-Vincent van Gogh (1853-1890)