LIAR LIAR
Alien Snatch Records
By: James G. Carlson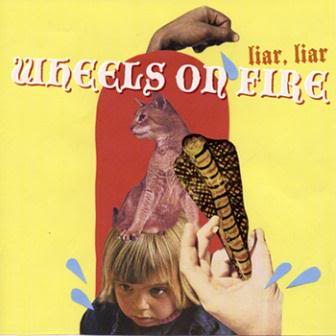 As far the bands go, we'll start with Wheels on Fire. Hailing from Athens, Ohio, this American indie rock, neo-pop and garage punk quartet owns a rather nostalgic sound, fusing primitive '50s and '60s rock'n'roll components to an altogether modern base. Sometimes their sound is almost like the annual high school sock hop together with a Friday night at the local seedy punk venue. Thinking of it now, if I were only given a single adjective to describe Wheels on Fire's songs, it would be fun. Fortunately I have a great many adjectives at my disposal for this piece, and while their songs are definitely fun, they are also catchy, upbeat, energetic songs with fast-paced rhythms, sharp verses, melodic choruses, and glowing vocal delivery. In fact, their sound has been compared to Elvis Costello meets The Stooges, and I am inclined to share that opinion…at least to a point. But one can also hear bits and pieces of the band's influences, such as The Sonics, The Oblivians, The Ramones, The Zombies, The Clash, The Kinks, and the Replacements, as well as a few newer artists that are not listed among their influences.
Wheels on Fire, instead of getting a bass player for their lineup, have been quite content with two electric guitars, keyboards, and drums. Behind those instruments we have Michael Chaney (guitar and vocals), Matthew Chaney (drums), John Garris (guitar and vocals), and Susan Musser (piano and organ). And after listening to their songs a few times one quickly comes to the conclusion that Wheels on Fire hasn't any need for a bassist. After all, the lack of low-end instrumentation no doubt accounts for their jangly distortion and clarity, as well as their raw, garagy, pop-infused soundscape. Frankly, it's a very refreshing sound next to all the modern assembly line bands being spat from the mouth of the cookie cutter punk machine. As such, they prove themselves far removed from the endless supply of bands aspiring towards to the standards set forth by labels like Fat Wreck and Epitaph, just to name a couple. Wheels on Fire's lyrics show that as well, with songs about alien abduction, UFO's and ray guns, life and death, youthful romance, haunted houses.
With releases on some of today's respected independent labels – Big Legal Mess/Fat Possum, Trouble in Mind, and Squoodge – Wheels on Fire's "Liar, Liar" album has unquestionably found a worthy home with Alien Snatch! Records. And with all of the band's spring and summer tour dates in the recent past, the only two shows on the horizon are in their hometown of Athens, Ohio. Be that as it may, I wouldn't be surprised if the coming months and years held some pretty incredible things for this four-piece.