PUNK GLOBE: Hi guys and thanks for taking the time to chat with us can you give us a little band history including current line up?
V-Transmission: V Transmission was originally set up as a solo project by myself about 7 years ago,the name was taken loosely from a poem by William Gibson called The Agrippa Files, to keep it simple its about a bleak futuristic, dystopian world where mankind only communicates through the medium of Virtual Transmissions, I shortened it to V Transmission so I could fit a logo around it. It was slow getting of the ground at first due to other commitments, but once I started writing and getting a few ideas down, a couple of musician friends that I had jammed with over the years came in and helped me out, so it kind grew from there, the only two full time members are myself, Andy Boucher and Mick Bedford on drums, John Anson usually rocks up on guitar and Mat Thorpe takes care of the bass end. But I also use a couple of other musicians, basically who ever is around at the time, its very much an open door policy project, all are welcome? ha ha.
PUNK GLOBE: Describe your performance visually and musically.
V-Transmission: Oh that's easy, its all about energy energy, energy, I Try to write songs with that old school feeling of some of the classic punk rock and alternative bands, lots of treble drumming, grinding bass lines, anthemic soaring guitars and lacerating lyrics, we are all pretty much on the same page when it comes to the stage aesthetics and visual look of the band, in other words, Black! We also like to treat fans to a good light and backdrop show, we have a few backdrop videos to go with our set, etc, in other words, something for everyone hopefully and give fans value for money, I believe that's very important?
PUNK GLOBE: Do you guys have any other hobbies besides, obviously, making music?
V-Transmission: When I am not writing or recording, I like to do a bit of amateur photography, it also helps with the bands artwork for albums and visuals, etc. I also like to do a bit of mountain biking, I love the thrill of head down arse up, gritting my teeth and white knuckles as am tearing down a fast bike trail somewhere. Lovely stuff?
PUNK GLOBE: Describe your music scene?
V-Transmission: Well obviously coming from Manchester, UK, we are fully aware of our local music heritage, Manchester has been responsible for producing and giving birth to some of the finest bands and music for decades, going back to the early days of punk with The Buzzcocks, Magazine, Joy Division etc etc, so we know we have to maintain the very high standards set by our fore brothers?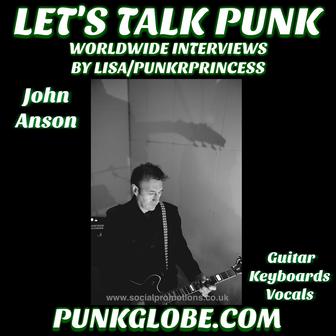 PUNK GLOBE: Would you do anything to change your music scene?
V-Transmission: Well, don't really know how to answer this one, I will say though that I think the music scene worldwide is broken at the moment, too many reality Karaoke singing competitions are polluting young peoples minds in to believing that's what music is all about, The X Factor rules over here in the UK and its difficult for any genre of band young or old to get a proper platform to promote their music and talents, yes we have the power of the Internet, Facebook, Youtube etc, but bands need to understand that its a business these days and they have run their bands like a business or they just wont survive and will just fade away, I have known a few great promising and talented bands who just fizzled out cos they could not break through the ice, so to to speak? I also think a lot of the venues that are left are not really supporting up and coming bands and don't seem to want to help out by advertising or selling tickets, its basically a pay to play culture now for most venues now, sad but true?
PUNK GLOBE: Strangest venue or gig you've ever played?
V-Transmission: I remember some years back, we got asked to play at a charity event to raise money for whatever???, it seemed like a good idea at the time because it was a decent size venue with a big stage and we were promised a big crowd, we were on with 4 other bands, by the time we got to come on last, everyone was smashed, the gig was running over , the sound engineer was stoned out of head, so the manager told us to only play twenty minutes, as that was all they had left, so we went on and gave it our all, half way through our first song the electric blew up and we were in total darkness with a baying angry crowd who thought it was our fault, it then kicked off in the crowd, bottles and glasses were being thrown at us and so we did one sharpish and managed to grab our gear and make a quick getaway in the van before they all came piling out to beat us up? Rock n Roll hey?
PUNK GLOBE: What is the biggest challenge you face professionally?
V-Transmission: Because we are not young men anymore, there is a tendency for most promoters and agents to take one look at us and pass us over as gone by our sell by date??? which is tough as I think we are writing and playing some of the best music we have ever created and its taken those formative years to hone the skills and techniques we have today, so will just have to see how that one pans out in the future, it would seem sadly that if you are over the age of thirty, then you are put out to pasture.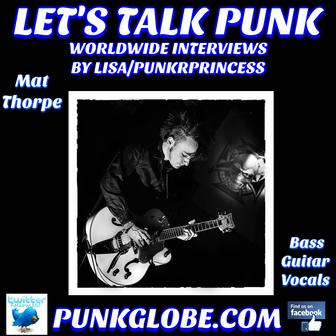 PUNK GLOBE: Describe the making of your music?
V-Transmission: I tend to write most of the music and lyrics, I usually start off with an idea and then start to mess around with my various home recording tools, I have a couple of vintage synths, guitars and I use Cubase and I have built up my own extensive loops library which contains numerous drum loops, bass loops, guitar riffs, synth sounds etc, its a fantastic way of fast demo writing, I can pull a song idea together in the time it takes to switch my computer on and load up the recording software, anything for a an easy life is my motto these days?
PUNK GLOBE: Any new albums/tracks being released?
V-Transmission: Yes, we have just completed our debut album entitled, COMA. Its available to buy as the whole album or you can down load single tracks, our debut single is a track called No More Lights. Its up to the fans what they want, they can go on our website and have a preview listen to any track first? All tracks are linked to the various down load sites such as iTunes, Amazon, Google Play, Deezer, Spotify,
PUNK GLOBE: Any shows/tours coming up?
V-Transmission: Yes, we have already done a number of small intimate gigs around the UK just to see if our music works live, etc, so far so good. We are also just in the process of talking to a couple of promoters who actually like our music and want to help, we are pencilled in for a couple of festivals for next year around the States, Canada and here in the UK, so watch out for confirmation on this as we hope to confirm soon, etc?
PUNK GLOBE: What are you listening to at the moment?
V-Transmission: To be honest, I am not really listening to any new bands as most of them bore me, I usually go old school and it totally depends on how many glasses of wine I have had which determines what band I will listen too, etc. I am heavily influenced by the classic punk, rock and alternative bands from years ago, such as Joy Division, Pink Floyd, Banshees, The Buzzcocks, Bowie etc etc, I could go on and on?
PUNK GLOBE: What are your immediate music career goals?
V-Transmission: We are now starting to gather some serious interest and traction finally, the fan base is growing and people are starting to take notice and follow us on the various social media platforms, I think now is our time and so we would want to be out in the early part of 2018, playing as much as we could, I do believe its the festivals where we could really do ourselves some justice, as our sound tends to fill the stage and is pretty full on, like I said before, give us a stage and we will do the rest?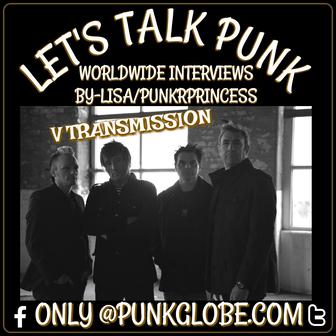 PUNK GLOBE: If you could play a show anyplace in the world where would you choose?
V-Transmission: Not really sure about this one just yet, but I actually like the small intimate gigs where you are close to the fans and you can feel and absorb their energy, yeah, those are the ones for me I guess, but obviously I would love to come back to my home town of Manchester and step out at the Apollo to a sold out crowd, that would be good I think?
PUNK GLOBE: Favorite or most inspirational place
V-Transmission: Well I remember going on holiday a few years ago to a little Greek Island called Kefalonia, it was stunning and in the harbour town at night was a really chilled out and cool bar that had a bit of live music on, anyway I ended up chatting with the owner over a few oozo,s and a couple of night later I was up playing an acoustic set on my own, knocking out some sing along acoustic classics, it was a great time and a fond memory, so maybe it would be that, i don't know???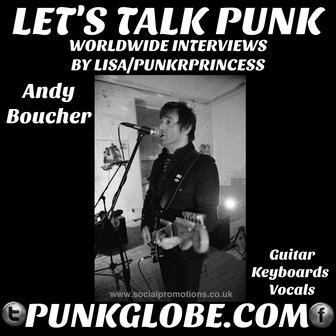 PUNK GLOBE: Where can the readers find you and your music?
V-Transmission: If any new fans want to come on board for the journey, we would love you all to come and join us, you can go to V Transmission – Home Our debut album is there to buy and download, or you can buy single tracks, etc.There will also be band merchandise to buy, such as T shirts, Caps, signed CDs, etc. We also have a crowd funding page on our facebook page, Security Check Required where anyone who wants to help with small donations will receive a certain reward depending on the donation amount, we have started this to help with expenses to get back to the States so we can start playing and touring, etc? We also have a couple of videos on Youtube, look for V Transmission, No More Lights and another track called Silence The Guns.
PUNK GLOBE: Any shout-outs you would like to give?
V-Transmission: Yes of course, I would like to take the chance to say a massive and humble thank you to a few people for their undying love , support and faith in us through the difficult times, such as Chris Oliver our studio engineer and producer at Carbon Studios. Dawn Martinez at Riff Radio for being there for us and playing our music, Philippe Maille for putting together our crowd funding page, Peter Braid for all his help and support, Lisa Monday Gomez, Punk Princess for giving us this interview and loyal support, Brenda Perlin, LA Punk Queen for the album review and support. There are so many others I would want to thank but i cant fit them all on, they know who they are and least but no means last, all our amazing and loyal fans old and new, who have stood by us through thick and thin, we owe so much to you all and you have our undying love and respect, so lets get a wriggle on and get cracking, hope to see you at our shows, come say hello, we don't bite, well only a playful nip maybe? ha ha Peace out everyone x
PUNK GLOBE: Thanks for taking the time for Let's Talk Punk and keep rockin.