Interview by: Pamela Torres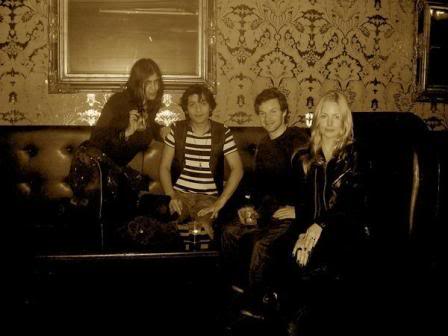 Slowly emerging from the UK's smoky club punk scene is a 4-piece troupe of hoodoo jinx masters who call themselves The Voodoo Pins. The following interview i conducted with this band reveals its origins, influences, and its diabolical plans to unleash a raw, new record in 2010.
PUNK GLOBE: Now to start things off, would you mind introducing yourselves? Who are the Voodoo Pins?
VP: The Voodoo Pins are Charlie Cockroach (Wails), Kal Kamikaze (Geetar), Chrissy Whiplash (Beastly Bass), Colin Carnivore (Skins)
PUNK GLOBE: How did you meet each other?
VP: The Voodoo Pins met at their local boozer, The Bald Faced Stag, which resides at the edge of the Willow Tree housing estate. Itís a place where everybody knows your name, but not necessarily for the right reasons. Itís here you will find brooding lead singer, Charlie Cockroach propping up a shadowy corner of the bar, staring through the optics on a memory that will haunt him ítil death. Bassist, Chrissy Whiplash, has a quiet moment filing her nails over a gin and tonic, having driven another man off the rails. Her indifference is for all to see. Guitarist, Kal Kamikaze, wipes the blood from her knuckles having dealt with an outsider who looked at her man. Colin Carnivore, the psychologically abused, idiot drummer, works at the pub collecting glasses, and is repeatedly told off for staring out the window, and eating all the pork scratchings.
PUNK GLOBE: From what I found on your myspage page, the Voodoo Pins deliver a very hazy, psychedelic sound with serpentine bass riffs. Can you tell me which bands or artists influenced you?
VP: Influenced by Stones, Stooges, Pistols, Cramps, Damned, Misfits, 6os Garage
PUNK GLOBE: What is it like playing in the U.K.'s underground? Is there a punk renaissance going on there?
VP: Some great punk noghts like London Calling at 12 Bar are keeping punk alive. We wanna help spread the disease!
PUNK GLOBE: Did any of you start off in other musical projects before The Voodoo Pins were formed?
VP: Colin Carnivore is in another band and does his own stuff, he has a cd out with his own project 'Council houses of Kingsbury'. The rest of us haven't done anything musically.
PUNK GLOBE: Are any of your songs autobiographical?
VP: Yes! Voodoo Doll is about a revenge fantasy. Favourite Nasty Habit and Freak in my Bed about addictive relationships. Slug in My Mug is based on a true sdtory and Roach Hotel is about friends of ours!
PUNK GLOBE: I have to ask this. As you probably know Lux Interior of The Cramps (one of the pioneers of blues punk and psychobilly) passed away last February. Has he been an inspiration to you as well?
VP: Lux is a massive influence and inspiration, amazing performer, sadly missed. We love you LUX!
PUNK GLOBE: Will there be a Voodoo Pins album somewhere in the horizon?
VP: Working on a demo in the new year, watch this space!
PUNK GLOBE: Anything left you'd like to say to the Punk Globe readers?
VP: Check us out on Myspace and youtube and if u like what you see and hear, come see us live !!! If u don't like it, remember we got our Donkey Eyes on you!