SPRINGTEEN
(CD)
Victorian Halls

Review by Carl Macki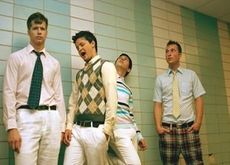 Band Members
Sean-Guitar/Vox
Carlos-Keys/Vox
Mike-Drums
?????-Bass
Track Listing
1. Pop Pop Pop
2. Persecution of Bellissima Morte
3. TSK TSK
4. Go Razorbacks GO!
5. Greed
6. Its a Ghost Town, Alleiluuya
7. A Wealty New York Investment Banking Executive Tries to Hide his...
The Chicago noisecore band Victorian Halls has this reminiscent sound that sounds like bits and pieces of so many bands. That is not to say they are derivative. That they may sound like Liars or Cursive does not mean anythjing. In three years of playing they are crafting songs that are obsure and musically complex..They are, collectively, a fine piece of work. . . a collage. . .a colloid. They're REALLY GOOD!!