THE VIBRATORS
THE EARLY YEARS
Cleopatra Records
b
y Ginger Coyote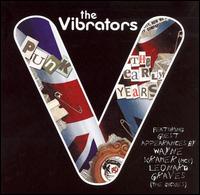 Track listing

1. White Riot
2. New Rose
3. Sheena Is A Punk Rocker
4. Automatic Lover
5. (Get A) Grip (On Yourself)
6. Sonic Reducer - (with Wayne Kramer)
7. Pretty Vacant
8. Emotional Blackmail
9. Stranded
10. Baby Baby
11. Nasty Nasty
12. Into The Valley
13. Vibrator - (with Leonard G. Phillips)
14. Rip Up The City
15. Judy Is A Punk
16. Born To Lose
17. Teenage Kicks
18. Whips And Furs
19. Borstal Breakout
20. Beat On The Brat

THE VIBRATORS:

Knox (vocals, guitar);
Pete (bass guitar, background vocals);
Eddie (drums, background vocals).
Additional personnel:
Wayne Kramer (vocals, guitar); Leonard G. Phillips (vocals); John Ellis (guitar).


I got this CD from Knox when the White Trash Debutantes played support for The Vibrators at Safari Sam.s in Hollywood, California.. The long-lived U.K. punk-rock group performs an extensive selection of covers of some of punk's most significant songs, including the Ramones' "Sheena is a Punk Rocker" the Damned's "New Rose," the Sex Pistols ' "Pretty Vacant," and the Undertones' "Teenage Kicks."

The Vibrators are one of the few surviving punk bands of their era, and their energetic performances of these well-chosen genre classics recall the driving force behind the mid- late 1970s sound and the music's far-reaching influence. With a wide-ranging song selection from bands like the Clash, the Ramones, and the Heartbreakers, this set is a timely reminder of punk rock's musical revolution and its contribution to the evolution of rock & roll. The Vibrators are one of the nicest most down to earth bands that you will ever want to meet.. I highly recommend this CD.


Cleopatra Records
11041Santa Monica Blvd P.O. #701
Los Angeles, CA 90025

www.theVibrators.com