Punk Globe: It's been a year or so since we spoke, and you had recently retired. From what I can tell you haven't slowed down a bit. Share some of your fondest stories from your adventures last year with us?
Vanessa: Pylon released Pylon Live, a double vinyl live album from Pylon's last show recorded December 1,1983 in July. The response was amazing. Michael Lachowski and Curtis Crowe came up and played on a couple of songs at the release events. I certainly could not have done it without the help of my family and friends. My daughter Hana works for a local screenprinter Shirtworks and they printed PRS T shirts for me and my other daughter Victoria and my friends Maureen and Jeff have helped sell them at shows locally. I have a great band-Jason NeSmith and Kay Stanton from Casper & the Cookies, Joe Rowe from the Glands and The Athens Cowboy Choir, and Damon Denton who is an amazing keyboard player. He is classically trained and that is usually what he does-play classical music, but he LOVES Pylon's music too.
Pylon Reenactment Society have gotten to do a little touring over the last year and a half with the help of our friends Dressy Bessy and PANTHAR. We now have a booking agent in Ground Control Touring. We have been up to the Northeast, North Carolina, California and Oregon. If you had told me a few years ago that I would be touring again, I would have shaken my head in disbelief. A whole new generation have rediscovered Pylon and our old fans have not forgotten our music. We have opened for Cindy Wilson, Fred Schneider and played with some wonderful new bands like Dressy Bessy, Big Quiet, PANTHAR, Red Pony Clock,The Tissues, Sex Stains, Cruel Summer, Mallwalk, Monsoon, Smokescreens, Omni, Hurry Up, Positive No, Guache and with some old friends Swimming Pool Q's, We Love Tractor, The Nightporters and Scared But Smarter. What has moved me is how wonderful all of these musicians are and how dedicated they are to their music and how amazing they all are as people.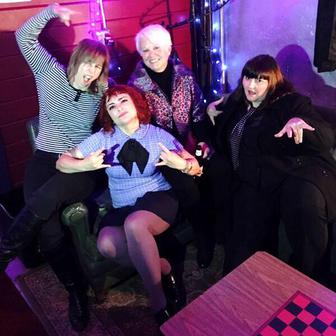 I sang backup on a song which was included on Dressy Bessy's album which came out this past spring. I have also gotten to sing with some wonderful performers in conjunction with a few benefits put on by the Athens Anti-Discrimination Project and Project Safe. Those have been maybe my favorite things to do in a long time, because I believe we need to come together as a people and finally put discrimination to rest and have a safe place for people to go.
I have also gotten to hang out with some of my favorite people while on tour, some of whom I haven't seen in over 20 years, like Ginger Coyote, Leslie Michel, Richard Barone, Cindy Wilson, Karen Moline, Karen Stinnett, Jim Fouratt, Mary Beth Mills-Jobe, Sue Snell, Brenda Mallonee, Charlie Waters, Jennifer Blair, Sandra-Lee Phipps and I also made some new friends along the way like Robert Lett.
I was in Portland, Oregon for the first time ever back in December and it snowed while I was there. That was quite an adventure! Just like being in a big pretty snow globe. We got stuck in traffic and if it hadn't been for a handy food truck, I'm sure we would have starved to death! Cars were going off the road left and right and major roads were down to one lane. Fortunately Joe Rowe was driving and Damon was willing to chase down the food truck and it was pretty chill. It took us 3 hours to drive around 3 miles. I kind of got embarrassed about all of the easy listening and crooning I had uploaded on my iphone. But, they put up with it.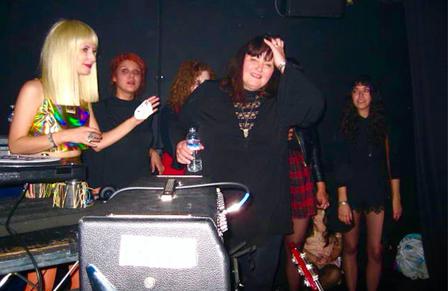 Punk Globe: How do you think planning/booking a tour for the band has changed compared to when you first started in the business?
Vanessa: It is very similar. It's still a lot of fun! There is still an independent spirit. In some ways it is more difficult to capture people's attention. There isn't much of a filter out there. With the advent of cellphones, smartphones and the internet, it's a lot easier to connect while out on the road. Instead of fanzines, there are blogs. There are fewer independent radio stations on the actual air, but now there are internet and satellite stations. There aren't as many indie record stores, but the ones that are there, are very dedicated to getting music out there. No phone booths around anymore. I am laughing thinking about how we used to look for a phone booth while on the road to advance a show and get out a rolodex and a roll of quarters!
Punk Globe: For those that don't know, you are a mother. How do you balance family life and your thriving career?
Vanessa: My girls are grown now. Only one still lives at home and she commutes to college about an hour twice a week and has a part time job the rest of the week. My older daughter's hobby right now is skating with a women's roller derby team. I'm going to see her for the first time this coming weekend. All of her matches over the last year have unfortunately coincided with PRS shows or tours. I am ultra excited to see her play! My husband takes care of almost everything around the house since he retired and walks our dog Bonnie who is a border collie mix twice a day. I'm an almost empty nester who can have fun rocking out.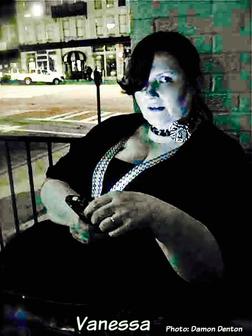 Punk Globe: What is some of the sage advice that you would like to pass down to the next generation?
Vanessa: Don't be afraid to be who you really are. Be nice to everyone on the way up, you will meet the same people on the way down. Enjoy yourself. Take care of business, because believe me there are plenty of people who will take care of it for you and not always the way that you might like.
Punk Globe: You are among the many icons that Athens has given the music industry. How did your Athens ties effect Pylon?
Vanessa: You are very kind to call me an icon. We were art students in the late 1970's and Athens wasn't quite as big or busy as it is now. Everyone knew each other. As the years have passed, I have been lucky enough to maintain connections with many of those people. The fact that we were artists first colored how we approached making music and what we value. Fun was a big part of our experience and I hope that I never outgrow that aspect of life. i will always be a huge fan of the B-52's and REM and Love Tractor and the list just goes on from there! I also love my friends here who come from every walk of life and every religion and race and sexual persuasion. Many live all over the country and the world now maintaining a web of Athens friendship. It's still cool to hit downtown on an off night and have a couple of drinks with your friends. People are still having parties. Dana Downs threw a great one in December and rocked out! My husband Bob Hay continues to perform the music of Robert Burns once a year as he has for the last 15 years on Burns Night.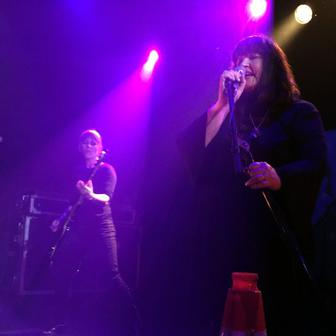 Punk Globe: You are getting ready to embark on yet another tour. Where and when?
Vanessa: Pylon Reenactment Society are going to the Midwest in a little over a week. We will be in Chicago on February 11 at Beat Kitchen. Bric-A-Brac Records, a local indie store, will be spinning records too. On February 12, PRS are performing at Barely Human Festival in Detroit. This is the inaugural year of this 3 day festival that features post punk, industrial and DJs from all over the place. Friend us on Facebook and find out what we are up to! We just added this show in Athens, GA Selector Dub Narcotic, Pylon Reenactment Society (feat. Vanessa Briscoe Hay) - Tickets - 40 Watt Club - Athens, GA - March 22nd, 2017
Punk Globe: Can we expect some new recordings in the new year, and what is next in store for Pylon fans?
Vanessa: I have never made any plans, but I am starting to hear some new music in my head again. The last time that happened, I put a recording project called Supercluster together. Hopefully, I can get PRS onboard with my auditory visions (that sounds pretentious, but it's exactly what it is) and maybe we can write and record. Thanks so much for contacting me, it's always great to hear from Punk Globe! Give Ginger a kiss for me!