"Amerikkka Macht Frei"
By: Pamela Torres
Photos By: Trip Fontaine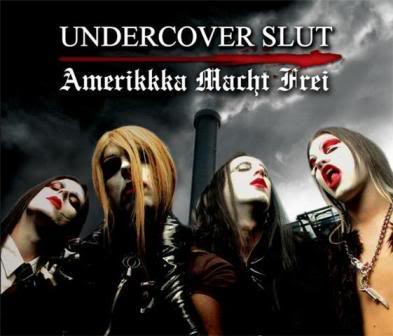 I stumbled across their music about 2 years ago when I purchased their 2004 LP called "Communism Is Fascism".
Kicking off this leather clad audio assailment is "The Shadow Song" this track addresses Jim Crow's racism as one of the United States building blocks and burns a cross on the unforgivable crimes perpetrated by the KKK.
"Anna Nicole Smith" is a slow and sticky masturbation session which O unzips his perspiring soul over the white trash memory of Playboy's most notorious Widow. "White Whore Conspiracy" is a balls to the walls speed ball anthem of self liberation oozing from O's poison pen. It is one of the few tracks that includes a small dose of acoustics. Both "Dear Dead Prez" and "What Kind Of Lamb Do You Think I am" are a pair of devastating A bombs tunes enveloped in a choking cloud of radiation and mustard gas. These songs address the absolute worst traits of our wealthy White House Politicians: The tabloid happy sex scandals, the fabricated flag waves of freedom conducted on Election Day. The expenditure of countless loss of human lives in wars and the obscene monetary greed.
As quoted by O himself " To Animals, All People Are Nazi's"
http://www.undercoverslut.com
www.myspace.com/undercoverslut
back to home page