Tünay Akdeniz was quite a figure in 70's music scene in Turkey with mocking lyrics, punk-rock image and bad boy attitude. One of the greatest legends of Turkish rock music. He had once used giblets for accessory in a photo session, had sued state television for not airing his music, used the title "punk-rock" first time in Turkey and had earned the title "big rocker" as he made cassette copies of hard 'n' heavy albums for younger generation who lack resources to find originals with mail order for years.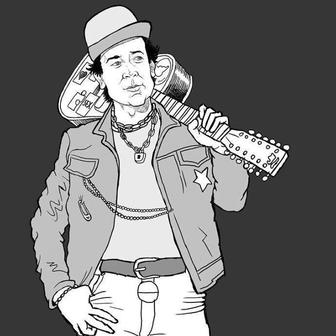 His new album, is mixed and remastered from the original master tapes in Germany, contains all songs from 1975-1978, two surprises as hidden tracks and a 4-page insert in English and Turkish with many photos.
In Tünay Akdeniz's debut LP you can hear his most outstanding period when he first used slang language in a Turkish glam rock (Salak / Idiot) as well as the first implication of sexual intercourse in hard rock (Babam Yazdı Ben Besteledim İşte Aşkın Tarifi / Daddy Wrote The Lyrics I Composed The Music That's The Recipe Of Love) and the first songs marketed as "punk rock" (Dişi Denen Canlı / The Creature Called Female and Mesela Mesele / For Example The Matter Is...).
In this new 12 inch you hear the artist's choice in mixing and the mastering process, therefore the tracks provide a harder sound than the original releases as in the original ones the production side used limited the sound for the sake of general audience. So what you hear is musician's cut for the realization of the sound that Akdeniz always dreamt of.
You can also hear the full album from this Youtube link: https://youtu.be/VkEwg2wCB80