In many ways T.S.O.L. is Los Angeles' answer London's The Damned. Starting out as a punk band they forged their way into a darker yet tougher sound for 1981's "Dance With Me". After the transitional "Weathered Statues" they brought in keyboardist Greg Kuehn and released the gothic "Beneath The Shadows". Then they broke up. Like a lot of the great punk bands that broke up and became legends after the fact, T.S.O.L. had always been viewed as a gnarly hardcore band with many forgetting the band's interesting musical growth. So while the Damned may have fans of both "Machine Gun Etiquette" and "Phantasmagoria", there aren't many who step up and say "Beneath The Shadows" is their favorite T.S.O.L. record.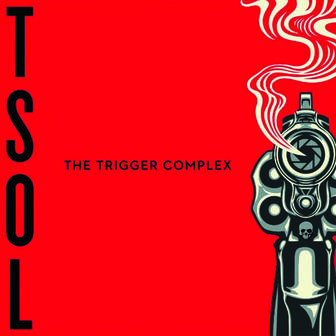 Although guitarist Ron Emory and bassist Mike Roche continued on under the name it was not the same vibe. Eventually they both left the Hollywood rocker version of the band and reformed with singer Jack Grisham and drummer Todd Barnes with both versions of the band playing the same circuits. After the untimely death of Barnes in 1999 the band played sporadic shows and tours but in 2001 they recorded an outstanding new studio record, "Disappear" and played shows in support of the album. In 2003 they returned with "Divided We Stand" and broke up in 2006 only to reform in 2007 and release a new album as a free download. It has been 10 years of the occasional shows and touring and now they have released a new record.
Keeping in mind that T.S.O.L. were always a band that progressed and changed direction on each release while still maintaining a distinct style, this record propels the band far beyond the snappy, slam rock pleasures of "Disappear" and "Divided We Stand". With new drummer Chip Hanna and Greg Kuehn returning on keyboards with originals Jack, Ron and Mike the band has served up a delicious new record with lush production and some very unexpected surprises and right turns. It still sounds like T.S.O.L. but parts may recall The Joykiller at times as far as Jack's sarcastic stabs at pop lyrics. A song like "Why Can't We Do It Again" is just a great summer song and has little to do with early T.S.O.L. but is still a song that only a band like them can pull off convincingly as far as musicianship, style and caustic wit. "Wild Life" with its choppy guitar riffing underlying melodic keyboards and Jack's voice laying the vocal melodies over both would have fit comfortably on "Beneath The Shadows". And "Don't You Want Me" is a pure joy and shows latecomer Kuehn to be an essential asset to the band. Overall the record is pure T.S.O.L. while capturing the band at the zenith of its talents. They are a band that keeps expanding to their musical vocabulary and going forward.
One of the interesting twists of this record is the songwriting. With Emory now living outside California Grisham turned to former Adolescent Frank Agnew for a songwriting partner. Agnew had joined the band briefly in 1981 during the "Dance With Me" era and with Emory so far away it was hard to collaborate. "Ron's lack (of songwriting involvement) was strictly logistical. For me to work I really need a foil to bounce off of and when the whole band was together I struggled to make that intimate type connection," says Grisham. With Frank writing a good portion of the songs was there any consideration of asking him to rejoin like Kuehn? "We never discussed having Frank rejoin the band. I don't even think that would be something that he wanted. But I turned to him for this because we've worked together before and Frank's an amazing player, he knows what I was looking for and I'm happy with the result."
Ron and Mike are in especially fine form throughout the record. Both provide solid playing especially side by side with Kuehn's polished keyboards. Previous recordings by the reformed line-up lacked a drummer who could replicate Todd Barnes' trademark rapid 8th notes on the high hat playing style. It powered the band through all the records and fired up punkers in the slam pit at the live shows. New drummer Chip Hanna brings back this fingerprint to the band's sound on this new record. "Our new man Chip studied Todd's work and brought that into the new record," says Grisham. "There's a feel that needs to be brought into this type of music. A complicated simplicity that not everybody understands."
Grisham is one of rock music's most underrated singers. While the punk scene has spawned many raw shouters it has also spawned some legitimately fine singers like Dave Vanian, Lux Interior and Glenn Danzig just to name a few. Whether being suave or forceful his voice has been one of the standout qualities of this great band. As the band became more proficient he did as well with his singing. Unlike most singers who have had their voices get deeper albeit stronger as the years go by, Grisham's voice has become more elastic with the years and he has no trouble creating phrasings in higher registers and it makes a song like "I Wanted To See You" really pop and stick in your ear. "About the voice, I have no idea," he says. "I've had people tell me that I sound younger now than I did years ago. If anything my voice has gotten stronger."
The new release is available on cd, colored vinyl and cassette with arresting cover art. If you are a fan who takes the band seriously then this record will be candy for your ears and if you are someone who has followed Jack's career from Cathedral of Tears to Tender Fury and The Joykiller then this will be a record you will be glad to file in your collection with the rest.
photo by John Gilhooley