PUNK GLOBE: Thanks for doing this interview .. Give us a description Trifusion?
RODRIGO: Trifusion is an atypical band. We four are diametrically opposed and disparate in almost every imaginable way. We come from different ages, we listen to different types of music and we have almost no experience in common other than the music we play together. We do a fusion of several styles; Rock, Rap, Funk, Metal, Hip-Hop and Progressive, among others. Somehow, especially live, we function as a unit that works towards a common end, art and music.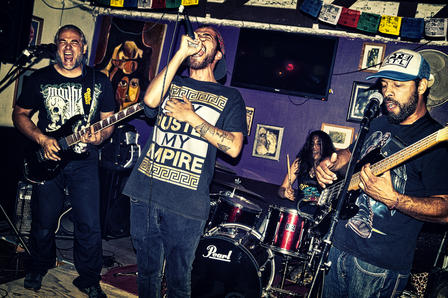 PUNK GLOBE: Who is in the band?
RODRIGO: The band consists of: Nico Insano on vocals, Ignis Fran on drums, Alvaro Moscoso on bass and Rodrigo Burotto on guitar.
PUNK GLOBE: Tell us how you came up with the name of the band
RODRIGO: When we created the band, Alvaro (bass) and me (guitar we came from two projects called eFusion and TriSector. It seemed logical at the time to put together a name that would represent a bit our previous work.
PUNK GLOBE: In what part of the Chile is the band and in what year did you form?
RODRIGO: We are from Santiago, Chile and we started working as a band in late 2014
PUNK GLOBE: How many albums do you have and in which years did they come out?
RODRIGO: We recorded at the end of 2015, 12 tracks at Blackflag Studio (Iquique). Mixing the disc has been a slow process of learning and we decided to release the songs as we finish them, through our Soundcloud channel, in which we already have 3 songs ready. The address is: https://soundcloud.com/trifusion
PUNK GLOBE: Who writes the music?
RODRIGO: As I told you, there are 12 songs. We have all participated, one way or another in converting the songs to the version you will hear on the disc. There are lyrics by NicoInsano (Música Directa) and Alvaro (Fuerza). Instrumental themes composed by me (Cataclysm, Isum) and by Alvaro (Instrumental) and works in which we contribute all as band (Trazos). The songs sung have varied lyrics, ranging from criticism and social struggle, like Force, to the pleasure of doing things for the sake of art, like Direct Music.
Our instrumental music is very structured and worked, but that contrasts with themes such as Strokes or Direct Music, but especially with our freer theme, which aside from the lyrics, which develops a set of words between the beauty and attraction of women and the genre of Blues / Jazz, is almost completely improvisation, the title of the song is Furious Blue
PUNK GLOBE: Who does the graphic work on your of CD's?
RODRIGO: The truth is that like many things that sometimes remain, it was not so thought, in fact I do not know if it is totally decided. At some point I had to send an urgent cover to appear on the site of one of my most important alliances, Cables Santo Angelo, Brazil. I asked the rest of the band if it seemed ok to use the same design that we used in the banner that we took to our concerts to hang back and they said good, so that's what I ordered. It is a crow, of imposing size looking to the left, while another, smaller and of white silhouette, flies, apparently wrapped in flames, towards the opposite side. On that background, the band logo with worn texture in yellow.
PUNK GLOBE: Some of his musical influences?
RODRIGO: Alvaro: Primus, King Crimson, Infectious Grooves. Ignis: Limp Biskit, Pantera, Alice in Chains. NicoInsano: Slipknot, Mike Patton, Juaninacka Rodrigo: J.S Bach, Chuck Berry, Vinnie Moore, Gary Moore, Stevie Ray Vaughan, Randy Rhoads, Fernando Sor, Brian Setzer, Joe Satriani, Wolf Hoffman, Vernon Reid.
PUNK GLOBE: How is the music scene in Chile?
RODRIGO: There are many places to play here, but there are also a lot of bands. I would say that it is a scene where professional bands, which are few, have to fight scenario in adverse conditions, with amateur bands, which are many. It costs a lot to make a living with your music, but it's not impossible.

PUNK GLOBE: Are there are a lot of places to play in Chile?
RODRIGO: The number of venues and the quality of the equipment has been growing to show your music in a good way. Now we have to work on getting people to understand that without their support in live shows, the local scene will never be able to take off. It requires in little more affection with the own, not fanaticism, but affection and that the people recover the anxiety of going to see and discover new and unknown bands.
PUNK GLOBE: Some favorite places to play?
RODRIGO: We have always been very well received in Puente Alto. Alvaro and Nicolas are from that commune. I personally like to play in the Chambers of the SCD (Chilean Copyright Society). They are small, but they are very well equipped to sit and enjoy the music without distractions.
PUNK GLOBE: The band signed with a record label or are you independent?
RODRIGO: We are independent and I think we will continue this way. Today the labels are trying to make a comeback, but I do not know if our band would be willing to hand creative control to a label in return for some economic stability.
PUNK GLOBE: Do you remember your first concert? What feeling do you have?
RODRIGO: Very nervous, to know if people would come to see us and not knowing how the band live. It was in a place with little lighting, a lot of sound bounce and nestled in a cow-smelling field. We played much faster than we had rehearsed and we were spent the show flying. It was a good experience, which left us with the feeling that the band could turn out.
PUNK GLOBE: Have you toured?
RODRIGO: Not yet. This year we had managed a series of shows in São Paulo, Brazil, but the economic situation of the country ended up passing the bill and we could not specify the opportunity. We would love to play in Argentina, I think there is a lot of public that could enjoy our work there.
PUNK GLOBE: What band would you like to share stage with?
RODRIGO: The truth is that it does not matter to me, since I do not have a definite style, it is always difficult to fit the band with someone else for a show. I get bored easily with the styles, is one of the reasons why I like playing with my colleagues in Trifusion
PUNK GLOBE: What is the best show that you have played?
RODRIGO: For me, it is always entertaining to play with a public frame that is interested in the work of your band. One of the most spectacular shows I have played was with Alvaro, but when we played in Trisector. We played at the Movistar Arena, in Santiago, for an automobile event called ExpoCarreras. The stage had a walkway that stretched for about 10 meters towards the audience. We had to play while there was a show of bikes jumping above our heads, it was something special, no doubt.
The other that jumps to my memory was last year at ExpoMusic in Brazil. It was my fourth time playing there, as a soloist, invited by Santo Angelo. What is entertaining is that it was the first time I went with my family. Isabella, my daughter, even sang with me three days. We had an incredible time.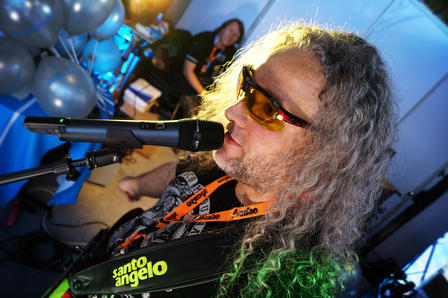 PUNK GLOBE: And the worst?
RODRIGO: When you sometimes arrive after months of preparation to give the best of you and you play a place of shit, with another band's battery and less public than in a movie of cowboys when they pass the bales of straw through the desert. A while ago we decided to apply to avoid such situations.
PUNK GLOBE: Do the members of your band have day jobs? .
RODRIGO: Ignis is an English teacher, one of her small pupils, drew us playing and I found it so great that we posted it on our Facebook Fanpage: https://www.facebook.com/TrifusionRock/.
Nico is a surveyor, so he goes from the shouts to the terrain with total normality.
Alvaro is a podiatrist, all serious with his white apron and instruments: p
I am a musician by profession, but other than that I have many hobbies. I love photography, design, audiovisual creation, plastic airplanes, running, skiing, pizza eating and biking. I am a very kind of family, with the love of my life Veronica and ic.
our daughter Isabella shared a lot of time and activities together. Isabella sings with me sometimes and other times I am her photographer when it comes to dancing. She has been studying Ballet for 8 years.
PUNK GLOBE: Do you have any Internet addresses you would like to share with Punk Globe readers?
RODRIGO: Of course!
The Fanpage of Trifuion: https://www.facebook.com/TrifusionRock/
The Fanpage of RB Trio: https://www.facebook.com/rburotto/
My Youtube channel: https://www.youtube.com/c/RodrigoBurotto
My Soundcloud channel: https://soundcloud.com/rodrigo-burotto
PUNK GLOBE: Any last words for Punk Globe readers?
RODRIGO: Many thanks to the magazine for the opportunity to share some of my work with their readers.
For them, if you find something interesting about my work, do not hesitate to contact me through social networks to talk about music, guitars or equipment, for these things I always make time. A hug for you, hold Mozarella and Rock and Roll \ m /