Pamela Torres Speaks With Trevin and Trent10 TIEKEN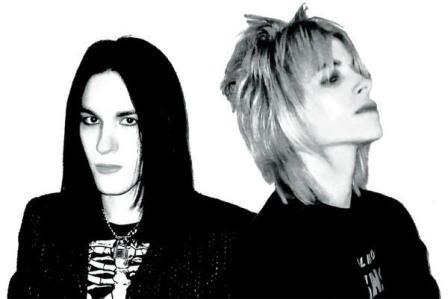 Last February I managed to catch an interesting interview with Trevin and Trent10 TIEKEN, a pair of Illinois twin brothers who started making a bloody splash in the independent shock rock scene. Here's what the duo had to say.
T&T: We grew up with a dad who had been in the music busineess for over 40 yrs as a professional drummer, so it was something that was gonna happen, and it happened at about the age of 11.
PUNK GLOBE: Can you tell me what particular bands or artists inspire your metal sound?
T&T: Alot of the originators of shock rock like Alice Cooper, Kiss, Ozzy, and some of the more modern bands like Rob Zombie and Marilyn Manson. With alot of influence from Motley Crue and many others. Many current bands (Emo) claim these are there influences but we sure as hell don't see or hear it in there shit.
PUNK GLOBE: Is it true that your songs are featured in a recently made horror movie?
T&T: Yes, a local independant film maker asked us to be in his movie (Hampshire: A Ghost Story), and he really liked our music and felt it fit the movies horror concept.
PUNK GLOBE: I read on your myspace page that you are currently seeking a new guitar player. Any luck?
T&T: Yes we are still looking for a guitarist, no luck as of yet. Its hard finding someone who can play anything you can throw at them (without overplaying), and who looks the part and understands what we're trying to do. Any inquires check out myspace.com/tiekenband
T&T: The article in Fangoria was a short piece about the movie we starred in that featured our music.
PUNK GLOBE: So far your songs have been made available as MP3 downloads. Will there be a Tieken debut CD anytime soon?
T&T: We are working on a independantly recorded CD as we speak, no exact release time as of yet, but keep on the look out.
PUNK GLOBE: If there is any artist you dream of collaborating with somebody, who would you pick and why?
T&T: There are alot of different Bands, Musicians, and Producers we would love to collaborate with, but if we had to say one it would probably be John 5 (guitarist for Rob Zombie, Marilyn Manson), mainly for the fact we don't have a guitarist, and he's one of the best out there today.
PUNK GLOBE: Many other bands who had been featured in horror films often attend conventions to promote both the movie and the music. Do you hope to do something similar in the future?
T&T: Absolutely. We don't see it happening anytime soon though, but it would be wicked and fit what we do. Shock Rock and Horror go hand in hand, or severed hand!!!
PUNK GLOBE: Hahahaha, good one! Well, is there anything else you'd like to say to the Punk Globe readers? Thanks so much for your time, guys!
T&T: Be sure to check out myspace.com/tiekenband, and if you dig it be sure to tell your friends. Keep Rockin!!