By Kim Friederich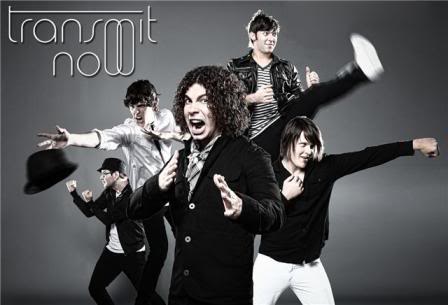 Transmit Now is a Powerpop-rock quintet from Orlando,Florida. Who have gained notoriety for their impressive and hard hitting songs like "Lets go out tonight" and "Posterboys". They have a new album "DOWNTOWN MERRY-GO-ROUND" Coming out in the earlier parts of 2010. It is a very grown up sounding album for a band that is still quite new. I expect to hear alot more from this group for years to come.

Andy Brooks - Vocals
Kevin Douglas Parrow - Guitar
Tony Aguirre - Guitars
Leonidas Odiseas "Lee" Gianou - Bass
Greg Parrow - Drums.
Andy- Kevin, Greg and I meet while in college, formed the band and played around town while in school. Lee we meet several years later through a "Myspace Musician Wanted" posting, he uprooted himself from Milwaukee Wisconsin to Florida to join the band. Tony was a childhood friend of mine who I'd played music with throughout Middle School and High School. He joined the band a year ago to round out our line up!
Punk Globe - How long have you been a band?
Andy- Transmit Now has been around for about a year and a half
Punk Globe- How did you come up with the name Transmit Now?
Andy- ahhh yes we have a good story for this one...so here it is: Our bass player was sending nude photographs of himself to a lady friend (of age) via the internet when suddenly the power went out and his internet connection was cut off. When the power kicked back on the, connection resumed and his E-Mail "Transmission" was completed, only to find out the intended recipient of his "Transmission" was not a lady friend but his grandmother! Transmit at your own risk, or at least check the E-Mail you're sending to before you get nude! Transmit Now seemed a fitting band name after that!
Punk Globe- You have a very tight and well defined sound. Do you practice in your sleep?
Andy- Yes, along with a few other involuntary things!
Punk Globe - Your touring schedule seems quite hectic,tell us how you all cope with it?
Andy- Day by day! Enjoying the hell out of every minute while still trying to maintain a semi-normal home life, for the one week a month we're home!
Punk Globe - Transmit Now has gotten alot of coverage from the press. What has been the most exciting coverage?
Andy– It's all been exciting, can't lie about that! We were jumping around like 10 year olds at a Miley Cyrus concert the first time we heard Let's Go Out Tonight on the MTV VMA's!
Punk Globe - You guys were the winner of MTV's "I Want My Music On MTV2 Contest". Tell us about winning and what transpired after that?
Andy– We were all gathered in this tiny hotel room in Selma Alabama on tour watching our video play on MTV that seemed surreal by itself. But to then watch the reaction in real time as our Myspace play count went through the roof and became one of the most searched things on Google that day. It made us think "Shit, people may actually like what we're doing here?!?!" It was a great feeling.
Punk Globe - Who are your biggest influences?
Andy– If each of us listed our top three bands/musicians of all time, you would stop and ask yourself "how do these dudes write music together?" We're all over the place in terms of our influences...come up to each of us at a show and ask us to name our all time favorite, you'll then see what I mean!
Punk Globe - Earlier this year you joined Jeff Hanson (Paramore,Creed) and his record label Silent Majority Group. Tell us about how this came about?
Andy– Myspace is a beautiful place...we'd all obviously known of Jeff from all the years he spent working with Creed and Paramore. He has a huge name in the industry but particularly in Orlando he was sort of this mythological figure! He had a hand in just about every part of the Orlando music scene, so when he sent us a message on Myspace saying he liked what he heard from us we were intrigued to say the least. The rest, as they say, is history!
Punk Globe - Transmit Now chose to work with producers Pete Thornton (Paramore, Shinedown) and Brooks Paschal (Sullivan) on your debut Self-Titled release. Tell us about recording Transmit now and what it was like working with Pete Thornton and Brooks Paschal.
Andy– That was an exciting time in our bands history as well as a difficult one. We'd gone into the process with no band name and a handful of half polished songs. Brooks had great ideas when it came to vocal arrangement and song structure. We learned A LOT during the process, both what to do and no to do when making a record. By the time the EP was done we had lost a member, leaving the lineup back to Kevin, Greg and I to figure out what we would do next. Within a few months we had Lee in the band and we played our first show at Warped Tour 08, feeling refreshed and alive after the long recording process!
Punk Globe- "Downtown Merry-Go-Round" is your first full length record, which is due out in early 2010. You recorded it with producer Brett Hestla (Framing Hanley, Brand New Day). I was lucky enough to get a pre release copy and listen to it. I must say you guys have a great Album coming out. How proud of the final outcome were you?
Andy– It's a great feeling to watch something you've created in your head, in bedrooms and practice spaces come to life! We recorded the entire record in under three weeks and to me, it doesn't sound like that when you listen back. The studio can be a real eye opener for a band, it strips away all of your layers. If you suck at what you do it's going to be very apparent (pre studio magic that is). So it was refreshing to hear excitement from our producer when everyone was nailing their parts in one or two takes! It was great to go into this process feeling strong as a unit with new material that we were super proud of.
Punk Globe - Tell us a little about the songs on the album and how you came to pick the songs that made the final cut?
Andy- We rerecorded a few of the songs from our first EP, making them sound light years better then they ever have before, as well as a bunch of new songs. From start to finish our record feels like punch in the nose! I mean that in the best way possible, I think! It's up tempo the whole time with a curve ball here and there. There were also a few songs from our Test, Test EP that made the cut! We just wanted a record full of songs you'd love to sing at the top of your lungs on your drive home stuck in traffic...or something like that!
Punk Globe -You are gaining fans with every show you play. It looks like you are living the dream. Has there been a downside?
Andy– The only downside is being away from home....I know it's the cliché answer but it's very true. Playing shows everyday in a different city is part of the "dream" for sure, it's hard to find any downside to living your dream! So if I had to pick something it would be the distance from home!
Punk Globe- Tell us something that about you that the fans wouldn't know?
Andy- My hair is a wig, I glue it on before each show!
Punk Globe- What has been your favorite show to date?
Andy– Opening for one of our favorite bands Anberlin on the beginning leg of their headlining tour for "New Surrender". It was another one of those surreal moments!
Punk Globe – Where can we find out more about Transmit Now?
Punk Globe – Any last words for the readers of Punk Globe?
Andy- When attempting to "Transmit" questionable photographs of yourself via the internet check that E-Mail address at least twice!!