In 1980, shortly after they arrived in San Francisco, an irate club owner yelled at Translator, "Gentlemen, you're too fucking loud! Turn down or get off the stage!" They got off the stage.
Not many bands have stayed together over 35 years and are still able to blow the roof off a club like Translator can. They're regrouping for 3 shows in California at the end of April.
Translator started as a trio in Los Angeles in 1979 where their eccentric live shows just didn't fit the scene. They happened to see guitarist Robert Darlington playing at the Whisky with a different band while wearing a bathrobe and Beatle boots, so they stole him. Shortly afterwards, they moved to San Francisco because bassist Larry Dekker, who is from the Bay Area, had experienced the diversity and freedom happening in the local clubs. Gathering up $150. between them, they drove to San Francisco. "We only had two names in town; Iguana Rehearsal Studios and Howie Klein" said drummer Dave Scheff. Within a day, they were dragging their equipment up the steep stairs at Iguana to play for a few hours. As they were leaving, Floyd Solders, the owner of Iguana, stopped them and said "who the fuck are you guys?" He later became Translator's sound man.
During their early days in San Francisco, they slept on the floor together in one room, painted houses and even booked themselves as a wedding band ("The Appropriates"). They played every venue from Tenderloin dive bars to opening for David Bowie at Day on the Green. Noticed by Punk Globe editor in chief Ginger Coyote, Translator got one of their first breaks when she put them on the cover of her magazine in 1981. "The first time we played at the Mab" said Dave Scheff, "we played "The Girl From Ipanema", segued into a ballad written by Steve Barton, then into our super fast, punk version of the Beatles' "She's Leaving Home". After we were done, "Pope of Punk" Dirk Dirksen said "did you hear THAT? That was harmony and musicianship. That's how it's DONE!" The crowd went nuts! We'd started out thinking they were going to kill us!" Steve Barton added, "We were never a "music didn't start until the Sex Pistols" sort of band. It was fucking punk as hell to unabashedly express our love for The Beatles back then". Steve also remembers leaving his Datsun station wagon in the Mab alley during a show once. The next band that arrived just picked it up by the fenders and moved it away from the door.
Howie Klein broke Translator on his show at college radio station KUSF and signed them to 415 Records. Howie recalled "my partner Chris Knab had more commercial ears than I did, and he was the one who was all gung-ho on Translator. I may have heard what I thought was an amalgam of Gang of Four and Talking Heads, but I think Chris heard The Beatles". The band toured constantly opening for the B52s, Psychedelic Furs, Gang of Four and others. Gang of Four drummer Hugo Burnham said, "what I remember most about Translator was the commonality of intent and attitude between our two bands. That and being slightly intimidated by Dave's drumming".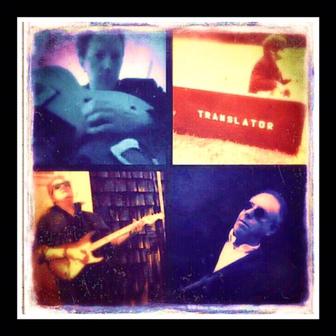 Living in a roach infested apartment on Geary Street while Translator recorded their first album, Steve Barton's standard meal was Top Ramen & toast which he could barely afford. It was the kind of area where gunshots are heard daily. The band took it all in stride, embraced the weirdness and felt right at home living in San Francisco. They'd played tons of dive bars in LA like Blackie's, where the sleazy bathrooms saw plenty of action and Steve was bitten on his inner thigh by a waitress one night while playing.
Translator released one of their strongest albums, "Big Green Lawn" in 2012 and a highly acclaimed compilation of rare demos called "Sometimes People Forget" on Omnivore Recordings in 2015. Still productive in the studio, they've recently released 3 new, original songs and a live version of "Remember" (written by John Lennon) from their first tour in 1982.
Recording has changed now that Translator live in different cities. "We're not all in the studio at once breathing on each other" says Larry Dekker. They record separately, then build each song "long distance" says Dave Scheff. Finished tracks are sent to Abbey Road studios in London for mastering by Sean Magee, then returned to the band for release on their label, Translator Records. They are currently recording more new songs. Robert Darlington's photographs and art posters help promote the band and are on their record covers.
A former guitar player turned kick ass, melodic bass player, Larry Dekker once dreamed he was playing a Hofner bass onstage. "I can always find something new to say with my bass" says Larry.
Guitarist Steve Barton remembers booking the then 3 piece version of Translator's first show on October 8th, 1979 at Madame Wong's in LA. Steve said "I was over the moon when they called to say they loved our tape". Steve will release his 6th solo album this year.
Drummer Dave Scheff, who has played and toured with everyone from Joan Baez to Dead Kennedys, sums things up this way, "Steve dePace from Flipper once said that Translator sounds like The Beatles and Cream had a car crash. I get that".
And what about that club owner who told them to turn down when they first got to town? Once they had a hit record, the club asked them back. Guitarist Robert Darlington shut him down quickly - "Fuck no! We're still too loud for you!"
Translator looks forward to their first California shows since 2015.
Translator are playing with the Long Ryders:
Wed. April 26th The Chapel in San Francisco
http://www.thechapelsf.com/event/1405919-translator-san-francisco/
Fri. April 28th The Constellation Room in Santa Ana
http://www.constellationroom.com/node/1313
Sat. April 29th The Roxy in West Hollywood
http://www.theroxy.com/event/1385337-long-ryders-west-hollywood/
To connect with Translator:
@TranslatorFriends on Facebook
@TranslatorFans on Twitter