FROM ISTANBUL, TURKEY
BY OZGUR COKYUCE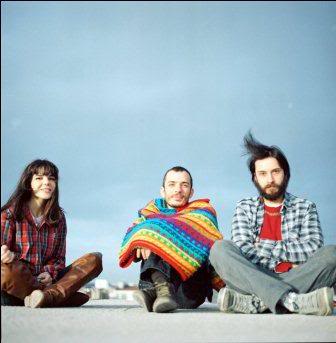 Photo by Aylin Gungor
Last month I had the chance to meet and interview one of the best and most popular indie bands in Istanbul, Turkey. They are called "Toz ve Toz". (Dust and Dust) Toz ve Toz consists of three members : Gaye Su Akyol, Can Tan and Taylan Turan. They've been around for 3 years now and I think you will also agree that they have a very bright future when you listen to their excellent music. This interview is to introduce this beautiful band to US and hopefully to let more people learn about their magic. They tell us about their past, musical vision, future projects, their recent meeting with Lydia Lunch and more…..

"Stars, which every single one of them are now white dwarves, neutron stars and black holes have constituted our solar system and us. We owe our existance to the red giants and supernova explosions. We've all been formed by stardust."
PUNK GLOBE : First of all thank you very much for taking your time and for accepting this interview. Let's start with the name of the band, "Toz ve Toz".(Dust and Dust) When did the band start? What is the story of the name Toz ve Toz and were there any other names thought of naming the band during the formation period?
GAYE SU AKYOL: It's a pleasure, thank you very much. Well, the group was in the formation stages and we were searching for a name. One night, I laid in bed and started thinking. I was trying to analyse the sounds we were trying to create, the music we were planning of working on and our perspective of life. We were like dust…. Yes, exactly like that…. We were a small point in the cosmos, flying…. and we were the perfect – imperfect parts of a whole. Then I reached at the point of this famous "Big Bang" Story. If you ask why the name is not only "Toz" (Dust) or "Tozlar" (Dusts), but "Toz ve Toz", I would say we are both parts of a whole and each of us is also a universe on its own… We are so much alike but different at the same time. I explained this all to Can and he loved it. At the time Taylan was not with us. I'm sure he would have liked this story if he was present during that period : ) We formed Toz ve Toz on November 2007. The members are Can Tan, Taylan Turan and Gaye Su Akyol as 3 people or 333….
PUNK GLOBE : Please tell us a bit about the early days. How did the band members meet? As far as we know there was a previous band called "Mai". Was Mai an early version of Toz ve Toz? How did that reach to the point of Toz ve Toz?
GAYE SU AKYOL: Mai was formed by Can and me during 2005. We were getting started to know more about each other and one day while were hanging out at Kadikoy – Istanbul, he wanted me to listen to one of his songs (through his walkmen) that he had recorded with his punk band from years ago . It was raw and I was very excited. I took off the earphones and said : "We are gonna do great things together!!". Then we recorded the 4 songs in the studio, that we were working on our own previously - before knowing each other. Mai got good feedbacks and we did some wonderful gigs, but it is hard to make a connection between Mai and Toz ve Toz as they were a lot different. I mean Mai was exploration. The biological clock rang and stopped. Now with the inclusion of Taylan we are telling the things with really the way we want, far from a pattern.
CAN TAN : Although Mai and Toz ve Toz were two different things, when I listen to the home recordings we did with Gaye during the Mai days, I recognize the difference between them and the ones we recorded at the studio. For example, the song "Farfisa enson proje" on the "Ev" album of Toz ve Toz , firstly surfaced in the early days of Mai. We think of playing some old Mai stuff as Toz ve Toz sometime….
PUNK GLOBE : Toz ve Toz gave many concerts to this day and the first official album will be out soon. We will return to that later but there are also two albums you had recorded named "Sahici Insanlar Plastik Ölümler" (The Real People & Plastic Deaths – The Theatrical Music Album) plus "Ev/Home" demo album which you had recorded at home. Can you give some information on these please?
GAYE SU AKYOL: A dramaturg friend of ours who knew our music and who was going to take part in a theatrical performance, asked if we could help with the music for that project and we happily accepted it. It's a wonderful pleasure to include your music to a theatrical performance that is written by someone else. Two different creations get together in one body. As a band that continuously does home recordings, we read the script and chose through our songs which we thought fit the script best. We very much enjoyed what came out as a result and printed it as an album. After that, we did music for few more theatrical projects too…. It's really enjoyable. As for the Ev/Home album, it is completely a reflection of the home recording process. We have countless material recorded since the beginning and we keep recording all the time. We wanted to share a few of these before the official album release. Ev/Home album is a modest, simple album. You can't find the smell of the music sector/production on it – exactly the way we want : )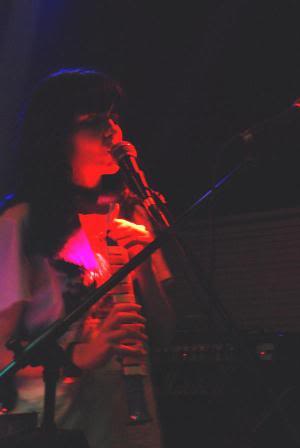 Photo by Tugce Senogul
PUNK GLOBE : It's not easy to classify the type of music that Toz ve Toz creates, but maybe telling the similar types to yours or the main artists which influenced the general sound of Toz ve Toz can help our readers who made a mistake of not knowing about you before.
TAYLAN TURAN : I really can't classify the sound of Toz ve Toz. I'm happy for it. The genres we know can mispercieve the people. But it's good for communication, on the other hand communication is bad!! (laughs) I listen to a lot of both old & new music and I'm pretty sure it plays a role in my musical mind as well as the sound of Toz ve Toz.
GAYE SU AKYOL: Yes, we are being asked a lot about this. Being out of classification or genre, creates a genre on it's own, doesn't it? Maybe we can speak about "The New Turkish Wave". I think people will understand better after the 1st official album comes out…. By hailing to the "Neue Deutsche Welle"… All the members of this group has very different musical tastes. I'm in a place where we can talk about Muzeyyen Senar (Turkish singer) to Secret Chiefs, from Moondog to Elysian Fields….No boundaries…
CAN TAN : I have favourite groups or artists that I always listen to and I'm sure they have their influence on the sound of Toz ve Toz somehow, as Taylan also mentioned.
PUNK GLOBE : Does the new album consist of all new songs or does it include some re-recordings of old songs too? Compared to the previous albums (mentioned above) which new elements will be added to the Toz ve Toz adventure with this new album?
CAN TAN : "Sahici Insanlar Plastik Ölümler" and "Ev" albums, were in a structure on their own and sounds were flowing in those structures. In the new album, there's more communication with the other worlds.
GAYE SU AKYOL: It includes old songs as well as new songs that came out just before we entered the recording studio. We chose the songs for the new album according to our personal tastes and they were the ones that we very much enjoyed playing. I think the previous 2 albums were internal journeys. This new album is like an escape from space with a rocket!! Drums are very intense, the guitars are like a slap and the keyboards are dominant and sometimes like a lamb, a bird…. Everything is lined as suitable to rockets….
TAYLAN TURAN : The new album is rumbling but not in a noisy way : )
PUNK GLOBE : Are there any plans of giving more concerts in the cities other than Istanbul in Turkey, plus any concert plans abroad? We would love to watch Toz ve Toz live in some European Festvials in the near future.
GAYE SU AKYOL: There are some plans of course. The more concerts we give in different places, the better it is. With Germany as the front runner, many good things will happen!!
TAYLAN TURAN : A lot of !!!
PUNK GLOBE : In the band we know that Can had some video projects to previous songs. With the new album, which songs are going to have a video? Will Can have some more video projects like this during the new album period? (perhaps by also collaborating with different people.)
GAYE SU AKYOL: Can makes some very unique videos, we respect and trust him about this subject. Many videos to some songs on the new album are ready in our minds. Very funny and science fiction works…. I think the videos will ve fantastic and I'm already too excited about it. The nearest video project will be made – with a bloody monster theme - to the song "Ölü Bir Adama" by recording with a group of friends at the Istanbul Kadikoy Gram Bar.
CAN TAN : Why did you tell the surprise? : )
TAYLAN TURAN : Oleeeeey : )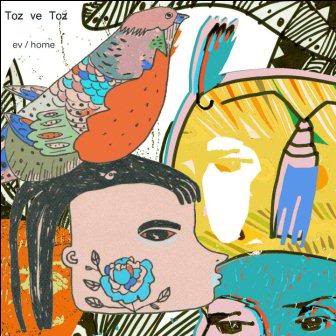 Illustration by Gaye Su Akyol
PUNK GLOBE : Which groups are your favourites? Are there any unknown hidden treasures that you may be listening to and would recommend us to check out?
CAN TAN : Morphine, Can, Velvet Underground, Neu, The Stone Roses, Flipper, John Coltrane, Clash, Dna, This Heat, A.P.H.G are the first names coming to my mind at the moment. Nowadays, I like "Trees" from Colour Moves and of course Morphine, during the cold days in Istanbul.
GAYE SU AKYOL: I agree with all of it plus the compositions of Avni Anil, the vocals of Muzeyyen Senar, the songs of Vincent Gallo and the moonlight of Moondog. My hidden treasures are so deeply hidden that even I have hard times finding them : )
TAYLAN TURAN : Recently The Clues, Volta Do Mar, Nice Nice and Kate Bush, Cocteau Twins as some older names.
PUNK GLOBE : The lyrics and the songwriting…. Are they created equally between the band members and is it the same with the new album too?
GAYE SU AKYOL: We like the songs that come out suddenly in the studio while we are together and there are songs like that in the new album. We all come with something new in our pockets : A riff, a rhythm, lyrics…. Anything. When all these meet each other, the magic happens. Sometimes improvisation, sometimes building on a member's bright idea, making re-arrangements or working on one member's idea. Variable…
PUNK GLOBE : Toz ve Toz has a unique sound (including a simple home recording sound.) Will Toz ve Toz keep this known sound for a long time or will it change by recording in bigger studios, by adding different instruments or by experimenting more in time? What are your opinions??
GAYE SU AKYOL: The technology nowadays is adjusted to making polished recordings. This isn't very attractive I think. We like the sounds as less polished and will protect this taste with the new album.
PUNK GLOBE : What are the side projects of the members of Toz ve Toz?
TAYLAN TURAN : I play in a band called "Ricochet", other than Toz ve Toz.
GAYE SU AKYOL: I like drawing, playing with paints, making illustrations. I sometimes stage exhibitions, too. There's a new pictured haiku book of mine out soon. I have another band called "Seni Görmem Imkansiz" . The concerts and latest album improvements about it can be followed here : (
http://www.myspace.com/senigormemimkansiz
). We are running a bar called Gram in Kadiköy Istanbul – a place for exhibitions, concerts and performances at the same time.
PUNK GLOBE : Toz ve Toz is taking big steps towards being one of the most sincere and special groups in Turkey but if you were to create your all time dream band, who would you choose to be the members of this heroic army?
GAYE SU AKYOL: Hendrix on guitar, Müzeyyen Senar vocals, Lemmy Kilmister back vocals, Neyzen Tevfik on reed flute, Asik Veysel baglama (a musical instrument with three double strings played with a plectrum), Jerome Deupree on drums, Marina Abramovic performance and as the dream is mine… me on the keyboards and synthesizer.
CAN TAN : Iggy Pop on cello, Nazim Hikmet on drums, Urfali Babi on bass guitar, Oztürk Serengil vocals , Blixa Bargeld on guitar.
TAYLAN TURAN : Kevin Coultas on drums, David Yow vocals, Mitsuru Tabata on guitar and Les Claypool on bass guitar….Too crazy but ok!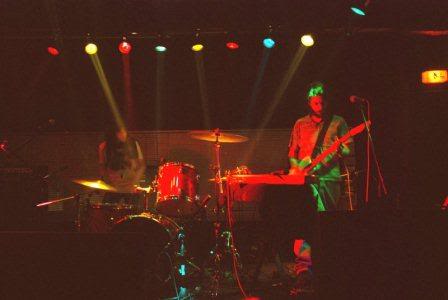 Photo by Tugce Senogul
PUNK GLOBE : Last question. Recently Lydia Lunch played live in Istanbul and you had the chance to meet her right? Tell us about that as one of the latest news.
GAYE SU AKYOL: Yes! Lydia Lunch is one of the musicians I learned about during my high school years. She helped me to understand "Woman"s importance in music. She introduced me to the strong woman portrait and showed me what a woman can do in the patriarchal music sector. I've been following and adoring her work for years.

So, I couldn't miss her Istanbul concert, which happened a few weeks ago. It was like a dream. A rise to the coasts of subconscious…. The day after – surprisingly - our group manager and a close friend of ours receives a phone call from the Bant Magazine staff (one of the best known magazines in Turkey in it's area.)

"Lydia is in Moda-Kadikoy (that's where our home is.) Why don't you come for a tea?"

You can imagine how we felt after this joke-like dialogue!! : ) We ran there with Can in a couple of minutes, met Lydia and gave her our cds. About an hour, we talked about music, love and many things…. At the same time, colliding with one another, the people who we decided to meet about a festival in Belgium are also there at the back table and I keep travelling back and forth between tables : )))) Then she asks me the two different cd covers and band names. I tell her that both are my bands. She smiles and says, "Being in more than one group is always better, why stay with only one; )" She checks the cds with great interest, asks about the genre and the illustrations. Funnily she compares Can's look to Al Pacino or Tony Montana at times!! During this deep chat, she asks for our contact e-mail adress or if it exists on the back of the cds. She asks it seriously, not in means of politeness and in 5 days time we receive her wonderful e-mail starting with "My gorgeous one"…. She tells how much she liked our music, asks about the sunglasses she gave to Tony Montana (Can) and promises that she'll visit Istanbul again. She hopes tos tay in touch too.

I've composed a song for her! It's called "Lydia Lunch'la Çölde Iki Gün". There are many details like this that come to my mind. She is very deep set and special for me. I think the universe is mobilized for us to record something together. The Universe needs it! : )
PUNK GLOBE : Well, thank you so much. We will be following your future projects and we look forward to listening to your new album soon. Any last words for Punk Globe Readers and where can they reach you from?
GAYE SU AKYOL: I wish a very happy life to everyone!...
CAN TAN : I wish beauties to everyone!...
TAYLAN : The fake ones doesn't flow by forcing!!
*At the moment, people can reach us from our Myspace Page : www.myspace.com/tozvetoz and very soon from our Official Website : www.tozvetoz.com

Lyrics from the song "Bahçelerde" (In The Gardens)

Where do the tiny fishes go deep in the ocean?

Where do the giant dreams sink into my soul?

In the gardens…

Please tell me

What happens in this planet

Tell me please…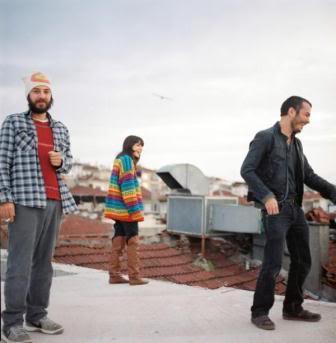 Photo by Aylin Gungor
*Punk Globe would like to thank Toz ve Toz for this great interview and wishes the best in their musical adventures*

PUNK GLOBE – MAY 2011

OZGUR COKYUCE