A few months back we did and interview with Ed Turner and Raul Sandelin regarding their documentary film "Ticket To Write." We decided to catch up with what is happening now with the film.. Enjoy.
PUNK GLOBE:
How has the progression of Ticket To Write coming along? Is the documentary completed or near completion?
Ed:
The documentary is about 98 % complete, all that remains is some audio sweetening and perhaps a few tweaks to the graphics.
PUNK GLOBE:
Do you have any distribution companies who are ready to pick it up?
Ed:
Alabama Public Television would like to broadcast Ticket to Write regionally, and we are certainly weighing their offer. Due to the network's time constraints, they've asked us to trim the documentary down to one hour and a half, which will require some work of course, but we're hopeful we can provide them with that cut in the near future. And we're very much aware that a regional broadcast could lead to a national distribution if their affiliate channels pick up the film as well. So, we are certainly very encouraged by their interest in the film .

PUNK GLOBE:
You have such a wide array of people who you interview.. Tell us a list of some of the people.
Ed:
Jaan Uhelszki, who was interviewed extensively in the Big Star documentary, Nothing Can Hurt Me. As well, we have musician Chris Stamey , who was also featured in the Big Star doc . The list goes on... And I'm sure Raul will name check many of those interviewed . They're all fascinating people, really, and integral to the film . Some of the other names that come to mind , Bill Holdship, Robert Duncan (who, like Jaan, was an associate of Lester Bangs in the Creem days)....
PUNK GLOBE:
The interesting thing that made me attracted to the documentary is that you interview both writers and musicians.. Was that always the plan?
Ed:
That's an excellent question !! As a matter of fact, once we'd completed the interviews with the journalists, I was speaking with my entertainment attorney in LA about the progress of the film, and she actually suggested, Why don't you interview some musicians - that will give it another facet, another point of view. And she was right. There's no question that musicians, those on the other end of the journalist's pen, so to speak, have much to say about music criticism.
PUNK GLOBE:
What is the run time on Ticket To Ride?
Raul:
1:43
PUNK GLOBE:
Everyone I have spoken with that has heard about the film or seen the trailer absolutely love it. Is this the reactions you have been getting as well?
Ed:
Yes !! I'm happy to say this is the reaction we're getting as well . In fact, in the case of Alabama Public Television, I sent the trailer to their Executive Director and he responded immediately. Once I met with him to discuss the possibility of Apt broadcasting the film at some point in the future, his response was, "If the film itself is as good as the trailer, we're interested..."
"his response was, 'If the film itself is as good as the trailer, we're interested...'"
PUNK GLOBE:
Tell us about some of your personal favorite interviews in the film?
Ed:
I really enjoyed musician Terre Roche, one third of the vocal trio The Roches, if only because she's been performing since the 70s and had such a vast history with the music press to draw from . Paul Collins as well ... Of the journalists , Jaan Uhelszki definitely had interesting stoires to tell ( without giving too much away, she shared a very poignant story about Lynyrd Skynyrd's Ronnie Van Zant that was quite touching). Well, I could go on and on .... but those are certainly a few out of many....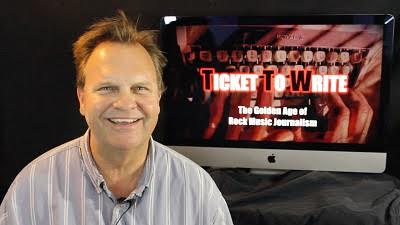 PUNK GLOBE:
Are you using any of extra footage from the highly acclaimed Lester Bangs documentary that Raul worked on?
Raul:
No, because the subject matter is very different. Lester's film was about his growing up in EL Cajon, CA. Ticket to Write is about these big-city rock n' roll magazines that reflected the cultures of NYC, San Francisco, LA, Detroit, etc. So, we had to find all new footage.
PUNK GLOBE:
You were looking for someone to narrate the film. Names were tossed around Richard Hell and Donna Destri. Have you decided who to use?
Ed:
We brought Gabe Wisdom on as narrator, and he did a superb job . Raul can probably tell you a little bit more about Gabe than I can, particularly his connection to Cameron Crowe's Almost Famous. But needless to say, I'm very happy we were able to bring Gabe on board.
Raul:
Gabe is a longtime San Diego FM radio DJ. And, he's a longtime friend of Cameron Crowe and Ben Fong-Torres. So, he was a natural: Someone who new the history of rock journalism with a radio announcer's voice.
PUNK GLOBE:
Can you give us some Internet addresses to find out more about the project?
Ed:
We have a Ticket to Write Facebook page. Also, we have a website, designed and hosted - superbly, I might add - by none other than my brother. You can visit the website at
www.tickettowritethemovie.com
for a first -rate overview of the project as well as frequent, updates .
PUNK GLOBE:
How about contact information for distributors to contact you?
Ed:
The best way for a distributor to reach me is at my email address,
petportraits@bellsouth.net
. And Raul can be reached at
raulsandelinfilms@gmail.com
.
PUNK GLOBE:
Any additional information that you would like the readers to know about the project?
Ed:
Well, as you mentioned in the previous question, we'd love to talk to any potential distributors where there's interest in the project!! In the meantime, for all the folks following the progress of the film ,keep checking in with us at the website for updates. And, in closing, I would like to mention that the Ticket to Write soundtrack is finished and we're quite proud of it...