EUGENE KELLY: The Velvet Underground, Kraftwerk, Orange Juice, The Kinks, Creedence Clearwater Revival
PUNK GLOBE: The song, "Jesus Doesn't Want Me For A Sunbeam" is musically a little different(with a more acoustic sound) compared to the rest of The Vaselines songs. How did you come up with it's musical structure or melody,what's the story behind it?
EUGENE KELLY: The same way as writing any other song,by strumming the guitar until an idea arrives. The song was a reaction to the fact that Frances and I had been to Catholic schools and been raised in Catholic families. When you get into your late teens or early twenties you sometimes question all that you have been taught.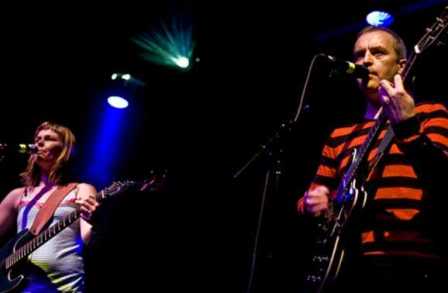 PUNK GLOBE: Eugene, you are in the music scene for approximately 25 years now and you are the member of one of the most special bands in music history. But, if you were to create your all time dream band, who would be the members?
EUGENE KELLY: I'd be happy to be in Creedence Clearwater Revival.
PUNK GLOBE: In a recent interview, you mentioned that you had already written 4 new songs. Tell us a bit about them and are there any plans to write more and comeback after nearly 30 years with a new album or at least a new EP?
EUGENE KELLY: We've now written fifteen songs and are going into the studio next month to begin working on a new album that we hope will be released next year.
PUNK GLOBE: Now, as you still continue playing live from time to time and stil in the music scene ,how do you compare the music scene in late 2000s to the music scene in the late 80s and early 90s? Was that a rare period of time that showed us so many cool bands and unique, different but good music all together at the same time –- at least compared to these last ten years? What do you think?
EUGENE KELLY: The music scene in Glasgow in the 80's was horrible. It was just heavy metal bands and white guys playing soul music until Orange Juice and The Pastels started releasing records. There were no music venues and it was hard to find somewhere to play. Bands started to putting on their own club nights and promoting their own bands. this resulted in a healthy music scene in Britain in the late 80's and early 90's with the rise of the independent label. The music scene now is pretty horrible. Too many bands. Too many musicians.
PUNK GLOBE: What were you listening to in late '70s, and what are you listening to nowadays? Are there any unknown bands you're into at the moment or you could recommend us to check out?
EUGENE KELLY: I listened to Buddy Holly,Elvis,The Beatles,Bob Dylan,Lots of Country and Western. Just now i'm not listening to new bands,not excited by many new bands just now. And as i'm trying to write it's not a good idea to put some new band's songs in your head.
PUNK GLOBE: Nirvana, especially Kurt Cobain was a huge fan of The Vaselines,they covered many of your songs and at the 1991 Reading Festival, you also joined Nirvana on stage for a performance of "Molly's Lips." . How was Kurt's reaction as a fan, when you first met? And I would like to ask which songs were your favourites from Nirvana?
EUGENE KELLY: It was fantastic experience singing with Nirvana on the Reading stage . Kurt seemed very shy when we first met him. We didn't realise how much of a fan he was of the band. I love a lot of Nirvana songs but Heart Shaped Box always excites me.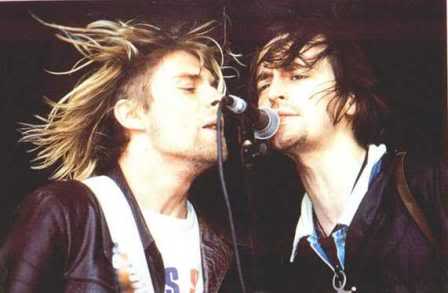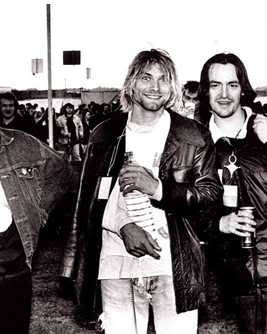 PUNK GLOBE: What are the plans for next year? What surprises can we expecat from you, maybe a new solo album or new collobrations?
EUGENE KELLY: New Vaselines album if all goes to plan. No other plans outside The Vaselines. I have a bunch of unreleased solo songs that I hope to record sometime.
PUNK GLOBE: Last question and the question I would like to ask the most.When you were growing up, who did you imitate when you stood in front of the mirror?
EUGENE KELLY: Edwyn Collins from Orange Juice.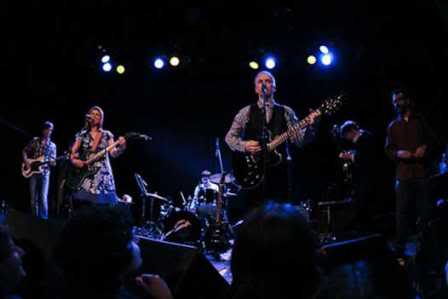 PUNK GLOBE WOULD LIKE TO THANK EUGENE KELLY OF THE VASELINES FOR THIS SPECIAL INTERVIEW…
PUNK GLOBE DECEMBER 2009
(ozgurcokyuce@hotmail.com)