"Knows Your Sins"
Review By: James G. Carlson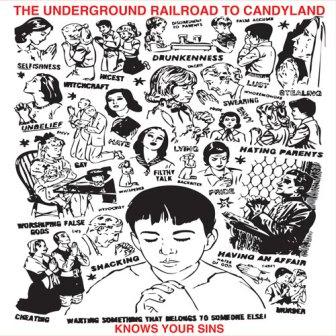 Recess Records has only just recently released the sophomore album, Knows Your Sins, by San Pedro garage punk and indie rock quartet The Underground Railroad to Candyland. Let me tell you, it makes for a strong contender for best punk album of the year. Up till now, at any rate. And the only flaw I can find with it is that, with fifteen tracks that span a total of thirty-five minutes, it rushes by entirely too fast, leaving the listener's head spinning and ears ringing, but wanting more nevertheless.
When I first discovered the existence of The Underground Railroad to Candyland, it was sometime during 2007, while the Myspace music revolution was still in full swing, and that's where I happened upon their web profile. To be honest, the name of their band intrigued me more than anything else. At first, anyway. But then I listened to a few songs, and I was completely hooked. At that point in time they were still pretty obscure, certainly more than they are now. Be that as it may, they have since made quite a name for themselves throughout the independent and underground music scene.
It wasn't until recently that I learned that Todd Congelliere, former frontman of F.Y.P., current frontman for Toys that Kill, and founder of independent label Recess Records, is also the guitarist and vocalist for Underground Railroad to Candyland. The other members are Jimmy Felix on drums (Toys that Kill), Jack Doyle on bass and backing vocals, and Casey "Chachi" Ferrara (Toys that Kill, Can of Beans, SS Fun) on fun station. And that's not counting several auxiliary musicians credited in contributing to the songs on Knows Your Sins.
The Underground Railroad to Candyland's sound is full of driving drum and bass rhythms, catchy hooks, trebly notes and jangly powerpop chords on the electric guitar, and slightly echoey vocals that ride the crest of each composition. In a lot of ways it's also a fun sound, as well as a sound which harkens back to an earlier time in the history of rock'n'roll, reminding me here and there of something that would be on Germany's Alien Snatch! Records beside such bands as The Kidnappers, Wheels on Fire, Vermillion Sands, Love Boat, and the like. Then again, they can also be placed alongside other such garage punk bands as The Arrivals, CoCoComa, Landlord, This Bike Is A Pipe Bomb, and so on.
Not only is the sound fun, the band members of Underground Railroad to Candyland are definitely a fun-loving bunch, who play shows all done up in various silly costumes, obviously never taking themselves or their music too seriously. And that is more than a little refreshing.
Knows Your Sins is made up of several great songs, such as the opener "That I Dunno," "Jimmy V," "My Number's on the Stall," "And You Think You Can Tame Me?!," "We Aren't the World (Lalalalalalalalala)," and the closer "The Wicked Shakes." And then there are certain parts of songs that stand out, like the crazy weird guitar riff intro to "Run! Chicken! Run!" and the reverb-laden note patterns on the instrumental "2010."
The Underground Railroad to Candyland Knows Your Sins is the kind of album that can without question become the soundtrack to a kickass summer. At least that's how it struck me after an in-depth listen to it in its entirety.
Underground Railroad to Candyland Knows Your Sins is available in a variety of colors on LP or on CD with a gatefold case and cool layout, along with an insert that is put together like one of those religious pamphlets that wacky holy rollers pass out in subways and bus stations, only with lyrics and unique artwork. And you can get your hands on a copy directly from Recess Records, from the band at one of their shows, and select distros and record stores.