It seems like every other week someone we love for their sheer tenacity and talent has packed their suitcase and taken a French exit off of the face of this planet. Hence, they didn't even say goodbye. Not one sector in the arts has been spared. Every other week, another legendary artist drops dead and the world mourns their passing with somber and nostalgic social media posts. Chuck Berry and J Geils just checked out back to back.
So, what's left in this world to still be excited about? The Sonics! That's who. And if you get a chance to catch them live this year, don't miss the opportunity. You won't be disappointed.
They started playing in 1963. Broke up. Went their separate ways. Reunited briefly in 2007 before another lengthy adios, and are now back with their hard knuckled, turbocharged, riff-based rock-n-roll, which has not softened since 1963. It's 2017, and their records still aren't for sissies. Neither is their live show.
People say Rock-n-Roll is dead. It isn't. In fact, it was just on an extended hiatus. Welcome back, Sonics! You came back to us just in time.
I spoke with Rob Lind over the phone before the shows in Texas. Extra special thanks goes to Wendy Brynford-Jones for making this interview happen.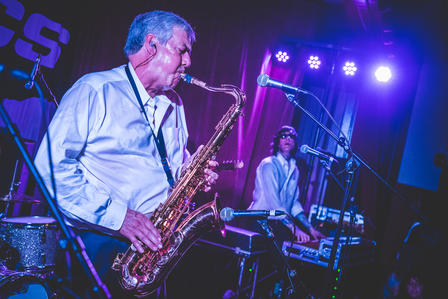 Punk Globe: So, what brought The Sonics back? Why did it take so long?
Rob: We got back together in 2007 to do some shows, but to me it felt like we were a juke-box band and I wasn't feeling it. It felt stale. Maybe it was the timing. So, we called it quits until the new album we did in 2015.
But, we did some shows in Europe with The Hives and that was great. European audiences are a blast. They know the history. They know the words to the songs. In Finland, the road signs look Russian. They don't speak too much English. When we played "Strychnine" they went crazy and knew all the words even if they didn't understand them.
Punk Globe: Rock-n-Roll is a universal theme.
Rob: Yes, it is!
Punk Globe: You just came back from doing shows in Chicago, Cleveland, and Toronto. How did that go?
Rob: It was great! People seemed to be really into it. I love looking out at the audience and seeing people having a good time. It was great seeing people sing the words to the songs. Toronto was fantastic!
Punk Globe: How do the audiences compare now to when you first started?
Rob: They are better now. Very energetic. If they like you, they sing along. They raise their fist in the air, they get up onstage and dive back into the crowd. The audiences today are much more involved.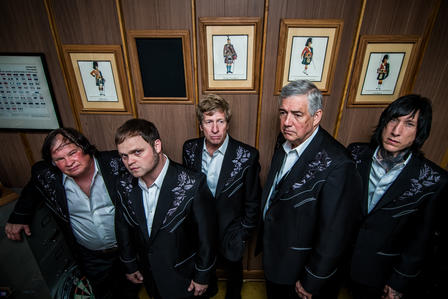 Punk Globe: Chuck Berry just passed. Any thoughts on that?
Rob: Oh yeah. We loved him. We liked rock-n-roll. We were from Tacoma. The bands up in Seattle exhibited great musicianship but were different from the bands in Tacoma. We were into Little Richard, Chuck Berry, James Brown, Jerry Lee Lewis, even Elvis. We were playing two sets a night and the purpose was to rock, and the harder we did it, the more people liked it, so we did it more. That's how we got into that kind of music and it's reflected on the first two albums.
Punk Globe: You're coming to Texas next week. Have you played this region before?
Rob: I lived in Texas for eighteen months. My wife is a pilot based in the Dallas/Ft. Worth area and I fly down there occasionally when I can. We'll go out and drink beer, eat brisket, and listen to Texas music. I would live there if circumstances were different. I'm looking forward to the shows down there next week.
Punk Globe: Why did The Sonics break up?
Rob: At the end of the sixties, we broke up. Not because we didn't get along, but things changed. The world was different and we got pulled into different directions. The Vietnam war was going on and at the end of December 1967, I got drafted. I wound up in the U.S. Navy.
So we all went in separate directions. I was finishing up college and then when I was drafted, I had a brilliant idea, which was if I was going to go to war then I was going to fly through it.
Punk Globe: Then you became an airline pilot for Continental Airlines, right?
Rob: Yes. After the military, I ended up flying commercially for twenty-five years. When I got my head out of airplanes, I started listening to what people were playing and I really liked it.
Punk Globe: How did the record in 2015 happen?
Rob: Jim Diamond produced it. He didn't want to make a sixties Sonics record. He wanted to make a record that sounded like The Sonics but didn't want to recreate the past and I think we succeeded.
Punk Globe: Ginger wanted to say hello to Dusty, who has been in a quite a few bands.
Rob: Oh yeah. He's been in a lot of bands. He was in Agent Orange, who would do thirty shows with no break. The Sonics don't do that. One of the challenging things about touring now is we are all older and it's hard to keep the energy up night after night. Dusty really lived that touring life. We take it a bit slower.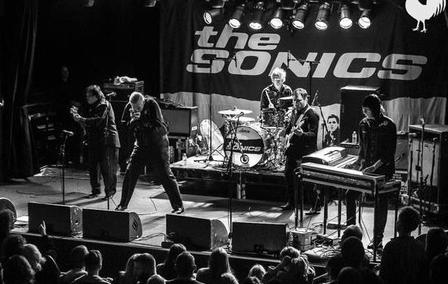 Punk Globe: What's next for the band?
Rob: We're doing shows the next couple of months starting in Texas, then we will be in Europe, and back in the states in May and June. We plan to do more shows afterwards.
Punk Globe: What's the best way for people to keep up with The Sonics?
Rob: We have a website thesonicsboom.com and we have an official Facebook page that people can check us out on.
Punk Globe: Thanks so much for the interview! I'll see you at the show Thursday.
Rob: No problem, come back to the dressing room and say hello to the band before the show. Just contact our manager if there's a problem getting back there. You know, they probably having big bouncers there.
Punk Globe: They do. But, they're really genuine people. Just the nicest crew you'll ever meet. Always a kind word for everyone. See you Thursday!