Self released
Out 21st July
The Soapgirls have an international pedigree. This raw rock and roll duo are two sisters born in France but raised in Cape Town, South Africa. After gaining some success at home they are now out and touring the UK and Europe regularly. Something must have rubbed off on them, as despite their background, 'Society's Rejects' sounds like something that might have grown out of the mean streets of some non-descript, tired, downtrodden English town or city.
Deliberately stark and basic in execution, the songs here range from the catchy yet edgy high energy pop-punk of 'Step Outside' to the angry social commentary of the title track which I'm sure will get great crowd reactions live with its' 'Hate Me, hate you, fuck me, fuck you' sections.
The band image certainly includes a healthy dose of sex appeal and who doesn't like sexy, sassy girls with a social conscience and a ton of attitude? The important thing though is that all the anger and aggression comes over as completely authentic. When they snarl 'Her boss is a dick she wants to get high but she needs her pay' in 'Sam's On Crack' you believe that it's a song about someone they know, and almost feel guilty about singing along. It's so catchy you have to though.
It's hard to keep that level of intensity up throughout a whole album and when they dial it down such as in the more reflective 'You Hate Losing' it just isn't as effective as their standard full frontal attack style. The ska leanings of 'Drag You Down' don't quite work for me either.
No need to worry though as it's not long before they are worming their way insidiously into your brain again with songs like the L7 meets Nirvana in a dark, dirty alleyway anthem that is 'Bad Bitch' or the grunge meets pop punk genius that is 'Rather B Dead'.
It's all too easy to play up to the image and throw in jokes about having some dirty fun with The Soapgirls or other such tired bullshit. The truth is that behind everything else this is a band with not just attitude, grit and a great look but genuine depth to their songs and no little talent. They might be society's rejects but I think the rock and roll community will be accepting them with open hearts and fists in the air.
Rather Be Dead :
Bad Bitch :
"Society's Rejects"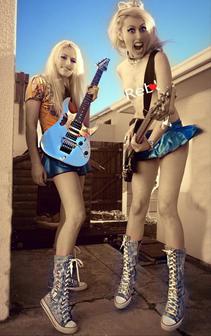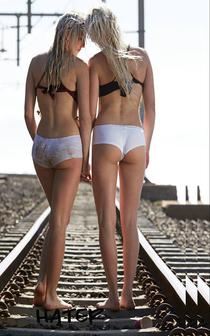 Societys Rejects track listing
Societys Rejects
Jonny Rotten
Waters Edge
Party In Hell
Air
Step Outside
Original Sin 4:00
Sams on Crack
You hate Losing
Drag You down
Play with Fire
Break You
Bury Me
Bonus tracks:
Rather Be Dead
Bad Bitch
Album https://store.cdbaby.com/Artist/TheSoapGirls1
Reviewer Rating 7.5 out of 10