"http://www.w3.org/TR/xhtml1/DTD/xhtml1-transitional.dtd">
HIT THE FAN!
By: Cassi Patterson
A couple of weekends ago my friend Caryn and I spent the night in San Francisco so we could see our friends, The Sheets, play a debut and CD release show a the Rockit Room on Saturday June 11th. We got a cool place to stay in the Marina district and cabbed it to the show over in the Avenues. I think the Rockit Room use to be very near the location of the Holy City Zoo, a comedy club. I remember many eves there with a comedienne bf at that time, with my friend and room mate, Cathi. Getting drunk and being included in his stand up act. We saw guys and gals that later became famous. Anyway...reminiscing... And now, on with the show...drum roll please...
Because we ran so late we missed the opening performer, Kenny Eng, I really enjoyed the last song he played and the stuff I found on his website. He is a talented singer solo artist with a beautiful voice that can sing any song. He covers such artists as Bob Dylan, Michael Jackson and even opera arias. Check him out. Amalgamation definitely began the rock portion of the evening. With the Duffeys (Pat and Billie Jane) plugged in and electric, the night took a wall vibrating turn. Robin has an amazing voice. I liked their (Robin and Billie Jane's) girl energy on stage between both the ladies. The show was rich in roots rock that displayed their original tunes stunningly. These kids are no beginners. Everyone played their heart out supporting Robin's powerful presence. Not to mention how gorgeous Robin Lovejoy is and how absolutely wonderful, she and her partner Ivo Mijac, are. It was a true pleasure meet them and hear them play live. To make this mix even more interesting, it was great to visit with pals back from thirty years ago who came out to show and of course, The Sheets, who played the show.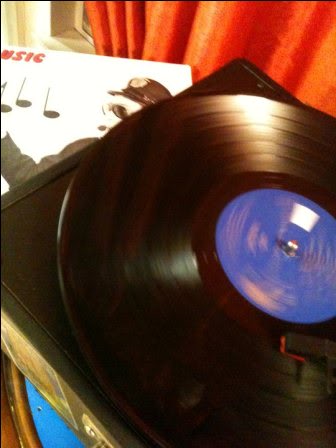 This is back in the day when we listened to our music like this!
These are the same boys we use to go watch play music and then hang out with to play in the City (San Francisco) in the eighties. Those were fun and crazy days. What a blast from the past. Being reunited with pals from our CHILDHOOD is awesome to me. They all seem like solid citizens AND looking great in their middle ages (sounds so prehistoric yet magical!) AND still rocking.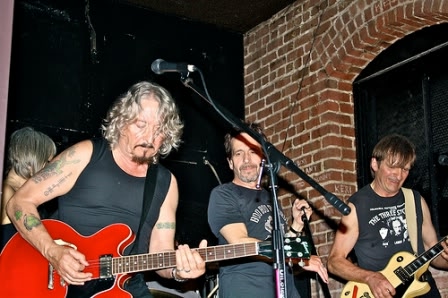 The Sheets NOW!
They are still pretty damn hot after thirty years! They rocked the Rockit Room too.
They put together a set of songs from now and then. I recognized songs from thirty years ago. Which is impressive to me (I barely remember three minutes ago). They hold up and the jangly gritty guitar sound that Pat and Jimmy dueled out on stage made us all want to dance and sing along. I was pretty busy taking pictures and drinking though. Chris' voice is probably better than it has ever been. They play with a lot of heart and they have a good time blending the best of new wave slam/glam with their satin Sheet trademark. Those sexy Sheets! A fun night of raucous toons, old friends, new friends in my favorite city, so far, San Francisco.