I have known Minner of The Sawed Offs for a while on Facebook he has always been supportive of me and what I do,so I thought I would give back the love and tell you all about him and his band these guys rock and they have great merch(you all know I love merch) I'm hoping to be booking them a San Diego show in the summer with some great local support make sure you check them out on social media and live if you are able.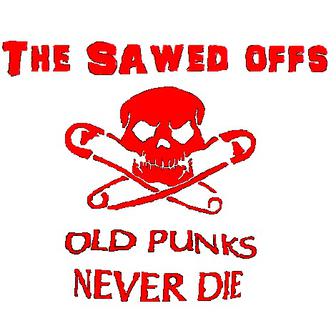 Punk Globe: Hi guys thanks for taking the time for Let's Talk Punk how long have you all been a band and whats your current line up?
The Sawed Offs: Thank you for having us, We have been together for about 2.5 years. witch has been a wild ride. Our current line up is Danny Sparks on Drums , Randy Motherfucking Idol on Bass , Stewart Wright on Guitar and Vocals , Minner Himself on Guitar and Vocals.
Punk Globe: You just came out with some new music,can you tell us a little about it?
The Sawed Offs: The new album is called Punk Rock The Way It Was. I (Minner Himself) write most of the songs, Stewart Wright chimed in a few on this album. I have been writing songs for 25 years or so, they are mostly small clips of some of the crazy shit that runs through my head.
Punk Globe: What is your music making process?
The Sawed Offs: My music making Process ? LOL I'm a bit of an odd one in that department, I either pick up my guitar and spit them out or they just hit me while I'm at work and I write them in my notebook i always keep in my pocket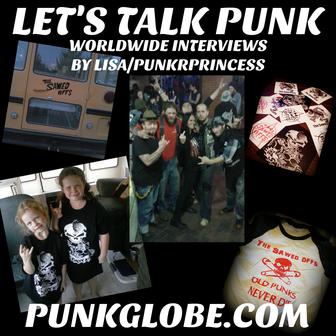 Punk Globe: What or who inspires you in your music?
The Sawed Offs: Honestly Nothing.I (Minner Himself) started playing guitar when I was 10 , my dad Gary Johnson,showed me a few cords and I just took it from there. I sat in my bedroom beating the crap out of that old guitar lol (that's what my parents called what I was doing) LOL. I did that for 3 years , I didn't even listen to music at the time I hadn't heard anything I liked up until my buddy told me I had to hear this new band he had found and put in The Queers A Day Late and a Dollar Short, I was BLOWN AWAY that there was people out there that played the way I did. HOOKED FOR LIFE!
Punk Globe: Strangest venue or gig you've ever played?
The Sawed Offs: LOL Well our very first show was at The American Band Stand, which is a building that was a Strip Club when we were kids, and now they have a Church in. LOL It was going to be there first show there; they were trying to make a live music club when the church didn't use it just to raise money and stuff. They had a camera guy there from some Internet news show and everything. We were headlining, as far as we got was turning our amps on and then they kicked us all out. LOL
Punk Globe: Were you influenced by old records & tapes? Which ones?
The Sawed Offs: Not really. I'm sure some of the other guys would say they were I mean don't get me wrong I love music! I mean like The Bad Brains,Minor Threat ,The Misfits,The UK Subs,The Queers,D.R.I Teenage Bottlerockets,Teen Idols,The Circle Jerks,Chaos UK,CRASS,Screeching Weasel All that stuff is great. But to say they Influenced the music that we do is not really what I would call it. I wish I got influence from the music I love , I would love to write music like that , But I just do what ever comes to me.
Punk Globe: How do you handle mistakes during a performance?
The Sawed Offs: WHAT MISTAKES? LOL Well that why we practice a LOT! The trick is to have a good understanding of what could happen and know that it happens to everyone. You just have to keep playing. There is also a LOT of "just wing it" and keep playing like you meant to do it.
Punk Globe: Do you get nervous before a performance or a competition?
The Sawed Offs: Well Randy , Stewart ,and Danny do a little bit. I'm a bit of a weirdo.I love doing what we are doing . I am only nervous about getting there then after I get on stage I'm fine.
Punk Globe: What advice would you give to beginners who are nervous?
The Sawed Offs: Most people are nervous because there is a crowd full of strangers, you have to remember and tell yourself, that these people came to see you and the BIG ONE is " What People Think Of You Is None Of Your Business ".
Punk Globe: Do any of you teach music?
The Sawed Offs: I have a hard enough time teaching these three guys… LOL I use to teach guitar class back in high school, and a few lessons here and there. But to answer the question no.
Punk Globe: How do you balance your music with other obligations - mate, children, job?
The Sawed Offs: ADHD!!! LOL Its all in planning lots and lots of planning. You have to look a week in advance, In Booking shows you have to look Months in advance.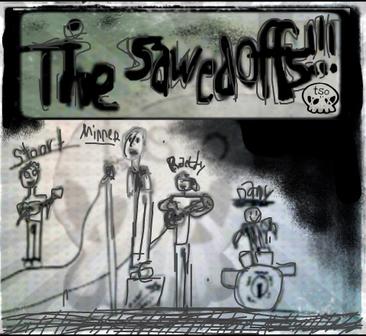 Punk Globe: Any upcoming shows or tours?
The Sawed Offs: Yes we do.
Feb. 23rd San Marcos Texas
Feb. 24th Bryan Texas
Feb 25th Victoria Texas
March 11th Atlanta GA
March 27th Atlanta GA
April 20th Fort Lauderdale FL
April 21st Daytona Beach FL
April 22 Orlando FL
June 14th Kearney Nebraska
June 15th Denver CO
June 16th Colorado Springs CO
That is as far as we have gotten so far.
Punk Globe: Where can readers find you and your music?
The Sawed Offs: https://thesawedoffs.bandcamp.com
https://www.facebook.com/TheSawedOffs
we can also be reached @ thesawedoffs@gmail.com
and @ 1-706-463-9525
Punk Globe: Any shout outs?
The Sawed Offs: BIG THANKS to Joe Queer for helping us out, and James Tinch for helping with Art Work. And to all the people that have put up with us!!!
Punk Globe: Thanks for the interview and keep rocking