The Red Aunts are an all-female punk band that formed in 1991 in Long Beach, California, when Terri Wahl (guitar/vocals) recruited friends Kerry Davis (guitar/vocals), Debi Martini (bass/vocals), and Lesley Ishino (drums). Their brand of unfiltered music is toxic, taking a sharp claw to every riot grrrl cliché it can shred. After five albums, several years of touring, and a huge fan base, they called it quits in 1998. Their greatest hits compilation, 'COME UP FOR A CLOSER LOOK' was released on In The Red Records in December 2014; a gatefold sleeve double album, complete with killer art and photos, and liner notes by Red Aunts fan, Sasha Frere-Jones.
Your favorite band of the 90s (maybe). Best and worst live shows of all time, depending on the night. Now angrier, hungrier, and a hell of a lot more tired – can Terri, Kerry, Lesley and Debi get it together in time? Only one way to find out! Party in the pit, punker!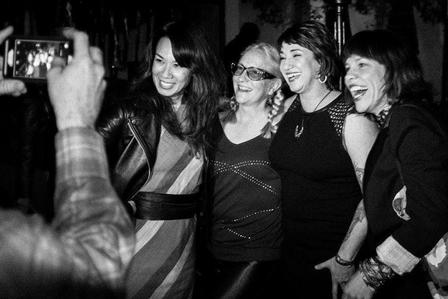 "...once Red Aunts began their set, there was no going back. I don't think anyone expected it - the girls seemed nervous beforehand and for good reason since this was their first show in 20+ years, but as soon as they started playing these girls put on one of the best Rock n Roll shows I'd seen in a while." Foxes Magazine (ITR 25th Anniversary 2016)
"The Red Aunts were nothing to mess with....wonderfully reckless rock." LA Times
"No punk, quasi-punk or fellow traveler should be without this bracing viciousness." LA Record
"To my surprise this next band was the best of the fest in my opinion, The Red Aunts. I walked into the Echo for a moment and got scared, thinking I had stepped into a den of cougars. But no, it was just the Red Aunts, four hot older chicks about to tear it up. This was their first show in twenty years, the last time they played there was no internet. They had spent the last seven weeks relearning their songs and when they got on stage, they absolutely KILLED IT. They were amazing! And I could see on their faces that they almost forgot how hard they rocked. They played good music to dance to, great music to rumble to." Janky Smooth (ITR 25th Anniversary 2016)
…a fucking PUNK BAND" Noisey (album stream)
Live Photo courtesy of Chris Carrasquillo.
Upcoming Live Shows
1/12/18 Red Aunts @ The Echo. Los Angeles, CA.
1/13/18 Red Aunts @ The Casbah. San Diego, CA.
1/14/18 Red Aunts @ The Hemlock. San Francisco, CA.
PUNK GLOBE: So what's up with The Red Aunts these days? The band has reformed and you have played a few shows. What prompted that and how were the shows?
Kerry: We are good! Our "greatest hits " was released on In The Red Records and that's what prompted the shows. We had so much fun.
Terri: We just missed it. The shows are amazing. It's great to see all of our fans grown up.
Lesley: We got to talking about it and it seemed people were interested, so we just went for it. We all enjoy each other's company so much - it has been such fun.
PUNK GLOBE: Is this a long-term reunion? Maybe a new record?
Kerry: We have been talking about a new 7" for sure. The record business has changed a lot since we came out.
Terri: Who knows!!!
Lesley: We'll see! I can imagine us continuing to do shows if people are showing up to see us. Debi wrote a new song and we're thinking about putting it on a 7". After that, who knows?
PUNK GLOBE: How have the audiences been so far?
Kerry: The shows have been awesome, we are playing small clubs and punking out pretty hard for old ladies!
Terri: Punk as fuck.
Lesley: Really sweet and receptive. Even traveling from other cities.
PUNK GLOBE: Will there be more shows outside of California any time soon?
Kerry: We may be playing NYC again and we have had a lot of requests to go to Chicago.
Lesley: I think we're talking about NYC again. Maybe Columbus, I hear?
Terri: Yes, not sure where quite yet.
PUNK GLOBE: Why did the band break up in the first place? Or was it just an extended hiatus?
Kerry: Debi moved to NY and a bunch of other stuff, I guess....we were together for 7 or 8 years and had out five records and a bunch of singles.
Terri: For me, it was a work thing. I opened a restaurant.
Lesley: Debi decided to move to NYC, basically.
PUNK GLOBE: Did everyone stay active with other bands and projects during the time that y'all have been away?
Kerry: Yes. I have a band called Two Tears that still plays and puts out records and Debi and Lesley have played in that with me. Lesley and I played drums for The Kills on and off for a few years, too.
Lesley: I had several bands...Alaska, Static Static, Smelly Tongues. Kerry and I played drums with The Kills for many years. I played in Kerry's band, Two Tears, for a few shows... I'm looking for a project now...
PUNK GLOBE: How do you feel about the music scene today? Are there any specific good or bad changes that the band has specifically noticed?
Kerry: I lived in France for a while and found some great bands there like Sonic Chicken 4 and The Limiñanas
Lesley: I think the scene is exciting. So many bands - so many ways to hear them and see them. I especially like that more and more women are playing music. I have played 4 band bills and every drummer will be female. Back in the 90's, you could count female drummers on your hands.
PUNK GLOBE: Do all the band members still live in the same city?
Kerry: We live on separate coasts and practice at home, then fly to where we are playing, practice there and then play our shows! It's crazy.
Debi: I practice in my Lower East Side apartment. I've got a Crate practice amp that I can turn up as loud as I like. This past summer I was visiting LA and I was able to practice with Terri & Lesley. For shows we usually have one or two marathon rehearsals.
Lesley: There's two of us in L.A, two of us in NY area. We practice in pairs then convene a day or two before a show and rehearse like crazy. For our last NYC show, we did an 8 hour rehearsal that just about killed me.
Terri: Lesley and Terri live in LA. We practice here. Debi and Kerry live in NY, they practice there.
PUNK GLOBE: Any new surprises in the set list for any of the upcoming shows?
Kerry: Nothing new...yet.
Debi: If I told you it wouldn't be a surprise!
PUNK GLOBE: What's the best way to track the band? For shows and merchandise.
Kerry: We have a Facebook page that we all check quite often, so people can write us there!
Debi: For shows and merchandise. Follow us on Instagram Red__Aunts or Facebook.
PUNK GLOBE: Is there anything else you would like our readers to know about The Red Aunts in 2018?
Kerry: Punk rock will never die and GIRLS RULE!!!
Debi: Look out! We are coming to tour town! Look for new music in the new year.
Lesley: Come out and rock with us! We'll play your festival! Haha.
THANKS!!!!