"http://www.w3.org/TR/xhtml1/DTD/xhtml1-transitional.dtd">
A Review of The Razorbax @ The Rugeley Rose Pub. UK
Written By Andrew Bond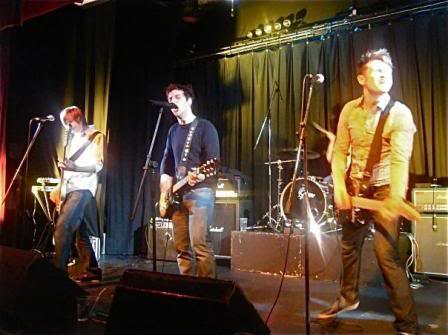 The Razorbax are Leigh Bucknall, Jack Perry, Louis Bowen, and James Kitchen and could just turn out to be the most revolutionary and important band in the last 30 years..... 'Well you never know' every song they sing possesses the signature sound associated with the powerful Icons of the late 70s early 80s and the modern day.
The drums fiercely kept beat... (Travis Barker would consider retiring if he saw this show.)The guitars roared with overbearing power, over all of it, the extremely catchy lyrics of Leigh Bucknall, It all makes the sound of a band with so much passion and resentment, that they are no doubt destined to be some of the most recognizable Faces/sounds in punk music.
Get to see this band before they become famous, so you can say the words 'I saw them before they made it' they're going places undoubtedly talented, at ease as any top stadium band when they are on stage and even when playing to a smaller crowd they rocked it like it was Wembley in front of 90,000 and one day I think it could well be...