I have always wanted there to be a proper Ramones all woman cover band. This group did start out as a full-fledged cover band and I love even more that it didn't end there. They have put their effort into writing and recording original music. So many cover bands end doing just covers. When they tire of the concept they were pushing it often ends. These women have pushed on and have done a damn good job doing so. They have kept politics, important topics for both men and women and the best part…the fun that made the Ramones seminal. The Ramones are one of those groups kind of like The Who, were considered rock for men. The Ramones proved that they could do all kinds of songs, and now so have the Ramonas with the new record "First World Problems" that contains all original songs following a single "Speak Up" and an EP "You Asked For It" both released in 2016 . Formed in 2004 they have gone through different line ups but have now solidified with Camille, Maxine, Lisa and Vicky. They have played some big shows with big name bands in England such as the UK Subs. The Ramonas have the intensity and music that will be sticking around for a while and it really makes me look forward to more from them. It's always good to get more women involved in making punk rock music. I wanted to learn a bit about this band and the women in it. They agreed to answer some questions in the middle of a very busy schedule of shows and promotion,
Let the questions begin...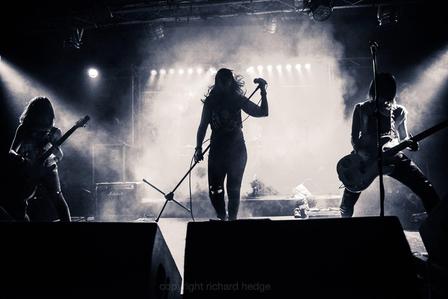 PUNK GLOBE: How did the band start, and why the Ramones?
Camille: Me and Maxine are pretty new to the band, but were fortunate enough to join just at a point where the band were branching out to do original material as well, it was pretty great and lucky timing!
PUNK GLOBE: Who besides the Ramones do you list as your musical influences?
Lisa: Motorhead
Maxine: Pink Floyd!
Vicky: Way too many to list but Chuck Berry and Joan Jett are up there with Ramones.
Camille: Again, too many to mention! But Nirvana and Led Zeppelin influenced my playing the most.
PUNK GLOBE: I'm impressed with your political statements about Trump, The Daily Mail (UK Paper), personal problems, and more. I don't want to reveal the whole album but how do you go about writing your songs?
Lisa: Every song evolves differently, it can start with the concept for lyrics/theme or a riff or in some cases one of us has almost a complete song written that we take into rehearsal rooms to jam and complete. The Lyric ideas usually stem from anger at currently situations in the world or social observations.
Vicky: Some songs just come to you but others can take a while to build from ideas/ riffs etc. I usually find it easier to come up with a concept first and build on that, the most important thing is that you have something to say. I personally like to keep a sense of 'tongue in cheek' in there too.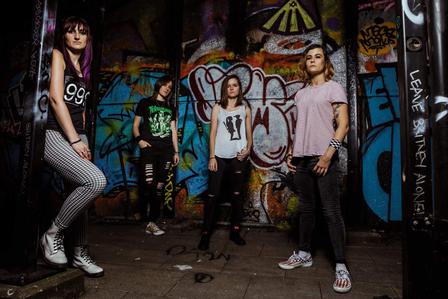 PUNK GLOBE: In this day and age, where it seems that women are losing rights not gaining them, how important do you feel it is for women to speak up and be heard?
Maxine: I think it's only recently really we have taken back steps in becoming a more equal world in that sense. The positive movement and energy toward women rights, LGBT etc.… is still present, and it's so important to know your worth and stand for anyone who feels like less than.
Vicky: I think it's really important for women and girls to have role models. Even though we are still a minority in a lot of areas, it's great to see the number female musicians out there has grown even in the time The Ramonas have been going.
Camille: Second that! I've grown up playing music being told I'm 'pretty good for a girl' ha-ha, fortunately women are becoming more widely recognized as being great musicians, as opposed to great female musicians. and I think the same goes for a lot of professions that are more predominantly male as well.
PUNK GLOBE: Do any of you have other artistic mediums besides music?
Lisa: I used to do a lot of painting, although that has been neglected from some years now due to how busy I am with music.
Maxine: The art of food? Is that a thing?
Vicky: Definitely food, drawing and gardening.
Camille: Ha-ha yeah I love to cook (and eat. a lot).
PUNK GLOBE: Mainstream music has become a machine, what drove you to want to put out an independent record?
Lisa: We have wanted to put out an album for a long time. When you do it yourself, although it is a lot of work, it means that we have full control over every aspect of it, which is how it should be really.
Vicky: It seemed like a natural progression for us and now was the right time, we had no idea what the feedback would be like but everyone has been really supportive, so thanks!
Camille: Yeah it's amazing what you can achieve putting out a record independently, and meant we could do it at our own pace. I've loved everything about the experience, thanks to everyone that's supported us with it!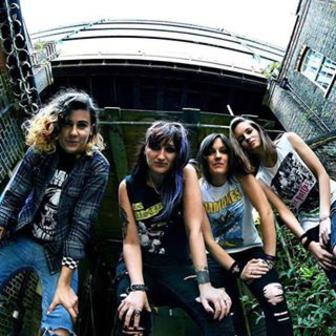 PUNK GLOBE: I looked and saw that you have played around Europe, where do you want to go next and do you plan to come to the United States?
Maxine: We want to come to the US absolutely! Also, South America and Japan!
Vicky: We came over for NAMM in 2014 and played a few shows but a return trip is well overdue!
Thanks to the Ramonas for taking the time to speak to us and here are some ways to listen to and learn more about the band.
here is their Spotify list address for the album "New World Problems"
https://open.spotify.com/embed?uri=spotify:album:0fH6VOAJcE30vt32Swusfg
webpage: