"http://www.w3.org/TR/xhtml1/DTD/xhtml1-transitional.dtd">
By: De Fen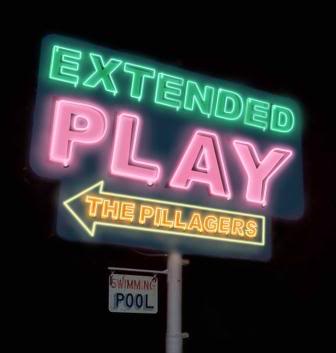 Tracks
1. Vaguest
2. Thrilled To Death
3. I Don't Know
4. Happy Looking Glass
5. Desirae
6. More
7. Shameless
Devotees of power pop, garage punk and psychedelia will no doubt be stoked with The Pillagers release, "Extended Play". It does feel a bit icky to cram what is quite simply excellent music into sub genre ghettos or rather, one wonders if the genre label is doing it's job competently. That said, this seven song release from Buffalo supergroup The Pillagers is nothing short of excellent music.

"Extended Play" makes is presence known from the first track, "Vaguest" which deals with the loss of human interaction in the technological age while poking at certain urban dream cities. The criticisms are sharp and playful, accompanied by the catchy, jagged guitar hooks that define The Pillagers sound throughout the release.

The Pillagers are: Gary Zoldos on lead vocals, Patrick Kane on lead guitar/vocals, David Bowling on rhythm guitar, Bob Rich III on bass/vocals and Jerry Augustyniak on drums. "Extended Play" can be obtained here: www.cdbaby.com and I'd also recommend checking their official website www.thepillagers.com for tour dates and breaking news. They recently finished a hugely successful UK tour and are steadily gaining momentum since their formation in the summer of 2008. I'd mos def recommend checking these cats out before they completely blow up.