ZAP Records and Thumper Punk Records have released the final The Old-Timers album, Old Dogs New Tricks. Featuring one new track and a greatest hits sampling of favorites and rarities, Old Dogs New Tricks brings it all together in one place re-mastered by Sef Idle at Simpul Studio. The album documents The Old-timers journey from friends exchanging home recordings to full-fledged thrash band with a notable supporting cast. It also continues the band's story – to reflect mankind's journey from sinner to repentance to reconciliation through Jesus.
This is an album that reaches down into your soul and comforts you. I absolutely loved the music perfectly suited to each lyric. The Old-Timers shared many epic journeys together and this album reflects on their grand journey. This last hurrah is utterly flawless. Easy listening, with sounds to appreciate.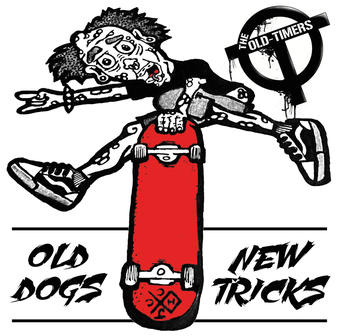 Track Listing:
1. These Grey Hairs
2. The Ramp Locals Part II
3. This City (Extended Cut)
4. This State
5. Soli Deo Gloria (feat. J-son Infirmities)
6. Turnbull ACs
7. Let's Celebrate Christmas
8. No Regrets (feat. Sef Idle)
9. Mammon
10. Joe #1
11. Axios
12. For The Love of Hippos (feat. Scott Key)
13. Hole In My Heart
14. Father God I Wonder
15. Televangelist
16. Homeless Friends (feat. Ninah Llopis)
17. Broken Glass
18. Walking Stick
19. Sing What You See
20. Fun Times
CDs are available through the Thumper Punk Records webstore, and digital versions are available through iTunes, AmazonMP3 and most other digital retailers.