You can hear them regularly on PunkrPrincess Whatever Show/Whatever68 Radio and on most of our free comps,I believe this band rocks and deserve to be seen and heard go find them on your favorite social media site and give them some love and listen to their music!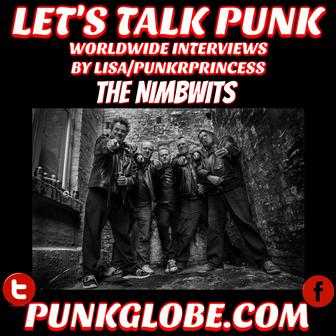 PUNK GLOBE: Hi and thanks for the interview can you give us a little band history including current members and roles?
Nimbwits-Ibzen: Well Carsten started the band and got the rest of us involved...didn't really think I was ever gonna be in another Punk band,but Guess I was wrong. :)
Lars,Gert and Martin makes most of the music and I write most of the lyrics. Carsten does a lot of promotion stuff.
PUNK GLOBE: Tell us about your music making process?
Nimbwits-Gert: Nimbwits songs are mostly made from ideas for melody pieces driven by bass figures or guitar riffs, for which we add in vocal lines and find proper drum rhythms to match up. It may sound like a fixed and predicable process, but in practice it boils down to one-person present basic song ideas, and the band together play around the stuff, until we have a structure we find is cool. It is the old school method for making songs that rules in Nimbwits.
PUNK GLOBE: If you guys were to describe yourself in simple word choice. what would you say?
Nimbwits-Lars: Old drunken geezers playing melodic,aggressive right in your face punkrock and doing it cause we can and fucking love it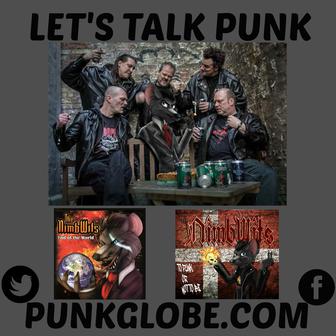 PUNK GLOBE: How many albums have you released and where can we find them?
Nimbwits-Carsten: We have released 2 albums (To Punk Or Not To Be and End Of The World) and an EP (Punks Not Dead, Just Older And Uglier). You can find our music in almost every streaming services you can imagine at the Internet and of course you can buy it directly from us and not to forget at our shows.
PUNK GLOBE: Describe your music scene.
Nimbwits-Martin: Well, we have our roots in different genres of music and that reflects through the music we are creating. While it is definitely punk, a lot of elements from Heavy Metal and hard rock find its way into our expression of the punk genre. That is probably why we find ourselves playing mostly at Metal venues.I guess the punks like that we are delivering a fresh take on old-school punk, and metal heads like that we are giving the metal some mohair and extended middle fingers.
PUNK GLOBE: Tell us your favorite local venues and why.
Nimbwits-Ibzen: Well theres a Rock Club called High Voltage....Very cool place with lots of concerts, Then there is a place called UnderWerket....very small but nice place and they got one of Copenhagens cheapest bars and not to forget Punks Undead at Huset in Copenhagen.
We've played all of these places a bunch of times, always nice people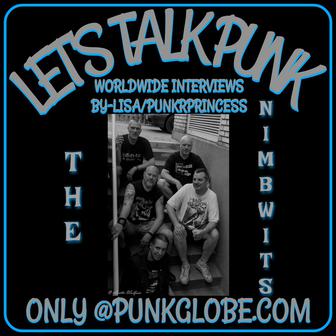 PUNK GLOBE: Who are some of the bands you have played shows with?
Nimbwits-Gert: So far we have played with a large number of local Danish bands in various styles. Anything from progressive rock to death metal and punk in many flavors. We don't care so much about the styles really, but just try to set up gigs whenever possible, and do not mind to interfere with other music styles. Along the line we have played with bands like the Danish Oi band "Last Seen Laughing", US punk band "Mean Jeans", and the Thrash metal veterans "Artillery". Lately we had the pleasure to support UK band "The Addicts" in Copenhagen, and thereafter we played Danish festival "Metal Magic" as the only punk rock band invited. Next show coming up will be with 2 bands from Sweden, respectively "The headlines" playing some fast-melodic punk, and "VA Rocks" who is a upcoming "younger" girl power trio playing dirty rock.
PUNK GLOBE: Where can we find you before and after your performance?
Nimbwits-Lars: Around the stage area the merch stand or in the bar
PUNK GLOBE: Is there anything you feel can be done to better the music scene?
Nimbwits-Carsten: That's a good question. I have been around for almost 40 years and I think it was a lot easier to get attention in the old days. Nowadays there are so many great bands around and it feels like almost impossible to get attention no matter how great a band you are. So my conclusion must be: Give some of the upcoming bands the chance to play live with some of the more established bands, which I know by experience will never gonna happen. (Hard work seems not to be enough nowadays)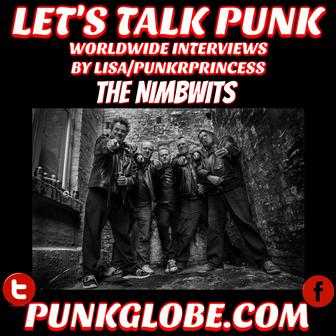 PUNK GLOBE: Whats in the near future for Nimbwits?
Nimbwits-Martin: We are playing shows around DK to promote our new album "End of the world" and working hard to get some shows outside DK. We are already writing some new stuff as we cant stop the ideas from flowing from our depraved minds. Also some new shirts will be available soon.
PUNK GLOBE: Tell us a memorable Band moment
Nimbwits-Ibzen: Hmmmmm on the way home from our first Concert, Carsten and myself had an argument and he left the band...Then I took out a Sixpack and gave everyone a beer except Carsten.....sorry man...its only for band members....needless to say he joined us again within a second.hahaha
PUNK GLOBE: Who are your musical and non-musical influences?
Nimbwits-Gert: Well, -- All 5 members in Nimbwits have different influences. We all grew up with the classic punk rock bands in the seventies, as well as the best metal bands in the seventies and eighties. Adding on top of that a large number of great "song writing bands or artists" who make music with genuine attitude and passion – then you can most likely find a Nimbwits member to show some interest.
From the shelf of non–influential bands and music, we can definitely leave out the youngest generation of computerized musicians just copying bits and pieces to make songs, as well as experimental jazz - played by people wearing knitting clothes while smoking pipe. If such comes along we might as well just listen to some yodeling polka songs instead.
PUNK GLOBE: Since everyone was a start up once, can you give any smaller or local bands looking to get gigs and airplay some tips?
Nimbwits-Carsten: When I was playing with Artillery it was just a question of saying yes or no to play shows. After I left and we start playing with The NimbWits I found out that you have to contact almost every promoters you can imagine, and you have to be lucky. I've have stopped counting how many promoters, magazine, radio station etc. I have contacted. Let me say every time you contact 1000 persons you are very lucky if there are 5 persons that contact you back. So my advice has to be: Keep trying no matter how impossible it seems and hope for the best. That is what we been doing since we started the band. Try – Believe -Try and still believing in your band.
PUNK GLOBE: What's new in the recording of your music?
Nimbwits-Martin: This time we chose to go back in time and record our latest album in TAPF studio, a local studio with some fantastic analog gear. Peter was a great guy to work with and we got to record and mix our album through his nice SSL console. For me it was a nostalgic trip back to the late 80's.
And it was quite a scoop to get Søren Andersen of Medley Studio - Copenhagen to Master our finished album. Thanx Søren & Peter you are the greatest.
PUNK GLOBE: What are the biggest obstacles for bands?
Nimbwits-Ibzen: Simply to get out and play and get airplay on radio stations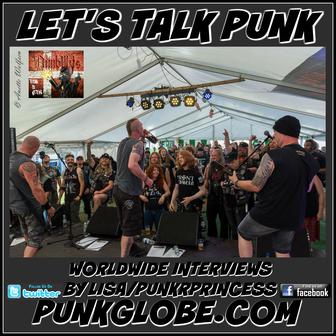 PUNK GLOBE: How do you promote your band and shows?
Nimbwits-Gert: Nimbwits have done 2 full albums now and we shoot out our music in many possible directions to get some attention. We use social medias mainly, as the old fashion way of putting up posters everywhere is not anymore so much a valid method for getting attention. Personal relations to those who set up gigs, and radio stations or record labels is as well needed, as with many bands trying to get the same gigs and radio airplay, many efforts to push for attention is needed. And when it comes to the point for a chance to play, then don't forget to be willing to play only for beers and Pizza´s, as payment for gigs for underground music is hard to get nowadays.
PUNK GLOBE: What advice would you give to fellow bands?
Nimbwits-Lars: Fucking enjoy what you are doing it takes a lot of hard work. Change the world with music or at least die trying
PUNK GLOBE: Where can the readers find you and your music?
Nimbwits-Lars: They can find us here nimbwits@gmail.com or https/www.facebook.com/thenimbwits
Write us and you can buy our music direct from us or you can buy it on the digital media
PUNK GLOBE: Anything you would like share, from new merch to upcoming shows/tours or songs/albums?
Nimbwits-Carsten: As Martin already mention, we are working on new songs, new merchandise and in the new year 2018 we will try to set up a lot of shows. We hope that we will be able to set some shows outside the Danish border so we can promote our new album and let people see that going to a show with The NimbWits is one helluva "Party"
PUNK GLOBE: Any shout-outs you would like to give?
Nimbwits-Martin: First of all: Our fans, everybody who buys our album and shows up to the concerts, without you there wouldn't be a band, an album and a concert. You all rock. All the guys and girls helping us on the way: Jesper and Rene for the great videos, Christina for the fantastic artwork and all the others that are contributing making this thing happen. And last but not least: Our families who has to put up with us crazy punks all the time. <3 <3 <3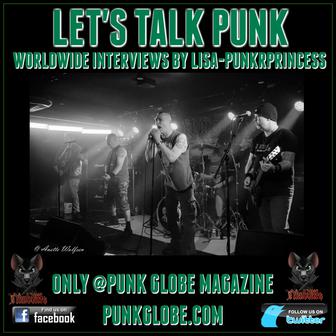 PUNK GLOBE: Thanks for the interview and the continued support you rock!
Thank u! Martin Bjørknov/Guitar
Thank You Lisa for your great interest and support in our band, that is very much appreciated.
Carsten Kjær Nielsen/Drums
Thank you for your continuing support Lisa. You Rock
Gert Christensen/Guitar
Ibzen/Vocals
Lars Uhd Marcussen/Bass