The Metz are a band from Canada. In short, they are LOUD! This is not easy listening. The band includes Alex Edkins on guitar and vocals, Chris Slorach on bass, and Hayden Menzies on drums. Together, they create a noise that is predominantly unapologetic in its punchiness, but it's also therapeutic, like a shot of whiskey. It burns, but it feels really good.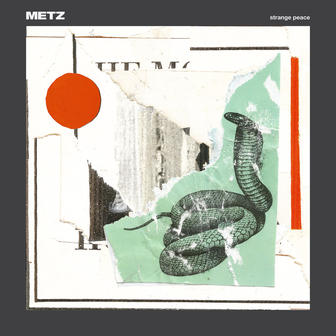 They have a new record "Strange Peace" due out on September 22nd, which they recorded in Chicago, live off the floor to tape with Steve Albini. This was a quick online interview done with Alex just prior to their new release.
PUNK GLOBE: The Metz are a Canadian band. When did you first tour America? And what were your impression of the places and the audiences you encountered?
Alex: Our first gig in America was with DFA in 2011 at the Metro in Chicago. The crowd was great, the venue was great, DFA was great. At least that's how I remember it. The five years before that, we hadn't been allowed to cross the border due to a ban Hayden had received. So, when our first record came out we toured like crazy and tried to play as many shows as we could to make up for lost time. We toured for about 2 years straight after that and almost lost our minds.
PUNK GLOBE: The band signed on with Sub Pop, which has a legacy for sure. Were any of the bands from the early days of Sub Pop an influence on you?
Alex: Mudhoney was and still are an inspiration to us. They are some of the coolest, most generous, down to earth people I've ever met. They are also a great example of how to achieve longevity in music without pandering to the industry. On the first night of our U.K. tour opening up for Mudhoney (we later toured with them in South America as well), I had just received some terrible news from back home that was possibly going to force us to cancel the tour and Mark Arm pulled me aside and talked me through it like we had known each other our whole lives. We had just met an hour ago and here he was taking the time to make sure a complete stranger was okay. It was incredible and I will never forget it.
PUNK GLOBE: The Metz is extremely loud and noisy. Sometimes, the sounds are like your being punched in the ear drum, but in a strangely hypnotic way. I asked you about Sub Pop influences, but what about influences that might surprise people? Anything that's not related to the genre in general?
Alex: We love a wide variety of music. I like to collect 50's and 60's r&b and soul 45's. We love fuzzy beat stuff like the Troggs, the Kinks, and the Seeds. Electronic stuff like Kraftwerk, Suicide, Throbbing Gristle. We went to see Neurosis and Converge together just the other day. Karen Dalton, Townes Van Zandt, The Louvin Brothers. I love Broadcast and Sparklehorse and grew up listening to East Coast Canadian bands like The Inbreds, Sloan, Eric's Trip. I've been loving Craig Leon's "Nommos/Visitng" compilation. There is no genre we adhere to or prefer.
PUNK GLOBE: What are your live shows like? How do the audiences respond? Is it chaotic? Bloody? Does it ever get out of control?
Alex: Our shows are an outlet for the three of us and for the crowd. Our gigs are intended to be a place for people to feel safe and feel free to express themselves. If that means dancing, moshing, or standing perfectly still it doesn't matter to us. Violence is not something we condone or want to perpetuate in anyway. To forget about the world for an hour and turn off your phone and feel something on a physical level is really important to me. Real, honest, person to person expression.
PUNK GLOBE: I read that there is a lot of sweat inside Alex's Jazzmaster. Is that still the case and are the knobs still taped over?
Alex: Yes.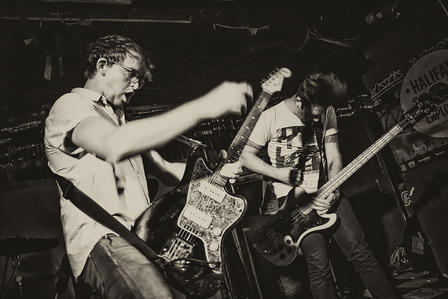 PUNK GLOBE: Chris plays an RD bass. Does that ever get heavy to play given how many shows you play?
Alex: Yes.
PUNK GLOBE: The band makes some great videos. Anyone specific that you work with to create them?
Alex: Scott Cudmore has been responsible for making several of our videos. Namely, "Wet Blanket", "Spit You Out", "Wasted". He is a close friend and a great talent. His mind is slightly tweaked and we like it that way. We've also worked with Chad VanGaalen who is an incredible musician and animator.
PUNK GLOBE: Hey, thanks for the interview!
Alex: Thank you for your support.