The Koffin Kats began by putting together songs with such subjects as dealing with the horrors of the real world, as well as Science Fiction. The band started in small local bars playing for beer, hoping for gas money, and eventually made their way out of the Midwest. The next couple of years contained positives including numerous North American tours, and negatives concerning changes at the drumming position. During this time they released their first three albums: Koffin Kats (2003), Inhumane (2005), and Straying From The Pack (2006).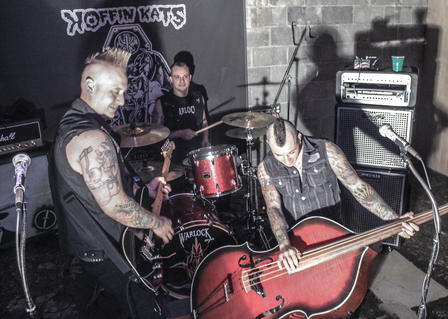 The three album releases and their supporting tours gained attention for The Koffin Kats and helped get the band noticed in the wide world of punk and psychobilly. In 2007 Vic and Tommy connected with drummer Eric "E-Ball" Walls to record the band's fourth studio album, Drunk In The Daylight (2008), and catalyzed what the band is now known for: love for their fans and the road, and playing everywhere for everyone willing to watch and listen.
In the years following the release of Drunk In The Daylight, The Koffin Kats have established their name performing in Europe, and have also been included on tours with some of the tops acts in psychobilly, including, but not limited to, Mad Sin, Nekromantix, and The Meteors. In 2009 the trio released their fifth studio album, Forever For Hire, and Tommy departed at the year's end to pursue a normal life. Shortly thereafter, "EZ" Ian Jarrell took over the guitarist position and joined the band on tour. While on the road they worked on the material that would become featured on their split album with fellow psychobilly act 12 Step Rebels, From Our Hands To Yours (2011).
The Koffin Kats signed with Sailor's Grave Records in late 2011, and released Our Way & The Highway in January 2012. The trio supported their sixth studio album's release with non-stop international touring, finally ending in summer of 2013. In autumn of the same year, they released another full-length album with Sailor's Grave Records, Born Of The Motor. Sales and reviews have proven Born Of The Motor, the band's seventh studio album, to be their most successful release to date.
Early 2014 brought another change to The Koffin Kats' member roster; Ian Jarrell left the band to handle personal business at home in Albuquerque, New Mexico. Not wanting to bring someone too far removed from The Koffin Kats family into the fold, Vic and Eric enlisted John Kay (Guitar). John was the engineer on numerous recording sessions for the group, and producer of both Drunk In The Daylight and Born Of The Motor. The Koffin Kats now move forward doing what they do best: keeping live music . . . ALIVE!
PUNK GLOBE: For People who are unfamiliar with The Koffin Kats, can you give our readers a little history about the band?
VV: We are a punk/Psychobilly band based out of the Detroit, Mi area. Tommy Koffin and I established the band in 2003. We wanted to play the kind of music we were really into and tour the world, haha. Somehow it worked out.
PUNK GLOBE: Who is in the current line up?
VV: We've been back to our original 2003 lineup now for a while. E-Ball was our first drummer who departed from the band before the first record. Then came back a few years later. Tommy Koffin, our guitarist. has been back for over a year and half now. He "took a break" in 2010.
PUNK GLOBE: The band just put out a new record. It says on your website that there are plans to press it on vinyl. Any new updates on that process? Also, the new record is called "Party Time in the End Times" where did that title come from?
VV: We almost have enough saved up for the pressing. We took a hit financially just recently after losing our European tour. So, again it got set back. But were hoping to have an announcement soon on a vinyl release date before the end of 2017. As far as the album name, every few years it seems that the vibe of the "end is near" is floating around. I was drinking with the dudes and thought to myself that we would still be doing just this even if the world was exploding.
PUNK GLOBE: Besides the genre of music you're obviously involved in, what else does the band listen to? Anything people might be surprised by?
VV: I listen to a lot of Faith No More and The Cult. Tommy listens to 90's gangster rap. Mostly Snoop. But, he can rap you the whole "Word Of Mouf" album from Ludachris. E Ball just drives the van with no radio on. So he most likely listens to the voices in his head.
PUNK GLOBE: The Koffin Kats have been around for years now and have toured extensively. How has that changed over time? Is it harder now than when you started?
VV: I'd like to think that after we put hard work in after doing years of 200+ shows a year, that things would be easy with big shows and tours that easily pay the bills. Nope. Pretty much the same since we hit the road in 2004. Except, most of the people that come to our shows now know who we are. The experience of touring all over and sleeping in the van or at friends houses does make for much smoother tours these days. It just feels natural. And when something goes wrong, nobody freaks out. Which is very important in keeping a band together.
PUNK GLOBE: You are currently touring Europe at the moment. How is that going?
VV: It did not go at all, haha. Long story short. You would think we knew there was a rule that when traveling to Europe from the States, you have to have 3 months to expiration on your passport. Tommy's passport expires in August, we were going to be back before that. We thought we were fine. Nope. So, we had these $5,000 flights booked and they would not let Tommy on the plane. Well, we were not going to leave without him. So we missed the flight. Now, we had a emergency passport the next day but the airline would not rebook the flight. So, we lost all that ticket money. And we didn't have anywhere near enough money to buy more tickets which were now up to $7,000 to get us over there. Bummer situation.
PUNK GLOBE: Any other touring plans after you wrap that up?
VV: We are heading to the East Coast in mid August. Then have some random smaller runs up until we hit the road with Guttermouth in November.
PUNK GLOBE: Do any of you have any side projects outside of The Koffin Kats? Does anyone play in other bands?
VV: No time at all for other bands. When not playing shows, we all work together running a screen printing & embroidery company we started a few years ago called Industrious Dudes Merch.
PUNK GLOBE: What's the demographic at your shows? As the scene progresses, people and audiences fade in and out and change over time. Are you reaching younger audiences in addition to your older one?
VV: We love seeing the changes and new faces. That's how we know were doing okay as a band. Our old crowd is there and it seems they are always dragging new people with them to see us. Then the next time around those new people are there. It's one of the things that really drives us as a band is the support we receive from the folks coming to the shows.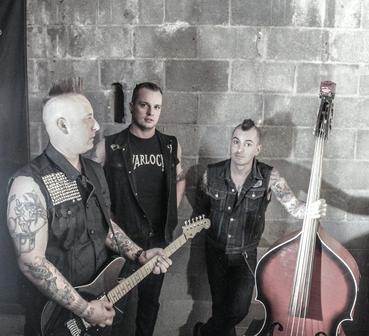 PUNK GLOBE: Being in a working-class band can be financially challenging. Do you make enough money to tour somewhat comfortably?
VV: Nope! Although we finally got a van that has both heat AND AC! So that's cool. There are rough times when there are mechanical or logistical issues and the band fund just starts draining...but somehow we've always been able make it work. Like any small business there are good weeks and bad weeks. We were all very realistic when diving into this band. We knew we would be living the paycheck to paycheck lifestyle for a long time. As we've gotten older, we wanted to have another source of income so that if we lost a tour or someone got hurt, we wouldn't be scraping by. So we started the print shop with funds made from touring.
PUNK GLOBE: What's next for the band after you finish promoting your latest record?
VV: We will always be touring around. I figure I should probably start writing some new stuff soon. But it will be a little while before anything new comes out.
PUNK GLOBE: What's the best way to for people to hook themselves up with records and merch if they can't make it to one of your shows?
VV:www.koffinkatsrock.com ... That's our website and webstore. We ship everything on the site out from our shop or on the road. Depending on where we are.