"http://www.w3.org/TR/xhtml1/DTD/xhtml1-transitional.dtd">
WILL PROTECT YOU
Alien Sex Snatch Records
By: James G. Carlson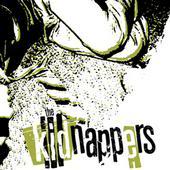 Hamburg Germany's punk rock trio The Kidnappers. Like Wheels on Fire, The Kidnappers' sound possesses a certain nostalgia, though more as an afterthought, and the eras represented are far less specific. Think CoCoComa meets Texas is the Reason and Lifetime meets The Ramones and Buzzcocks. It's a raw, hard-hitting, guitar-driven sound, slightly pop influenced, paying tribute to rock'n'roll in its purest form, with vocals that are just as infectious as the music itself. And the latest ten-song album "…Will Protect You" makes for their fifth release in all, and the second on Alien Snatch! Records.
What first struck me about The Kidnappers' new album was the photo on the cover of the gatefold CD case in which it came. For lack of a better way to put it, it's a picture taken of a young man fellating a breakfast sausage...or at least that's how it looks. Having always had a rather unusual sense of humor, I found it pretty goddamn funny. And on the insert that was tucked away in the cardboard fold of the case, there are photos of the band members, complete with their drummer in a hot pink tank top and equally hot pink little jogging shorts. Obviously this is a band that doesn't take itself too seriously, which is undoubtedly appreciated by their fans.
The Kidnappers' lineup is a simple one with Beat-It on guitar and vocals, Steve on drums, and Chris on bass. Two of the three members are related. And to make things a bit more interesting: they are not just related, they're twins. Now that's something you don't see everyday. Another interesting fact is…before they changed their name to The Kidnappers, they were known as The Highschool Rockers. By all accounts a juvenile endeavor, the Highschool Rockers earned the lads a little early recognition. Increased musical skill, overall experience, and maturity of sound eventually prompted the three-piece to rethink their initial name choice, though. And now they have reached a point at which they have not only earned themselves a good deal of recognition from fans, they have caught the attention of just about every worthwhile independent press outfit. In fact, in Maximum Rock'n'Roll's 241st Issue, when reviewing The Kidnappers' "Random Notes & Telephone Calls" album, a music writer put down that, "…this LP is the embodiment of what makes Rock & Roll great." And that is just as true of the "…Will Protect You" album.
When all is said and done, if these are examples of the musical fare Alien Snatch! is in the habit of serving up, hell, I should have been sitting at that table for a while now. But for now I can definitely say that the Wheels on Fire and The Kidnappers albums will be revisiting my stereo for quite a while, as they are both built-to-last in every way that matters.