7 "
By: Jeff Liberty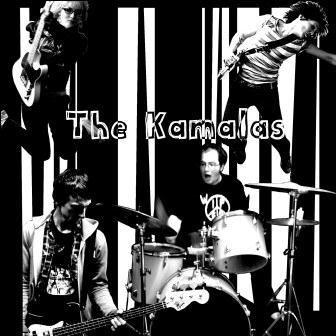 Tracks
The Great Hallucination
For All I Care
To Get You
Machinery
I heard about this band through my friend Daryl and I am so grateful to him for introducing me to this band as they are destined to make my Top music picks of 2011. I am yet to get the physical 7" in my hands, but they e-mailed me the songs and I have been listening to them obsessively. The Kamalas are a female fronted quartet from Moncton, New Brunswick, Canada that embody a New Wave/Punk Revival firecracker attitude with sonic crunch guitars, a rock solid rhythm section and Hooks galore - all topped off by a Belinda Carlisle sugary substance vocal styling with a slight snarl thrown in to make it just right!

With two women leading the attack on guitars and vocals it's reminiscent of The Runaways combining elements of confidence, innocence, playfulness, cleverness with a heavy dose of female swagger to make anyone in their sonic wake weak at the knees. At times it rivals my favorite moments on Hole's "Live Through This" with guitar riffs that echo's New York's Television and The Strokes brilliant debut, "Is This It".. Alright I confess, I Love this! My favorite song is "To Get You"!

Check the band out at http://thekamalas.bandcamp.com/track/the-great-hallucination

I had a few questions for front-women Ilisha French so here they are..
Jeff - How did the band come together? (Who is everyone and what do they play)
IIisha - The band started in the Spring of 2008 with just Tracy and I. We both play guitar and sing, although at the time, I was playing bass and singing. Before that, Salty (the drummer) and I had been playing in a band called the Damnsels. When that ended that summer, Tracy and I thought it would be wise to scoop him right up like the little drummer boy that he is. And that's when the Kamalas officially started. About a year later we got our good buddy Jesse on bass cause I was tired of it and wanted to play guitar again like in the old band. The rest is history!
Jeff - What are your influences both serious and guilty pleasure's?
Ilisha - Serious influences...we're all into different shit, but as a band, the Ramones, the Muffs, the Soviettes, the Riverdales, Screeching Weasel, just to name a few. We probably don't really sound like any of those bands though. That's a hard question, I'm somewhat stumped. As for guilty pleasures...we've been known to break into Alana Myles' "Black Velvet", and Kansas' "Carry on Wayward son" when the mood strikes us.
Jeff - What are your plans for world domination, if any?
IIisha - The pop punk thing is just an act so that we can win over the denim wearing skinny pants scenesters......once that is accomplished we're totally turning into a full on political band and releasing only spoken word albums.
Take care compadre!