'The Good The Bad' and The Zugly', or as they are affectionately known 'GBZ', also my favourite Norwegian Punk band, after wowing me with their compilation and second album, 'The Worst Four Years', are back with their third full length 'Misanthropical House' and it's a continuation of that vibrant, nihilistic Turbonegro –esque style Punk with one leg in the nineties, the other in the "mad house" and I love it.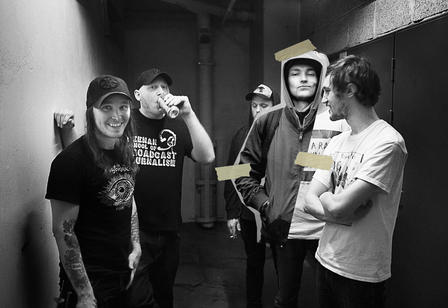 Its twelve chunks spanning a tightly filled thirty minutes that will keep you grinning from ear to ear throughout its entirety and reflects Norwegian humour to the tee (all the Norwegians I've met anyhow), the bands comment on the release puts that humour into perspective further:
"Misanthropical House is a very emotional album. It reflects the Norwegian way of life and the hodge-podge of values we share, most often taking the form of complaining and whining. GBZ want whining back in Punk! You see, there's no end to the bodily decay we're facing as the band members are approaching middle age: Haemorrhoids, fungus, obesity, hair loss, moderate depressions and hangovers of course. What else can you expect?"
It's a hugely addictive and entertaining listen, straightforward, well delivered guitar work, a screaming vocal delivery that adds urgency, hysteria and humour to the delivery and anthemic sing-along choruses for good measure; especially the sharply delivered 'West Coast Exile' and the punchy 'Ripe for the Grave' as well as 'I Need a Place To Drink' ....."not a place to think", where the need to "chill and zone out" is addressed because 'GBZ' "don't like to mix beer and I.Q. "
Most tracks have very up tempo delivery and all flow superbly, particularly 'Mindlessness' which also switches slickly in direction and pace as does 'It's A Jungle Out There, In The Forest'. The turbo charged opener 'H-Bomb' sounds like it has got sound-bites of Donald Trump midway, either way it started me smiling and on 'I Lied About Being A Hardcore Man' I loved the closing lead work but every track had something, be it humour, riffs or something else that makes it stand out in its own right and the final track, 'Going Nowhere Fast' is a short, sharp, high speed closing assault at under a minute.
'WWID' asks the question "what would I do? "And GBZ's answer is "I don't know! " but what I know it It's rammed from end to end with up tempo riffs that buzz with excitement... before ending on a quirky piano close, these guys are full of surprises.
A few tracks come in at a slower pace; 'Vik Bak Meg Satan', which I think roughly means "Get behind me Satan" addressing the subject of ......suffering from Haemorrhoids! 'International Asshole' a mid-tempo offering packed with sarcastic humour and a dig about a certain type of tourist/traveller. But it's not all hilarity; 'Sickness unto Death' takes an emotional and serious turn, laced with an abundance of powerfully emotive lead work throughout, so even GBZ have a serious side.
'Misanthropical House' was recorded at Toproom studio and mixed and produced by Anders Nordengen at Nabolaget, Oslo. Ruben Willem (Ex: Haust) has done the mastering. The artwork for 'Misanthropical House' was once again by Norwegian artist Flu Hartberg, who created the artwork for the two previous albums, known for his satirical illustrations, this being no exception; you might even recognise a few faces. I have no favourite tracks here, if you love one you'll love them all, it's a superb and well varied album from start to finish.
Track listing:
H-Bomb
Mindlessness
Vik Bak Meg Satan
I Lied About Being a Hardcore Man
Ripe for the Grave
West Coast Exile
It's A Jungle Out There, In The Forest
International Asshole
WWID
I Need a Place to Drink
Sickness unto Death
Going Nowhere Fast