Interviewed By: Rotten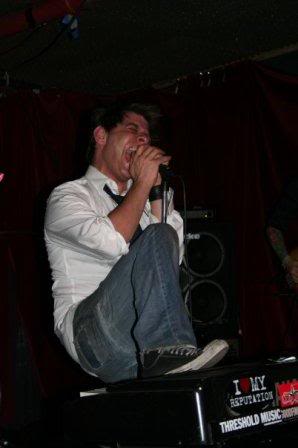 THE DREWBLOOD is not only a band, but also the name of its leader, piano player and self confessed "crazy Motherfucker" - and the guy is not wrong. He came to my attention a few weeks back and I had the option to check out his new stuff and his awesomely designed website at
www.thedrewblood.com
. The man is very fascinating and very talented, but don't just take my word for it... Head over and take a listen. Check out the awesome track TRAIN TO THE BOTTOM... He kindly consented to be interviewed for us at Punk Globe, so here it is!
Punk Globe: How did it all start for you?
Drew Blood: Like any story worth telling, it all hasn't to do with a girl...Allison Waters... I was living in this haunted house in Toronto with a bunch of dudes in my 2nd year of college, (but in all fairness, it was my f1rst time Going Back to college after fucking around the middle east for a year), first time around, dropped out after a year and a bit... We needed a roommate, and one day she just moved in... she was gorgeous... actress... smart, funny and complicated... 21 or 22, she was all the things that were just enough to drive an guy like me insane... originally she told me she was gay, so I wouldn't be interested... didn't work... I lived in the room next door to her for like 4 or 5 months or so... we became good friends, but nothing ever came out of it while we lived together... the thought of living in New York was incomprehensible, and the furthest thing from my mind at the time... So I pined after her everyday... changed my look, lost weight, worked out... tried to show her how good a piano player I was... nothing worked... One day she got this... got this offer, to go and be apart of the la mama theatre group in NYC, and so she left a few weeks later... We kept in touch and all, being as how i was totally in love with her... after a couple months I went to visit her in NYC... I stayed at her place in Weehawken NJ... These were some of the greatest days of my life thus far... Just getting to be around her and being able to sleep next to her were all I wanted in the world at this point in my life... Then one night we fooled around... there was kissing, there was cunnilingus... there were orgasms... it was pretty amazing, at least for me... I was so happy... no coitus however... oh well, I was still thrilled... all I wanted was to tell this girl how much I loved her... so after a few days I had to go back to Toronto... we talked on the phone all the time... said a bunch of I love yous back and forth... then after about a month of that... she got an offer for a prestigious acting scholarship in Italy... so she was gone for three weeks... or three months, I can't remember... anyway, she was away, and I was pining for her, and I was wondering when the next time we would be together... so she came back to NYC I guess later that summer, and she had met and fallen in love with this Italian movie actor named Roberto something or other... and I was devastated... completed destroyed... I had been doing a lot of cocaine that summer, but when she came back and said that she met this guy, and in a week he was flying to NYC to live with her and work in the same theatre company... I just went completely insane... And I started using like all the time, everyday, at work at school, at gigs... I just wanted to be lit forever... I think that's when i finished school in early December I took whatever money I had... like I think it was 700 dollars or so, and packed up my keyboard and a bag of clothes and thachkas, and went to NYC to try and win her back... though in retrospect I never really had her to begin with... I had no plan, no job, no money, no gigs... didn't know anything about the world... and had no real work experience or had ever held a job for longer than 3 months in my life except for selling weed, and playing in bands. But I was determined to go there and show her what I was made out of... I sublet a friend of a friends apartment for a week, that's all I could afford... and when that week ran out I was homeless... so Allison and her Italian boyfriend let me come and stay with them for like a month... I had no bed or linens or anything so I slept in my keyboard case outside their room, where I could hear them have sex... it was wonderfully torturous... it just made me want to die... But at the time, I think I wanted to die on some level... But luckily the gigs started coming quickly, when I put it out there, I quickly got hired to play in a band called The Niagara's... I was in an "everything black phase"... pants, 3 inch platform heels, ripped black t-shirt, black leather trench coat... mascara... the whole schmere... The guitar player of the band Tony Grimaldi hired me but said that I looked like a reject from Depeche Mode, and started calling me Drewblood... and the name stuck... And that's what I attribute the birth of Drewblood to. Funnily enough... a few years later when Drewblood had actually become a band with a our first mgmt deal with (Emily Lazar and the Lodge/EBL productions... Allison was a fan and came out to all the earlier shows.) last I spoke to her was five years ago I think... she told me she was getting married... I got really upset and haven't spoke to her since... I tried to look for her a few times... but had no luck... I think she ended up going to med school... in Kansas... last I heard ... yeah I sure can pick em... incidentally of we end up doing a follow up interview... Remind me to tell you the story how I brought over an eight ball of cocaine on the train when I was first moving to New York, it's a real good story.
Punk Globe: Any good stories from the old punk days?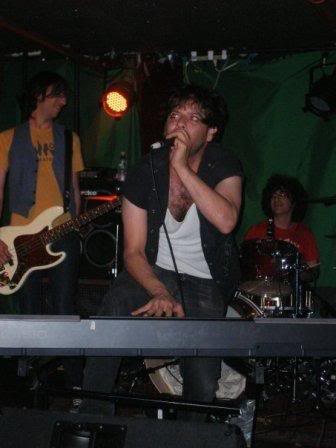 Drewblood: It's weird how you ask me if I got any good stories from the old punk days... I'm still in my old punk days...and yes I have a million stories...on some level I feel I always will be... It's a little strange for me, cause I never really considered myself to be inherently punk rock...I always just wanted to be a kick ass piano player and keyboard guy...Shooting to be more like Chuck Leavell, Eddie Harsch or Bill Payne than the Clash, Nirvana or Green Day (one of my favorite bands) But when I saw that the songwriters and the front men are the ones who get the girls, something inside me shifted... Musically I was coming from Queen and the great classic songwriters that were in my parents record collection... They had everything from Dylan...to Neil Diamond to Billy Joel, Elton John, Almond bros, Zep, and the list goes on and on, and in school for jazz piano... But contextually, lyrically, the sentiments and delivery of Cobain, Armstrong spoke to me... and I was also so inspired by Motorhead, Metallica, AC/DC...I didn't want to sound like any of the music I grew up listening to... So I think the old punk days bring about the connotation that I was sitting in some San Diego parking lot drinking Budweiser tallboys with a bunch of safety pins in my nose and ears... with a clash bomber jacket...sorry to disappoint... That just wasn't me...Punk Rock to me is the sound of a genre that spoke to me and I wanted to be apart of it... And yeah, there are a million stories... but they didn't happen in "my old punk days"... They are happening as we speak...crazy shit follows me around everywhere I go... One thing comes to mind specifically. About 6 years ago I invented a new sport called PIANO SURFING...I am considering putting a campaign together to have it submitted for the next X- Games as a demonstration sport... Or possibly the next summer Olympics... See I used to bar tend at a club on Park Ave called Lemon, and right around Katrina they put together a benefit, and I played this gig... The promoters had brought in an extra high stage, and I had a habit of standing o top of my pianos(keyboards) and jumping on them and playing with my feet(I have had many many pianos for this reason)...so during the end of our set, I got on top of my piano and started jumping on it. What I didn't realize was that the keyboard was slowly slipping of the stand which I was standing/jumping on, and by the time I realized it... I was already almost in midair and way too late to avoid not completely destroying my piano, causing harm to myself or several members of the audience... Miraculously enough...I somehow managed to "surf the piano" the three and a half feet to the edge of the stage which was 6 feet off the ground; and as it hit I could feel the chassey crack through my docs... so I knew it must have been fucked, but the momentum of the piano hitting the stage wasn't enough to stop it, and it kept sliding with me still standing on it, off the stage where it dropped another 6 or so feet onto the floor... Amazingly, I haven't killed myself or anybody else, but the piano was cracked in half... though lived long enough to finish that song which was the last one of the show... What I wont do for charity... I just give and give and give...
Punk Globe: I ain't seen too many punk bands with piano players as front men...Why did you choose the instrument?
Drewblood: It really wasn't much of a choice... I cant play guitar...I love drumming but am terrible...and I new I could write...but wanted to be different... There were only a few ways that I could express myself in the way I wanted... piano was just there for me to be able to put it all out there like I needed to...I also played the trombone in my high school stage band... And was a shofar blower at my synagogue for many years... but they didn't really rock... however I think if the Clash had a trombone player or Matisyahu got some hot chick shofar blower, I'm sure it would and I wasn't going for punk per se... I just wanted to be rock 'n' roll...punk is just how it came out... it wasn't a conscious decision... But I like the label "piano fronted punk rock"...It certainly suits my sensibilities...I don't really hear anything else similar to what I'm doing... not like I'm reinventing the wheel or anything...and it took a few EP's and failed recording attempts to and achieve the sound I got on Train To The Bottom, and in the end it took a producer named Chris Goercke to take the piano riffs and my playing style to put it up front and get that PR sound that people seem to like... it just took a guy that new and loved music and rock 'n' roll and my personality to put the pieces together to get that sound...
Punk Globe: Where does your inspiration for songs come from?
Drewblood: Melodically and stylistically I think I answered that question already, however contextually... I usually use what happens to me on a daily basis... drug use, sexual ambivalence, trying not be a massive fuck up, when do I grow up... or am I a grown up and I just don't know it...having a sugar mama...why aren't I like everybody else...you know...Just you're normal everyday ego maniacal self absorbed kid from the suburbs shit that doesn't fit in with other kids from the suburbs so I ran away and joined the circus stuff... There are a couple songs on this EP "Train To the Bottom" that aren't really trying to be clever or remotely metaphorical at all... but are just true stories... There's Think With Peter...which is a song about being lead by your cock, a true story about this girl I picked up on the bus one day and she had no place to stay and I brought her back to my little place in Harlem with me, and when I woke up she had robbed me, took all the drugs and money in my wallet Then there Above The Damned, which is about when I was at my worst,(well one of the times) waking up in a gutter after being lit for days on end, and my GF at the time, not being able to handle it. However Normal is my favorite song on that EP... And definitely All I Ever Think About is a hot cut...I hope some people check it out. That song was years in the making, and it was the third time I had recorded it...and definitely the best.
Punk Globe: If you could play with anyone from the punk world, who would it be and why?
Drewblood: Who would I wanna play from the punk world... Green Day...Their last two records, even though it all reminds me of my parents old Cheap Trick records...definitely reaches out to me... and I am always coveting that episodic anemic and sometimes queen-esqu operatic kinda punk delivery that they seemed to have reinvented themselves with...it's bloody awesome...And their earlier records are fantastic as well...they certainly have the Midas touch...and are prolific to no end...Great live as well. above and beyond that...I would love to do something with Johnny Cash...who isn't really punk, and is also dead...but if Johnny Cash had broke in the mid 70's i think he would been lead singer of some punk band...
Punk Globe: You were recently thrown in Jail, I read the story on your blog, can you tell us why it happened?
Drewblood: It's a very long winded story, but in a nutshell, I got arrested for smoking in a prohibited area and trespassing...but that's just semantics...in reality...I actually spent two and a half days in jail because some asshole cop had to make his quota and i was annoyed and mouthy to him...So what should been a simple fine turned into a few days in the clink...I got pissed on, literally and figuratively...I don't wanna relive it...people can read the story incidentally I had to do my community service recently, part of my plea bargain where I had to pick up garbage in Tompkins Square Park, NYC, where I had bought drugs from so many times before, and I still haven't paid my $140 fine yet, my day back in court was Sept 1st and I blew it off...fuck... I forgot all about it...shit now I'm fucked...oh man I can't believe I forgot about it...next question please!
Punk Globe: What's next for THE DREWBLOOD?
Drewblood: Well right now, I got a great song I am aiming to do a kick ass recording of called Digging A Ditch... ("Lovin a woman like you is like digging a ditch") can you guess what it's about? I am recording it soon and gonna out it out into the word as a single...and let it do whatever it's supposed to I also have a gig in LA @ The Key Club on Oct 19th opening for Steel Panther on their Metal Skool night, it's supposed to be a hot gig in L A, right now I am trying to get the money from my Mgmt company to get me and my band down there to play this show, there is interest from small label with a P & D deal with Universal that loves the record and hope they will put Train To The Bottom into distribution, or possibly the next TDB EP...who the fuck knows, we'll see...aside from that in the what's next for the Drewblood category...figuring out how I'm gonna pay my rent is right on the forefront... right up there with eating and keeping my phone on.
Punk Globe: Where can we check out the band and the material and how do we buy it?
Drewblood: You can get Train To The Bottom on CD BABY...or contact me through
www.myspace.com/thedrewblood
or the
www.drewblood.com
, which is our totally awesome and cool completely illustrated a cartoon website, done by Adam Carlson... an illustration genius, drewblood fan and good friend... or just find me on Facebook or stop me on the street and ill just give you one... we tried to get it up on itunes but they refused to sell the Drewblood Train To The Bottom. don't get me started...if I could actually afford to buy the paper to write a letter to itunes and express my disappointment with itunes I would, but instead I am gonna just have to write a very strongly worded email... "itunes, I'm coming to get ya!" I bet they are really worried now.
Punk Globe: Any message for the PUNK GLOBE readers?
Drewblood: What can i say man...I would tell you that if you are looking for any way or example of doing something in life that you are passionate about... look as far away from me as possible... If given the chance to make the wrong decision, I will and have made the wrong choice and taken the harder road every singly time. But I keep telling myself that if it was easy than everybody would do it... I have never been a path of least resistance kind of fellow...I've have always been more of a learn from your mistakes kind type of guy... and man have there been lots... at this point for me...I've been doin' Drewblood for going on 9 years in various different incarnations, and it's now become more than a band... it's just who I am and what I do...whether that's a Drewblood gig or recording...and I don't think I could live my life any other way... before there was this thing I created out of desperation for some kind of purpose and as grim as the gets sometimes, and believe me it can get real dark...I wouldn't trade the last ten years or so for anything...I'd rather cling to my deluded punk rock lifestyle, than sit in a cubicle...self sufficiency has never come easy to me...but being a performer and a piano player and an entertainer of sorts has always called to me...Whatever Drewblood is today and tomorrow it will always evolve for me...because that's the nature of Drewblood... If your readers can find a message in that...You won't hear an argument from me...