Interviewed By: Pancho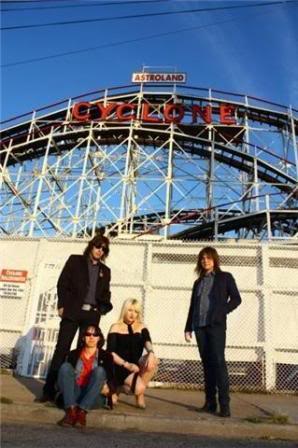 I first heard about The Dirty Shame from their lead singer Lisa Lush. We have known each other well over 15 years. From when we were living on the streets of New York City, Lower eastside. In 1996, I left New York City to Los Angeles, and we haven't spoken until the summer of 2008. Lisa kept in contact with me through her My Space account where she originally had found me. A lot has happened since we last saw each other in 1996. I went to college to study Mechanical Engineering and Art, Lisa Lush began bartending and formed the band with her boyfriend Nathan LaChance. Lisa is well influence by many bands from blues to rock n' roll. Here is my recent interview with The Dirty Shames Guitarist Nathan LaChance.
Punk Globe: Who are your music influences?
Nathan: Well, we have a pretty wide range of influences. Everything from old blues artist such as Jimmy Reed and Elmore James, New York Rock n' roll legends like The Ramones, The Hearbreakers, and our label mates on RankOutsider The Victims, The Saints and Radio Birdman from Australia…The Boys…you know all the good stuff.
Punk Globe: How long has The Dirty Shames been playing?
Nathan: Our first show was a Christmas party at a local bar Called Otto's in New York City, so it's been about a year more or less.
Punk Globe: How did you get the band together?
Nathan: Lisa and I had been looking to start a band for a while so we began publishing ads for a drummer. Virginie was the first serious drummer to reply and said that she had played in punk bands in France and was now living locally in Harlem. After meeting her, we set up a practice that weekend and started searching for a bass player. We met Jeremy at a local rock n' roll show and we setup practice as a band the next day.
Punk Globe: Who is in the band?
Nathan: We have Lisa Lush on Vocals, Jeremy Hansen on Bass Guitar, Virginie Brochard on Drums, and me Nathan La Chance on Guitar.
Punk Globe: Here is a bit about The Dirty Shames . I personally have not had the chance to see them live yet. Since performing their first show in December 2008 "The Dirty Shames" have managed to stir up quite a buzz in New York City. Their frequent live appearances have helped build a following that transcends boundaries and brings people from varying scenes together for the love of rock n' roll. Supported by Jeremy Hansen on bass guitar, Virginie Brochard on drums, Nathan LaChance on guitar, and Lisa Lush on lead vocals. They bring together a sound that is deeply rooted in rock n' roll yet uniquely their own. The Dirty Shames were recently featured on Genya Raven's Sirius Radio show, Goldie's Garage, as well as being interviewed and performing live in studio on the B-sides Radio show (91.5 FM) New York. Their CD is currently up for review for airplay on Little Steven's Underground Garage and their cover of what a girl can't do originally by the Reekers is being included on the reissued "Meet the Reekers" Cd is now out for sale in stores.
Here is the most recent review you can check out from 'Losing Today Magazine' by Mark on the Dirty Shames:
http://losingtoday.com/tales
The Dirty Shames have their own distinctive and unique sound, raw and dirty. Their sound and talent are out of the ordinary implementing that New York 1970s punk and rock n' roll sound into their music. Check out their latest CD self-titled 'The Dirty Shames