Formed in 1975 in one of England's oldest towns, what must surely be one of England's oldest punk bands The Adicts released their eleventh studio album 'And It Was So!' via Arising Empire (Nuclear Blast) in November 2017. The album was recorded at Pete's Place in La Habra. Engineered by Tom Arley, Christopher Brookes and Pete Dee and mixed by Pete Dee. The simple yet distinctive orange, black and white artwork for the album was designed by the band.
Originally called 'Afterbirth and The Pinz' they soon changed their name to The Adicts (with one D) although they were known as ADX, for a time, after signing to Sire records, an offshoot of Warner Bros, with whom they released two singles. Famous for their Droog attire, white clothes with black boots and black bowler hats, from Anthony Burgess' novel 'A Clockwork Orange'. Despite a few periods of inactivity they continue to keep Daz in business with frontman Keith "Monkey" Warren adding a splash of colour with his wacky suits. I just hope they keep them separate from the whites in the wash!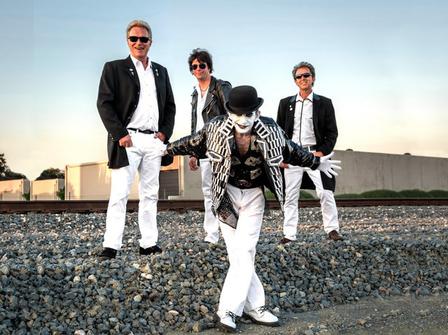 Opening with the longest track, which at over five minutes is epic in the punk genre, 'Picture The Scene' starts on a quiet bass pluck and a hoarse whisper then bam you're socked with a catchy song which had me thinking of The Look's 'I Am The Beat' as it would have been performed by a merger between T Rex and Adam and The Ants. Picture that scene! The next tracked 'Fucked Up World' certainly fucked up my brain as I thought of Liza Minelli's 'Cabaret' performed by GBH, but with the lyrics including 'Life is a cabaret, old chum' I suspect they wanted to Fuck up your mind!
'Talking Shit' with it's cockney style vocals had me thinking of 'You Don't Work' by Last Great Dreamers crossed with Harry Champion's 'Any Old Iron' take your pick or maybe I'm just talking shit, as usual! 'If You Want It' reminded me of Gary Glitter's 'Do You Wanna Touch Me' and no Gary I don't but let's not go there! 'Gospel According To Me' another cockney style song. A much punchier number came next with 'Gimme Something To Do' which was like Anti Pasti does AC/DC, ' For Those About To Rock' Rise Up'!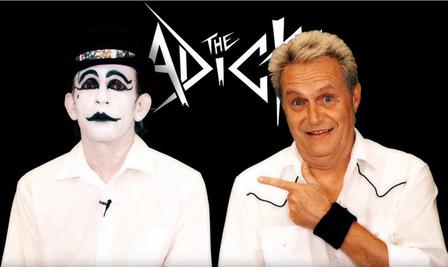 'Love Sick Baby' has more of a new romantic vibe before we come to the hard hitting, and shortest track which gives the album it's title 'And It Was So'. 'Déjà vu' a gentler track with a pummelling rhythm, 'I Owe You', would you believe, is another cockney infused number. 'Wanna Be' Adam Ant? Then we finish off with a 'Strictly Come Dancing' song, well not quite but this one would be brilliant for a celebrity tango. If you've watched 'Clockwork Orange' you will have seen the choreographed violence which did lead to deaths, so 'You'll Be The Death of Me' kills the album, and I don't mean the album dies a death, it literally is the last song.
Lots of different elements to get you hooked, a bit of glam, a bit of punk, a bit of cockney, a bit of cock rock, and you even get some dance hall musicals and reality TV thrown in, an eclectic yet adictive mix which left me wanting to seek out the back catalogue! If that appeals then order your copy of 'And It Was So!' here: http://geni.us/TheAdictsAndItWasSo
Current Line-up:
Keith "Monkey" Warren (vocals)
Pete "Pete Dee" Davison (guitar)
Michael "Kid Dee" Davison (drums)
John "Scruff" Ellis (guitar)
Davey "Bastard" Menza (bass)
Track list:
Picture The Scene
Fucked Up World
Talking Shit
If You Want It
Gospel According To Me
Gimme Something To Do
Love Sick Baby
And It Was So
Deja Vu
I Owe You
Wanna Be
You'll Be The Death Of Me
Order your copy of 'And It Was So!' here:
http://geni.us/TheAdictsAndItWasSo
YouTube videos: -
Picture The Scene:
And It Was So: