OF THE DUEL
By: Ginger Coyote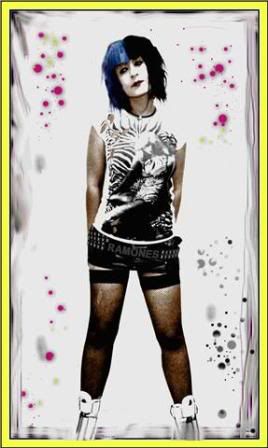 I adore Tara Rez ant The Duel are one of my favorite English bands... THE DUEL! She is one of the most supportive and giving people I know... I was so happy that she took a few moments from her schedule to answer some questions for Punk Globe... Be sure to check out FFRUK ...
Tara Rez: Been the same the last couple years! Tara Vox Andy Bass/Keys Dave Guitars Pumpy Drums
Punk Globe: Tell me Tara has the band had any releases since we last spoke?
Tara Rez: After we released Childish Behaviour, it got picked up by some music industry folk. They liked our songs. We've now gone back in the studio to produce some of songs off that for a single release. As you know that last album was made at home. We re in the middle of completing the single now, Paul Laventhol joined us again in the studio and we really had a great time recreating those tunes … the quality of recordings are definitely better so far! It'll be interesting to see what happens with it !
Tara Rez: Thank you. We're honored to be a part of it. Angie Bowie is definately a person I really admire & respect. She is going to be doing some shows to promote it. One of them at the 100 Club with us and other bands who participated in the album on 14th April 2010.
Punk Globe: Tell us about the CD?
Tara Rez: It's a subject always been close to Angie's Heart. Artists on the compilation CD are all from different backgrounds, genres & countries. Aids Begone cds are raising money & support for various charities who are active in tackling HIV & AIDS . Always the way that existing problems get over shadowed by new ones that get the media attention. Its good for these Charities to feel our support.
Punk Globe: Any good shows or tours sine our last interview?
Tara Rez: We're spoilt here in London …& my memory is getting fuzzy!! Was great to see Sex Pistols & PIL for the first time ever !!. Rich Kids Reunion show was very special & great way to start the year. Only wish my camera wasn't broke! Uk subs & Vibrators & TV Smith never disappoint. Had fun seeing Paul Laventhols new band MWA & Looking forward to seeing him back in the Original line up of King Kurt in March first time in many many years! The Tights performing Poison Heart, had me in tears ,(soppy cow lol) then getting the chance to see Daniel Ray who wrote the song Poison Heart performing it was a gift. The number of people who came to see Department S perform at 100 club - never seen the place so rammed. Great fans and exciting comeback gig. Wanda Jackson at the Jazz Café who toured with Elvis, … first woman in rockabilly - very memorable night. Glen Matlock acoustic tour was great too – on one show, some guy was standing right in front of him doing a mad fast out of time crazy dance, & Glen was trying not to kill him self laughing while performing .. hilarious .. Steve Dior was great to watch too. Real true old school star.
Tara Rez: I didn't even think to ask, I was just happy they were getting to reform. Definately a crowd winner.
Punk Globe: Tell us some of the cool bands that you have been playing with?
Tara Rez: What sticks out for me in 2009 is the diy bands that we played with and support each other along the way. In Ireland we played with Primitevo and Paranoid Visions turned up for the show. We all had the best laugh ever, really great people. In Czech we toured with Spínací špendlík - very warm punks and really good to get to know them and see life and punk rock through their eyes. Derellas in London & In Scotland, Prairie Dugz & Fire Exit showed us some good ole Scottish love. Was also great to meet the diy bands in Spain. The music pulls you all together no mater what your background.
Punk Globe: Will you be playing Rebellion this year?
Tara Rez: Yes in Venice & Blackpool – Looking forward to seeing the punks against a Venice background. Will be some Cool art.
Tara Rez: Yes loads!! Have to keep checking their site as more being added all the time … Rebellion is addictive – you get to see all your heros and friends. It just seems to get better and better each year. The week after Rebellion is as depressing as January!
Punk Globe: What color do you have your hair at present?
Tara Rez: it was black n blue up to about half an hour ago - now its all black !
Punk Globe: How has the responses been to your latest CD been?
Tara Rez: We've had an encouraging and credible response .. and we've definatly reached a wider audience. It's made us feel like it's ok to be ourselves.. Even tho we ve gone thru some pretty tough times with one thing or another. 'Cirlce of Life' which was on bonus cd has been chosen to feature on a short independent film, which make me feel happy. We wrote A LOT of songs for that album, many that haven't been used.
Punk Globe: You also have your online Magazine. Can you tell the readers about it?
Tara Rez: FFRUkiT! is there to voice off about anything that we feel deserves it, FFRUK was around since 2000, after a break and in its re launch and the way the punk scene has moved on, just wanted it to promote all the people already working away at the different things in punk rock and be some kind of support to each other in the DIY world. Most, nearly all of us I would say are not loaded, but we all have the same passion. Its great to try and visualise that in some way. Still got loads to do .. Need more volunteers ! J
Tara Rez: Yes ! we toured USA in 2006 and Jamie played drums, CBGBS & The Continental in NYC are still one of the highlights of my gigging life .. stage shows response was pure magic. CBGBS we played with Red Alert & Rat City Riot, Continental we played support to Walter from the Heartbreakers, who was very encouraging J J. Really want to come back to U.S soon …
Punk Globe: I know that Tim the lead singer of Sham 69 is a big fan! Have you played with them lately?
Tara Rez: We haven't since 2008 tour, got a lot of respect for Tim. We're hopefully doing some shows with them later this year. Great to see Sham69 out on the road.. They are living the punk rock ethic like the clash the Ramones , UK Subs, Vibrators.. gigging the world, committed to their fans … u cant argue with that. Cant wait til their Film in China comes out !
Punk Globe: Any web addresses that you would like to promote Tara
Tara Rez:
http://www.release.org.uk
- Always supported because of the work. I see best friend Colin & Gary doing on the drugs helpline side. Used to be covering just the London area, but with cut backs in government spending and less support being available, for substance abusers and their families, they handle calls from all over the UK - and its just the two of them !!! Its really really quite sad the situations they deal with. Am amazed how they can cope with the burden, but they do it because they care. They are like gold.
http://www.aidsbegone.org/
- Check out where monies raised are going to.
http://www.myspace.com/punk4thehomeless
- breath of fresh air these people,
http://www.familycare.org/whatwedo/aids_children.htm
- sometimes find it hard to sleep at night thinking about the nightmare at least half a million kids go thru on the street, sniffing glue for comfort and to kill the hunger pangs. All while we sleep safely. If I ever get my hands on a pile of cash or win the lottery that's where most of it would go. I really don't see the point of piling up the cash in the bank - at least its become abit more obvious why it's a waste now.
Tara Rez: Andy & I have started writing more songs & We've got the single coming out for National press/radio review. some exciting gigs lined up for the year and its only February! Coming up shortly : With London in Bournemouth, Los Mondo Bongo & Angie Bowie in London, & Off to Berlin with The Tights for their album launch, We're in the process of sorting out a tour of Europe and finding ways to tour the states again ;)
Punk Globe: Do you have any last words for the Punk Globe readers?
Tara Rez: Thank you very much for your support and interest!!!! Means the world to us - really. … And try and convince Ginger & Jayne County to bring there bands over to the UK for a wee tour - that's what I'd like to see ;)
Punk Globe: Thanks so much for the interview Tara!