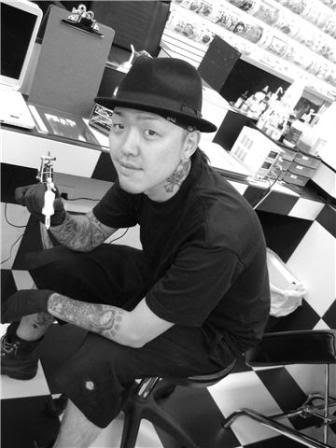 Being a Tattoo Artist is international profession... Some of the best ever ink work comes from Japan. So when I met Takashi I immediately asked to do an interview with him for Punk Globe.. I feel honored to have gotten the chance to speak with him and hope you also enjoy the interview ...
Takashi Kawasaki: Hi Ginger. My name is Taka (Takashi) , it's English translation is higher. My Mother gave me that name when I was born. I came to the U.S.A. mainly to learn American Tattoo.
Punk Globe: How old were you when you decided that you wanted to be a Tattoo Artist?
T.K.: Even though I had been considering to be a Tattoo Artist since I was 19 years old.It was not until I turned 27 that I decided to go for it.. That was 2 years ago..
T.K.: Yes I am. I have played the drums for 12 years. Almost all of my favorite musicians are from California.
Punk Globe: Who are some of your favorite Musicians?
T.K.: My favorite musicians are.. Bernard Herrmann, BULLETS and OCTANE, Ramones, BUCK CHERRY, RED HOT CHILI PEPPERS, Minoru Torihada(Japanese punk rocker), Iggy Pop&the Stooges, The Weirdos and Rancid...
T.K.: Thank you for your compliment. Yes there are only 3 or 4 in L.A. .. I am the only Japanese on Hollywood Blvd.. I am proud that I am Japanese. Japan is a really beautiful country.
Punk Globe: So you did not do any tattoo work in Japan right?
T.K.: No,I have never worked as a Tattoo Artist in Japan. But I was drawing and tattooing on my leg by myself, in my small room. Almost all of the Tattoo Artists in Japan become an apprentice at the beginning of their career, that was just not my style.
TK.: Well, the younger generations are really interested in tattoo's. Punk Rockers like punk rock tattoo. Japanese Mafia(YAKUZA) likes of course traditional Japanese "Irezumi"... I think it mainly depends on their hobbies, ,job or whatever they like. I mean there is alot of interest in tattoos in Japan.
Punk Globe: I believe the Tattoo Shop that I went to in Nagoya was called Eccentric. They had a cafe attached.. Do you know it?
T.K.: Yeah! It is one of the most famous tattoo shops in Japan. One of my friends always gets his tattoo work done there.
T.K.: I had visited Los Angeles four years ago and liked it. Although I couldn't speak English, I didn't know how to take a bus, subway or taxi... Nothing! But, I have loved this beautiful and dirty city since I came here. California always makes me rock! I haven't lived any other cities or States... But I want to visit as many cities and other States that I possibly can.
Punk Globe: How long have you been here in Hollywood? Is Wilcox Tattoo the first shop you have worked at in the USA?
T.K.: I have been here for 1 1/2 years. I used to work at two other Tattoo Shops on Hollywood Blvd. Now I feel good. at Wilcox Tattoo. It is small, but it is clean and quiet. So I can focus more and I can learn more about the art of tattooing.
Punk Globe: Are you familiar with old school Tattoo Artist such as Bob Roberts, Lyle Tuttle and Leo Zulueta? I knew them both when I lived in SF. And then there is Spiderweb in NYC.
T.K.: I have met Bob Roberts at Spotlight Tattoo on Melrose Ave. He is a really nice guy. But I was hesitant to talk to him at that time! Yes...there are a lot of great tattoo artists in the U.S.A. When I get better skilled. I will feel more comfortable to talk to them "as a Tattoo Artist".
T.K.: I love this question. My favorite artist is Xavier Garcia,who works in Valencia,Spain. I am really crazy about his tattoo work. All of his art are also my references. Meeting him is one of my dreams.
Punk Globe: Have you seen the reality show "LA Ink" which features Kat Von D on the TLC Channel?
T.K.: Yes I have. But I saw it on the web. I think I have seen all of the episodes. I also have a book about her too.She is very beautiful, sexy and interesting.
Punk Globe: Would you like to do a reality show like that?
T.K.: That's sounds great! I want to invite all my favorite musicians to be on it...Lars Frederiksen, Anthony Kiedis, Keith Nelson,and Gene Louis. Everyone who has cool tattoo's ha! ha!
Punk Globe: Who has done the ink that you have?
T.K.: My first tattoo I got is a rose and cross in Harajuku,Tokyo.I don't remember the Artists name. I also don't remember the Tattoo Artist's name that did my second or third tats either...I was omnivorous and stupid. Anyway,I have ink by my friends whose names are Gary Silva from Starborn Tattoo in Las Vegas, Futatsu-Garas from Two Crows Tattoo in Japan, Baby Ray at Spotlight Tattoo in L.A. and some of my coworkers have also done work on me. I can't forget, Jibb from Bangkok who did the tiny one on my left hand. I really love this. All of them are cool.
T.K.: We are in the process of doing a My Space profile along with a Website for Wilcox Tattoo but neither are finished yet. Our address is Wilcox Tattoo is 6502 Hollywood Blvd at Hollywood and Wilcox in Hollywood, CA The phone number is 323-466-0944
Punk Globe: How about you do you have a My Space or Facebook Profile that showcases your work?
Punk Globe: Have you been to any Tattoo Conventions?
T.K.: I really like to go to the Tattoo Conventions. They are very exciting. I have been to a few conventions here in California. I would love to check out some Tattoo Conventions in Europe too.
T.K.: I...just want my tattoo's to make people feel happy, put a smile on their face. Do tattoo's that make my family feel proud and happy about what I am doing with my life. . All of my work is dedicated to the memory of my Father in heaven. I hope to go around the world with my ink. I especially want to go to Spain.
Punk Globe: It was a pleasure doing this interview with you. Thanks so much for your time.. Do you have any last words for our readers?
T.K.: Thank you too.It was lots of fun. Get pain,get the truth on Punk Globe!!