It's never easy being the opening act on a bill, especially when the setting is the slightly upscale feel of Glasgow's Hard Rock Cafe function room and the assembled crowd are mostly watching from very comfy seats.Till Death Do Us Part give it a good go though.
Syteria
Photo by: Marc McGarraghy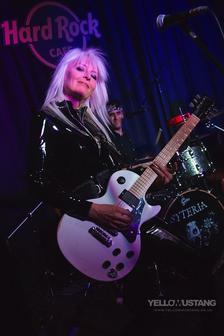 Outwardly a bizarre combination of three young musicians from Glasgow and Emily Tate, daughter of Queensryche's Geoff on vocals, they have a modern sound blending small parts of electronica with alternative metal catchiness and some touches of punk. All that sounds a bit awkward, but that's not how it sounds at all.
The sound created by the three local guys is full and interesting and laced with a kind of hypnotic groove which seems to weave throughout all their material. Tate's vocals are plaintive and almost frail, nothing like her father's trademark high end wail, but effective and emotional in their own way.
Syteria
Photo by: Marc McGarraghy
In between songs she is talkative and confident but the Seattle girl seems to withdraw into herself during the songs, creating a strange yet interesting contrast. Personally I thought the cover of the 'Ryche's 'I Don't Believe In Love' was unnecessary as their own material can hold up on its' own but the crowd, warming to the band as the show went on seemed to appreciate it.
A promising introduction for me to a band with big ambitions to my eyes. Worth keeping an eye out for.
Syteria
Photo by: Marc McGarraghy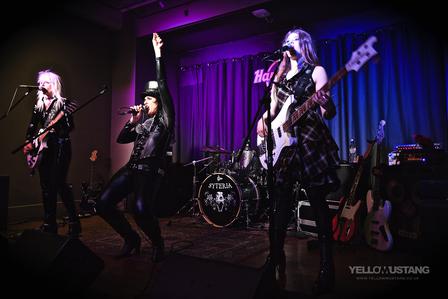 Headliners Syteria continue the evening's international theme. Formed by Girlschool guitarist Jax Chambers and based in the blonde axe hero's native Yorkshire, half the band are Argentinian in the form of brother and sister Julia and Pablo Calvo.
The completed line up featuring the sprightly Keira Kenworthy on bass are a high energy outfit and they showed that right from the opening chords of 'I'm All Woman'.
All three ladies out front certainly are all woman whether dressed in a cool dress, full leather or pvc catsuit but that's just the look. All of them are very good at the singing and playing thing too. Chamber's natural cheery grin and twinkling eyes are ever present as she calmly coaxes a succession of riffs and solos out of her instrument, while her compatriot on the other side of the stage makes playing that massive looking Rickenbacker bass seem easy.
In between Julia Calvo is a bundle of energy. The seats in the room were encouraging people to relax so she took every opportunity to get off the stage and out among the audience to get them involved. High energy is too calm a word for her, she must have roasted alive in that leather outfit! Meanwhile her drumming brother does a great job of laying down the foundation it all comes from and thoroughly enjoying himself in the process judging by the grin on his face.
Till Death Do Us Part
Photo by: Marc McGarraghy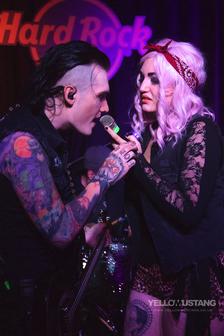 Musically it's all about cheery post punk anthems with names like 'Hypocrite' and 'New World Order' mixed with more melodic fayre such as the hook laden 'Get A Life'. Anyone expecting any cover songs from another band had to make do with a spirited take on the Ramones classic 'Rockaway Beach'.
Billed as a warm up for their appearance at the Winterstorm Festival in Troon, this was a difficult gig in an unusual setting for Syteria. They certainly have plenty of energy and talent and they deserve better than the reserved welcome they got tonight. I am sure they rocked Troon twice as hard the next day in response!
Till Death Do Us Part
Photo by: Marc McGarraghy