The name Syteria might not be instantly familiar to you if you're not a regular MetalTalk reader, but we showcased the band's debut release, the 'Wake Up' EP, back in October last year. If you've not heard of the band yet, you soon will be but for the record, it features leading light and guitarist Jackie Chambers whose been allowed time off from her day job as guitarist in British rock legends Girlschool.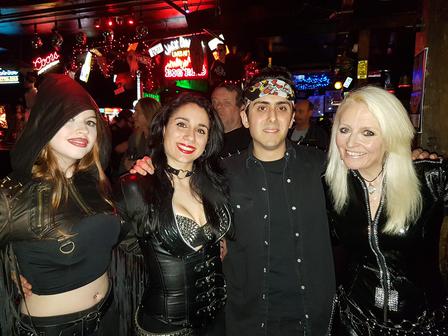 Along with Keira Kenworthy on bass guitar, vocalist Julia Calvo and drummer Pablo Calvo, the band worked hard on the 'Wake Up' EP, which was essentially a joyous three track disc that proved to be a solid starting point for the band. Since the release, the band have toured the UK and Europe and also launched a Pledge page to help fund this, their full-length debut release.
To say the Pledge campaign was successful is a huge understatement with the Pledge Dial finally stopping at just under 570% of the band's original target, so they must be right up there for one of the most successful Pledge campaigns of recent times.
Although the Pledge campaign is now closed, and the album is only currently available to those who took part, a retail version will be available, with different artwork I believe, in May 2017. So when a pre-release copy dropped into my mailbox, I was looking forward to seeing how it fared to the 'Wake Up' EP. As it turned out, the 'Rant-O-Bot' album is streets ahead and it ended up monopolising the stereo here at MetalTalk Towers for a good few weeks.
Produced by Tim Hamill from Sonic One Studios, the album is, to put it succinctly, a dozen top quality tracks – and without a word of a lie, every single one could be a future Syteria classic. From their debut EP, the band chose to re-record two current live favourites – 'When I Get Out Of High School' and 'Sheeple' – and these new versions add extra power that was perhaps, not as prominent in the original versions. These two songs have definitely improved because of the beefier sound especially where the drums and bass guitar are concerned.
As far as the rest of the album is concerned, it's all good news. Thankfully the band didn't take the easy way out by filling up the album with cover versions – all the tracks here are one hundred percent original tracks written by the band and without a single exception, they're very well written and recorded. Also, there's no time for boring ballads recounting a lost love or a missed opportunity but instead, it sees the band pushing forwards full steam ahead, that shows this is a band on a mission to really go places.
The vocal harmonies on opening track, 'Revolution' are really great, but that's something that pops up throughout the album. The song itself is rather an upbeat number for something that's essentially a rant about everything that pisses the band off – still probably it's probably quite a good way to get it all out of their system!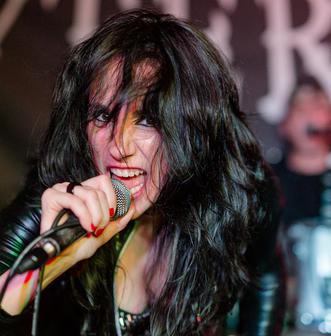 'Complication' sees Chambers laying out a great guitar riff during the intro showing she's lost none of her fire, and the guitar solo itself may be a bit shorter than you'd expect but that just means that nothing's there that shouldn't be and nothing goes on too long – short and fast songs are sometimes better than long and drawn out affairs.
The fast-paced 'Stupid Girl' was an early favourite of mine with more of those great vocal harmonies. Driven by the guitar riff from Chambers, the song motors along with Pablo Calvo holding onto the complex drumbeat at the back making everything sound so effortless.
There's plenty more on offer too, including 'Hypocrite' with another razor sharp guitar riff and a touch of menace to the vocals from Julia Calvo before the louad and shouty chorus kicks in – the ideal opportunity for some audience participation at gigs while the solid Heavy Metal slab that is 'If' – complete with a riff that Machine Head or Pantera would be proud to call their won just reverberates around your head long after the albums finished playing.
As I said, there's so much to like with this album and it's the natural successor to the 'Wake Up' EP showing that the band are gelling together exceedingly well despite not being together that long. With a batch of live dates announced for the coming months (some with another of MetalTalk's new favourite bands, London based JoanOvArc) Syteria are putting in the groundwork, so get out there and help to support some of Britains best up and coming bands.
🍺 🍺 🍺🍺🍺🍺 🍺 🍺🍺🍺
You can see Syteria live here:
Saturday 05th May Corperation Sheffield
Saturday 27th May: Blank Generation, London
Sunday 28th May: Breaking Bands Festival, Bromsgrove
Saturday 24th June: Wildfire Festival, Wiston Lodge
Sunday 25th June: Star & Garter, Manchester
Friday 28th July: The Rock & Blues, Coney Grey Showground, Pentrich
Saturday 5th August: Haven and Hell, Whitehaven Recreation Ground, Whitehaven
Friday 10th November: Hard Rock Hell, Hafan Y Mor Holiday Park, Pwllheli
Saturday 11th November: A Day Of Rock 2017, The Athletic Club, Kettering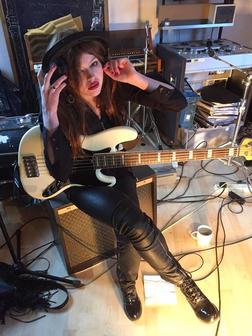 'Rant-O-Bot'' Tracklisting:
Revolution
When I Get Out Of High School
Complication
Sheeple
I'm All Woman
Get A Life
Stupid Girl
Loner
Hypocrite
Kamikaze
If
New World Order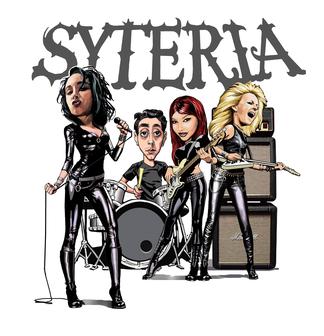 Syteria are:
Julia Calvo – Vocals
Jackie Chambers – Guitars/Vocals
Keira Kenworthy – Bass Guitar/Vocals
Pablo Calvo – Drums/Vocals

@syteriagirls

syteriagirls@gmail.com

http://www.syteria.co.uk/

Syteria (@SyteriaBand) on Twitter