"Here, Under Protest"
by James G. Carlson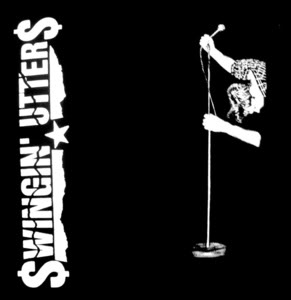 California punk rock legends Swingin' Utters have released their seventh full-length studio album and their first in eight years, Here, Under Protest, on Fat Wreck Chords. Dead Flowers, Bottles, Bluegrass and Bones was Swingin' Utters' last album in 2003, also on the Fat Wreck label, and more than a few fans surely surmised that the band had called a musical cease and desist. It certainly seemed that way, at least, since the only material surfacing from the band were their Live in a Dive release in 2004 and Hatest Grits: B-Sides and Bullshit release in 2008...that is, until the Taking the Long Way EP in 2010 popped up all of a sudden. Still, Swingin' Utters could be caught from time to time at various venues, playing shows with both the old bands and the up-and-comers alike. Even though so much time has passed since they were truly "in the thick of it," so to speak, the band has maintained its longtime core members, such as Johnny "Peebucks" Bonnel as lead vocalist, Darius Koski on guitar, Spike Slawson on bass, Jack Dalrymple on guitar, and Greg McEntee on drums.
While Here, Under Protest is consistent with the band's older material, it is actually, unexpectedly, more of an altogether punk album; possibly more of an altogether punk album than they have ever done. That is to say, Swingin' Utters' earlier albums, like Juvenile Product of the Working Class and Five Lessons Learned, experimented with the whole cowpunk, folk-punk, and roots rock thing, much in the same way that bands such as Lucero, Fake Problems and Social Distortion have over the years. Such direction in sound was evidenced by songs like "Next in Line," "Promise to Extinction," "Lampshade," "Watching the Wayfarers," "Fruitless Fortunes," and "Shadows and Lies," among others. The only track on Here, Under Protest that has that quality to it is number thirteen, "Scary Brittle Frame." Strange that it's not the album's closer, since most of the album closers on Swingin' Utter albums are acoustic, or at least roots-related in some way.
Out of the fourteen songs on Here, Under Protest there are quite a few standouts. If I had to pick and choose between them, I would definitely point out the opener, "Brand New Lungs," "Taking the Long Way," "Bent Collector of 1,000 Limbs," "(You've Got To) Give it all To the Man," and "Heavy Head," for starters. Most of those songs have ingredients of the trademark Swingin' Utters sound, even if only a tiny amount. And that's the sound that caught my attention in my youth, in the mid to late '90s, when life was simpler and more carefree and wholly rebellious. Back then it was all weekend punk shows, good friends, and wild times. It wasn't at all uncommon to find me and my friends driving around Philadelphia listening the original Fat Wreck bunch -- the bands that made the label great in the '90s, like NOFX, Propagandhi, Lagwagon, Strung Out, Good Riddance, and of course Swingin' Utters. In fact, we listened to Juvenile Product of the Working Class so many times that we wore them out and had to purchase it again on three different occasions, once from Fat Wreck, and the other times from different pawn shops around town.
Now, there are also a few songs on the new album that are somewhat different approaches for Swingin' Utters. Case in point, the slow, echoey old school rock'n'roll composition "Kick It Over" and the light powerpop song "Sketch Squandered Teen." They are by no means bad songs, only a bit different.
Overall, Here, Under Protest is a solid album, way overdue, but solid nonetheless. And most encouraging is what they, the band, said in one of the recent posts on their website, in which they stated, "So, we're pretty much back on the scene...whether you like it or not."