I have loved this band since the first time I heard them they are played weekly on PunkrPrincess Whatever Show and also played by the other Whatever68 Djs,and underground stations worldwide,they are very outgoing and always willing to step up to help out the music scene if you are in their area and can see them play you should,also go check them out on social media and get the music!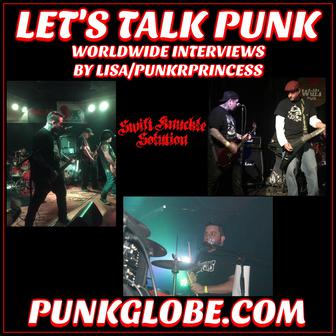 PUNK GLOBE: Hi guys thanks for taking time for the interview can you give us a little band history including members and positions in band
SKS: Hi Lisa. We've been together about 2 years. We have former members of the Sweet Kings, Sons of Belfast, The Antics, Malefactors, Suburban Lockdown, & Urban Disturbance (South FL). We've had the same lineup since inception. We call Orlando, FL home.
Tony- Drums, vocals
Roger-Bass, vocals
Lance-Guitar, vocals
Jerry-Guitar, vocals
PUNK GLOBE: Describe your music scene.
SKS Band: Crippled in a way. It's definitely fractured. There are often multiple shows/similar genres going on at the same time. So you have bands competing for the same or similar crowds. There is no shortage of venues, but the fans have to choose. We're talking about a tri-county area. So a lot of times people choose to go to what's most convenient; especially, on the weekday shows. Also, promoters seem to be at odds with each other and sometimes pick their "darlings" for shows instead of the best band fit when it comes to touring bands. It's nothing new, been going on since the dawn of time.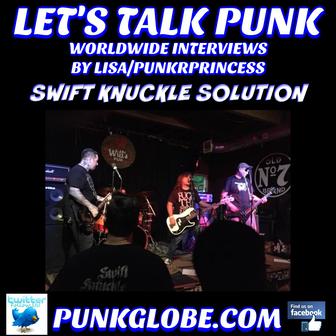 PUNK GLOBE: What in your opinion are the best and worst things about being in a band?
SKS Roger: Worst is recording for me. The best is when you see people liking your band, and even better, when you're playing a show and people are singing along to your songs.
SKS Jerry: Yeah, when you have people stage diving and crowd surfing, you know you're doing something right!
PUNK GLOBE: What would you do to change or improve your music scene?
SKS Tony: Try and reach out to more of the old-school punk fans to get them to shows. We'd love to see them, and we know they're out there.
SKS Lance: More communication and working together among the bands playing out to better support each other.
PUNK GLOBE: Have you guys toured? or any tours coming up?
SKS Jerry: Not any tours. But we hope to get out on the road soon. We all have day jobs to support our music habit as well as our families. We would defiantly like to head out west and do some east coast shows as well.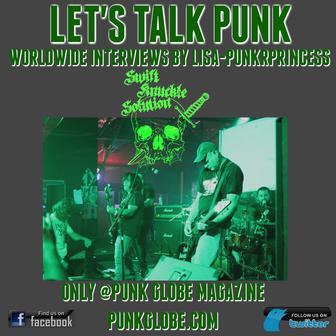 PUNK GLOBE: How often do you practice and are they planned or random?
SKS Tony: Once a week. They are planned.
SKS Lance: It's like poker night at the lodge.
PUNK GLOBE: Describe the making of your music.
SKS Lance: We all brainstorm, fiddle with riffs, etc. It starts forming and then evolves. It winds up being a collective effort for sure.
SKS Tony: Yeah, it's definitely a collective, but we also have songs we wrote individually in prior bands, and we revisit those songs on occasion and add our own twist. Sometimes, they wind up in the set list.
PUNK GLOBE: Any new music?
SKS Roger: We've got a bunch of new stuff. We have a new 5 song E.P. that is coming out. It should be out by the time your reading this.
SKS Lance: The new E.P. was recorded with Josh Dobbs at The Danger Room. He also did our first E.P. He never disappoints.
PUNK GLOBE: How often to you release new music?
SKS Tony: Were are currently releasing songs once a year. A lot of it has to with scheduling and timing with life events. We've got plenty of material. It's more of a matter of finding the time to record, mix, and master things.
PUNK GLOBE: Do you think venues and promoters can do anything to better the music scene,worldwide?
SKS Roger: Well, some promoters and booking agents go out of their way to promote shows. While others don't' do a damn thing.
SKS Lance: Yeah, more promoters need to get in tune with the bands. Certain promoters could do a better job of promoting shows and rely less on the bands to pre-sell tickets and do the work for them. I miss the old days of flyers and flyer art to promote shows. Times have certainly changed, but that was an art form.
PUNK GLOBE: Tell us where we can find you before and after your set at a show?
SKS Tony: If we're not watching the bands before or after us, we're busy moving our gear in and out of the venue.
SKS Lance: Yeah, we show up early and stay late.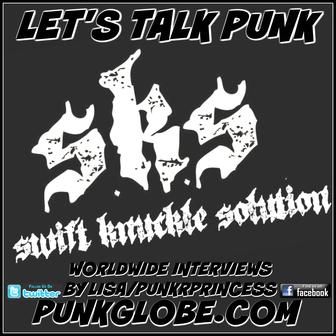 PUNK GLOBE: Any favorite local bands you like to play shows with?
SKS Jerry: We've had a lot of great local shows. Our good friends Dysfunction Horror Punks in 21 & Skatterbrainz never fail to bring it though.
PUNK GLOBE: Any favorite venues?
SKS Tony: Tir Na NOg Irish Pub in Daytona Beach and the Haven Lounge in Orlando.
SKS Jerry: Also, Bombshells and Uncle Lou's have always been good to us as well.
PUNK GLOBE: What are your band goals for the next year?
SKS Roger: Put out a full length album.
SKS Tony: Yeah, we'd also like to do bigger and better shows. We've been fortunate to play with great local and touring bands so far.
SKS Lance: We are also releasing a split 7" with our friends out in San Diego, Some Kind of Nightmare. Pre-orders will be up soon.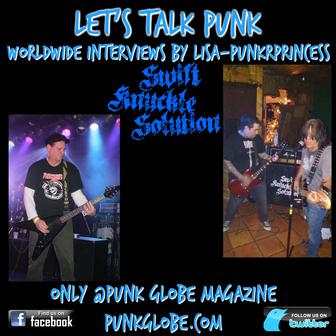 PUNK GLOBE: Where can the readers find you and your music?
SKS Lance: Bandcamp, I-tunes, Spotify, amazon music, and almost any streaming platform. You can send us an email at swiftknucklesolution@gmail.com to sign up for limited releases as well as merchandise.
SKS Roger: You can also find us on Facebook and Instagram as well.
PUNK GLOBE: Thanks for the interview and your continued support. Keep Rockin!
SKS: Many thanks for your ongoing support and promotion of the band. Rock on!