"http://www.w3.org/TR/xhtml1/DTD/xhtml1-transitional.dtd">
Lower Away/ Tidal Waves 7"
Cul De Sac Kids Records
By: Ginger Coyote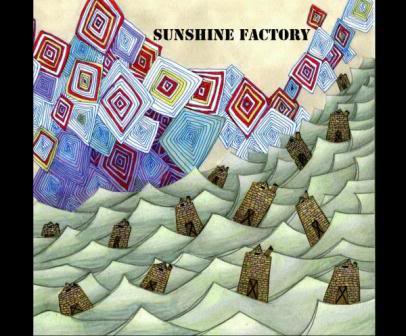 Straight from the offices of Publicist Josh Bloom I received this 7" from The Sunshine Factory... The Sunshine Factory originated in Palmdale California as just a glimmer in the eyes from brothers Corey and Jordan Judge. Jordan had learned to play guitar and had been in a few bands before convincing his brother to form a band. They began auditioning other players . They soon hooked up with John Karwowski and Tony Hammons the band was now complete. They soon caught the eye of Steve Martin the head of Cul De Sac Kids Records and they released this 2 song 7". The music is what you would expect from a band called Sunshine Factory a lazy haze of love and life.. With an additional bit of sorrow that brings you down to earth.. I was impressed by Tidal Waves as the song sounded like something that Dan Hicks minus the Hot Licks would have written...