By: Pamela Torres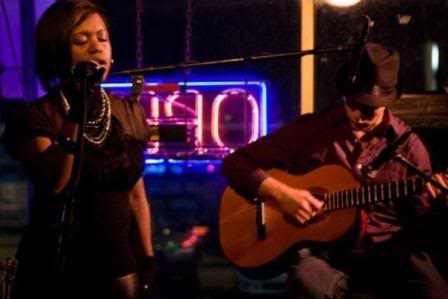 Last December I managed to get an exclusive interview with one of most unique soul rock duos ever to be found in Miami's poetry scene. I got to talk to acoustic guitarist Danny Edell and singer LeShawn Bowens to find out what aspects drove them to create the otherworldly sound boomerang known as Styles of Saturn.
PUNK GLOBE: How did you two discover each other?
Danny: It started when I saw a listing on Craigslist that La shawn put out. It said "female singer looking to start rock a band" I thought to myself, why not, let's see what this girl is about. I recorded a poor copy of a song I made and played and sang it to her on a video I sent to her. To my surprise, she actually liked it and wanted to meet up, which I was gladly willing to do.
Lashawn: It was almost like going on a blind date. I had no idea what to expect. As soon as I saw Danny though I knew he was going to be something special. He came to me with a few songs with lyrics and melodies already done and I was able to sing it very well. I also showed him a few songs I had in my head and he was able to instantly come up with a good rhythm for it. One of the songs on our website called "Leave me Alone" was one of them. We kept meeting back up after that almost every night just working on original music. We still have been doing that ever since.
PUNK GLOBE: Where did the name Styles of Saturn come from?
Danny: When we were practicing our original songs at night, people would come on by and just listen to our music. They pretty much got a free concert. They would tell us they have never heard songs like that before and said our music sounds like it came from another planet. Not having a band name yet, we figured Styles of Saturn sounded appropriate for us. We also share a love for Science Fiction and decided to name our upcoming album after one of our songs. It's called "Grooving with the Aliens"
PUNK GLOBE: Is there any other bands that have influenced your sound?
Danny: I'm going with the Red Hot Chili Peppers. Anthony Kiedis is somebody I have looked up to my whole life as a musician. His lyrics to me are top notch, and John Frusicante and Flea to me are the best there are on the strings. Amazing band!
Lashawn: At the same time though we would never copy anybody's sound. We think we are doing something special ourselves and want to try and be better than the ones we look up to.
PUNK GLOBE: What was it like performing your first show?
Lashawn: The most exciting and nerve wrecking thing we have ever done. It was at a Poetry Lounge in Miami called "Blusters" that I turned Danny on to. It would be the first time we presented our music to an actual audience. We were the first people to ever play music there as everyone else did poetry and we had no idea what to expect. We didn't even know if they would let us play. When our names were called, we walked up there, and played an acoustic version of our song "Boomerang Love" and after it was over it was dead silent. To our amazement, the place erupted and we were like rock stars for that night. It was an amazing feeling. Still to this date the most memorable moment of all our performances.
PUNK GLOBE: Do you consider your songs to be Autobiographic?
Danny: Actually every song we have is autobiographic except for one. We feel it is important to open up ourselves to the listeners and let them know what we are about. Our lyrics are very honest. Even some our songs that are comical still have much truth in it.
Lashawn : When you write about things going on in your life, it helps you sing with more passion. When I am on stage, I want the audience to feel in my voice exactly what I feel.
PUNK GLOBE: How did you meet with your current producer Jim Wallman?
Lashawn: Well as a two person band we knew we needed help getting our songs on a CD. We looked up many producers and called them to see what they could offer us. After speaking with several, we just picked up good vibes with Jim from the way he spoke. We went down to his studio and he made us audition for him to see if it was something he wanted to work with. We guess he like what he heard because he wanted to start making an album with us as soon as possible. Without him, we are not sure if the songs could have come out as good as we think they have.
PUNK GLOBE: This question is for Danny. I know you are a school teacher when you are not doing music. What do your students think of their teacher trying to be a rock star?
Danny: I'm guessing they think it is pretty cool. I have to admit it is weird trying to explain something in a book and they are telling me they like my band's pictures from our websites. They tell me they like the music though and hope me and my singer can make it big. What is funny though is that the kids seem to be less impressed with it then the other teachers. They are the ones always asking me when my band will put on a performance at the school or where will we have another performance. The best is when they tell me they have songs written and would like for me to use it on an album.
PUNK GLOBE: Lashawn, you started out singing R&B. What made you want get into rock music?
Lashawn: I really needed to start singing something where I could express myself. R&B is ok, but with rock music I can sing about things that really piss me off, or even just have fun and be silly with my words. I just wanted to start a-new and find a band where I can make music that is fun. That's why I jumped ship from the people I was working with and took a chance with what I am doing now.
Danny: At the moment we are happy with what we are doing and how much we have accomplished. The chemistry between us is very strong and we don't want to mess that up at all. If it is not broke then why fix it.
Lashawn: We actually did try adding more to our band before and it was just slowing us down. When you only have two people, there are fewer egos to work with. We look at the White Stripes and have seen what they have accomplished and that is something that motivates us. It something does come along in the future though where somebody will help the band and they are on the same page, then of course we would be open to it.
PUNK GLOBE: Any last words for the Punk globe readers?
Lashawn: Please take a listen to some our music at out websites
www.stylesofsaturn.com
and
www.myspace.com/stylesofsaturn
. We have an album coming out early next year if you would like to hear all of our music. We will continue to perform live here in the South Florida area and hope to expand to more places in the future. If you're ever in town please stop by and here a live performance, as we always try to put on a great show. Later guys!
Danny: What she just said!