"http://www.w3.org/TR/xhtml1/DTD/xhtml1-transitional.dtd">
"Playground Isolator"
by Pamela Torres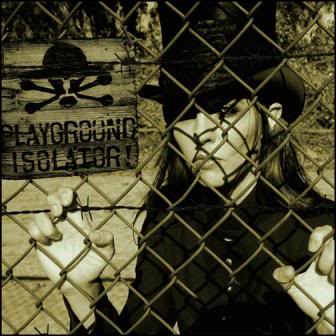 "It takes a second to know that I am here.
It takes a minute to know this name you fear.
It took forever to turn away and try to begin.
But this is where it sinks in.
I'm OK in my skin."
I'm not sure what made me think this LP was going to entertain me. Was it the faded photographs of the CD's creator posing in androgynous funeral attire or the surprisingly whimsical images of skeletons playing an accordion, slap bass, and other instruments? All I know for certain is that it took a few shots of vodka and a tender wave of serendipity for me to discover the shrouded piano talents of Karen Stever, an enigmatic rock artist from Canada. Next thing I know, I got her 2008 debut album in the mail complete with a autograph written in silver marker. Undoubtedly drawing inspiration from Stever's own traumatic childhood (along with the groundbreaking compositions of Ludwig van Beethoven), "Playground Isolator" delivers an intoxicating and provocative mix of gaslight cabaret, floor-shaking heavy metal, and gloominati nightclub jazz. While the title track appears to unveil the tragic real-life existence of David Phillip Vetter, a Texas boy who was confined in a plastic bubble because of a rare genetic disease, songs like "Sicko," "Funeral Mute," "Collapse," and "Get Outa my Head" tackle the effects of mental illness and adolescence with biting satire and embalming wit. In addition, the disc was produced and mixed by sound engineer Frank Gryner, who has collaborated with head crushing acts like Powerman 5000 and Static-X.