Saxophone Player for
IGGY POP AND THE STOOGES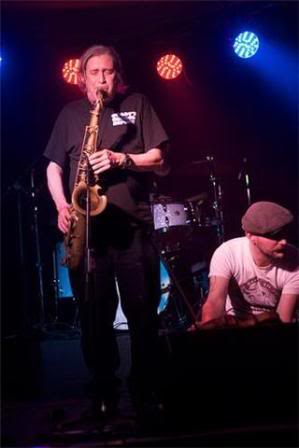 S.M.: My momma said I was born with a tail! 9/25/49 in Grand Rapids, MI. First started playing the sax (an alto) in 4th Grade in 1958 at 9.
Punk Globe: You have been compared to jazz great Ormette Coleman. What do you think of that comparison?
S.M.: I was compared to Ornette Coleman? Certainly stole a lot of licks and insouciant dissonance from his recordings, an honor to be mentioned in the same Breath!
S.M.: As for influences, my Mom, a piano bar pianist who knew 2,000 songs, her Stan Getz and Birth of the Cool records, The radio of the time, when every song had a tenor solo, King Curtis, Boots Randolph, Gerry Mulligan (on Baritone sax, which I also play), of course Charlie Parker and John Coltrane, Junior Walker and so many mentors less-or un-known. Also my Music teacher from 1958-1964, Warren Faulkner and my private teacher Ed Ryder, who had me improvise over Music Minus One Records and taught to to play the Bassoon in 3 lessons!
Punk Globe: Tell us about Carnal Kitchen? How long were they together?
S.M.: When I was at East Grand Rapids High School (63-67) we had a band called Chaos, Inc. that played cover songs of the day all over the Lower Peninsula. When I left Grand Rapids and went to Ann Arbor (Uof M art school), I ended up with a gig after being there for all of 5 days, Billy C. and the Sunshine, we played The Blues 5 nites a week at Clint's Club and I had six eight o'clock studio classes to show up for, and did, I was a resilient 17 year-old.
That band morphed into The Charging Rhinoceros of Soul, playing R&B covers. After a few months I tired of that and set out to make my own type of music. My highschool friend Marc Lampert and I had drunkenly experimented with his drums and my sax. We even made up a name: Carnal Kitchen, and our motto was: "If music be the food of love, let's eat!"
We practiced in the basement of the house I lived in on N.Ashley St. in Ann Arbor, and would play guerilla impromptu concerts on the street, in front of the Library on campus, or at Canterbury House, an Episcopalian coffee house/venue. It was sort of Like Stone Soup as the other likeminded musicians came by to sit in with us, and we played free concerts in parks in Ann Arbor on Sundays.
Our first High-Exposure gig was at a yearly Art School costume ball , the Beaux Arts Ball, on a bill with the Charging Rhinos and Commander Cody and his Lost Planet Airmen. There were a few rows of seats, and sitting in the front row was that guy Iggy whose act I had caught several times. I was Impressed that he had showed up! (that was in early '69...)
That duo version of CK grew and performed until 1971, including playing many Jazz standards ... There have been other incarnations, in the Bay Area '77-78, 1983 (backed up by The Ibbilly Bibbilly Experimental Pinhead Band ( Check out "Live at the Sound of Music Vynil), Me with a Dutch band in Amsterdam in '84, Again with exwife Annie and others in the Bay area again '85 until the Mid Nineties, and most recently, Marco and I were joined by Mike Watt and guitarist Dick Deluxe along with a fabulous keyboardist , Jeremy Long at a couple days of sessions In OC in March of this year. All of this will eventually be released, perhaps on the Radon Label. Carnal Kitchen 40th Anniversary!
S.M.: Jim (Iggy) and I used to go out for coffee together and talk about how hard it was to have your own band, and one day in spring of 1970, he called me out of my job at Discount Records to have a coffee across the street to invite me out to Stooge Manor to jam. When I got there it was obvious that he had a Plan, "Play something like Maceo Parker (another great influence) on Acid!" and we worked up "Funhouse" and "1970". I played a couple shows with them and fell in love with the rest of the songs, too, but was pleasantly surprised when I found out that I, too was going to LA to record! I was only supposed to be with them for 6 weeks, including our shows at the Whisky and Fillmore, but was asked to stay on when we got home. I was in the band for about six months before we amicably parted ways, never dreaming I would get my gig back 33 years later
Punk Globe: Did You know the late Jeep Holland? I have heard that Iggy worked for him and that Jeep gave Jimmy the name of Iggy. Do you know if that is true?
S.M.: Regarding Jeep Holland, I believe he was the Manager at Discount records when Jim worked there a couple years before me. Jeep quit to manage the Rationals ( Scott Morgan was in my Art Classes but soon dropped out) . I know that Jim got the name of Iggy when he was the flamboyant Singer/Drummer of his High School band, The Iguanas.
S.M.: When I toured with the Stooges back then, we mostly played one show a week to give The Singer time to heal up, leave DTW on Friday, back on Sunday... (New Orleans, Cinci Pop Festival, St. Louis, biker riot in Wisconsin (3 dead), Goose Lake, a whole week at the Chelsea Hotel in Manhattan for the Ungano's shows, Chicago, etc.). As far as Most Memorable, it was some basketball court somewhere as we in the band were walking across the room (after "LA Blues"), Feedback squalling and Jim being crowdsurfed by the audience, he invented that, as well as the Stage Dive, they caught him almost all the time...Otherwise the last 6 years have had so many memorable shows around the world as we have gotten to play almost every major festival, with more to come!
Punk Globe: After leaving the Stooges what was your next move? When did you decide to move to the Bay Area?
S.M.: After somewhat gratefully being fired by Jim (Things were deteriorating) I got my job back at the record store and with Carnal Kitchen, too. In 1972 I joined the Mojo Boogie Band, Jim Tate and Bill Lynn on guitars and vocals, Doug Stoughton on Bass, Donnie Backus on piano and vocals and eventually Jesse "Brother J.C." Crawford on drums, Was with them until the end of 1976, when I moved to the Bay Area ( I figured rightly that Commander Cody & Co. could help me find a job, and got hired by Bill Kirchen's Moonlighters, playing Western Swing and country rock. They had just gotten a record deal and included me, only time I ever signed a Contract. Eventually we rejoined Cody and I was with them until 1982. I would play gigs with Carnal Kitchen and others when not on tour, Including the late and great Ralph Shine Blues Band, from Chico, where I lived for a couple years. I also played the Bay Area with Mitch Woods and the Rocket 88's, great rockaboogie.
S.M.: In 1982 I began working with Snakefinger , with His History Of The Blues Parts 1 and 2, leading a 3 piece horn section. We played a few gigs in the Bay Area before we finally went on our European tour in late '83 to record a live LP of our shows for Rough Trade Deutschland, what a great man to work for and with! I miss him terribly even now, but am fortunate to have met Lani Lithman and her Mom Freddi through the Violent Femmes, and have even sat in with Lani's band Girls With Guns! My wife Patricia and I have been friends with them for several years.
I was invited to join Clubfoot Orchestra when they were forming but decided to give Carnal Kitchen (with ex Annie) a go... Good friends with a few of them, including my section partners from Snakefinger...
Punk Globe:Who else did you play with?
S.M.:Was working SF's several Sewage Treatment Plants as an on call Stationary Engineer, mostly at Sludge Control in Golden Gate Park in 1983, when I got a call from Gordon Gano of the Violent Femmes inviting me to sit in at the legendary I-Beam and it was love at first song at the soundcheck, the beginning of a long friendship that lasted until their breakup in 2007.
In 1984" I was living in Amsterdam and playing with the Rex Reason Blues Band all around the Netherlands when The Femmes came through town. They had wanted me to come to New York to record on their second record,"Hallowed Ground" but It didn't work out and they had to get John Zorn instead! I did sit in with them at the Paradiso and several other shows in Holland and Belgium when they got word that their backup musician, Sigmund Snopek III of Milwaukee, couldn't make their next American Tour and I was hired on the spot. Great news for me, as I had sold my ticket Home and had worn out my welcome with my gracious Dutch hosts. For the next several months I toured the US and Europe with them and Stayed in Amsterdam and Paris between times. I stayed with the Femmes to record The Blind Leading the Naked and entered a long spell of not touring but would sit in with them whenever they came to town. In recent years I would go out with them on Bus tours of the States and they even took me to South Africa!
Besides working as a duo/trio/quartet with Carnal Kitchen and occasionally the Femmes, I was introduced by my friend Loren Dobson to Liquorball, a SF/San Jose instrumental jamband. It was at one of their shows at the Late, Great Cocodrie in North Beach that I met their Radon labelmates Temple of Bon Matin , who featured an alto player named Vinnie and a crazy bass player named Scott. I got my horn out again and sat in, the first of many collaborations both here in the States and abroad and connections that have endured for almost ten years. Steve Mackay and the Radon Ensemble has appeared here in California as well as Portland, DC, NYC (as Blue Prostitutes) , New Jersey, Boston, Charlotte, Paris, Milan, Torino, and more to come! Related groups from the Radon Collective besides Liquorball and Temple of Bon Matin include Koonda Holaa, (Czech,France) Sikhara (everywhere) Sonic Suicide Squad ( NJ,DC ), Solar Skeletons ( Belgium, France), oVo (Italy & Germany) , Mechanosphere (Portugal, France) , Soopa(Portugal), to name a few, of course they are well represented on Facebook and Myspace . Many of them have their own record companies now, but we remain well connected, especially Scott Nydegger of Sikhara and myself. Scott can be reached at
radonbooking@yahoo.com
:
S.M.:There have been not one, but Two Rumors of My Death: The first was from a badly researched book by Nick Kent, who said that I had died of a Drugs Overdose in 1975! (he confused me with fellow Stooge Zeke Zettner who did have that sorry fate) .Imagine my surprise when folks from Ann Arbor found out from the Internet that I had Died of AIDS in San Francisco, as I was informed when I played with John Sinclair's Blues Scholars in SF in 2000 or so, wrong Steve Mackay, who was a gay marathon runner/author and African-American as well, my condolences to all who knew him, sure he was worthy of the name!
Punk Globe:How were you contacted about The Stooges reunion?
S.M.: Was it 2001 when Jay Mascis and the Fog came to the Great American Music Hall? I got a call from Ron Asheton himself to invite me down to sit in with them, they were doing a Stooges Tribute as part of the show, it was a lot of fun and Ron said there might be Something Coming up Down the Road, but it wasn't until 2003 that Jim called me up to invite me to the Reunion Gig at Coachella. He said, do you need to rehearse? and I said No. It was a great experience which I will always remember, and I hoped there might be more!
The Buzz was sufficient to put us out there again, New York, Spain, Japan and 5 great years of touring I never could have imagined, so good to be back with them and Watt,too, whom I had met for the first time with Mascis and turned out to be a big fan of mine. We are now very good friends and besides touring together we have done recording sessions in LA, Brussels, and Dublin. (Check out "Steve Mackay, Mike Watt and ESTEL "Untitled Album").
S.M.:Of course Ron's death was a shock but we knew he had High Blood Pressure, just didn't expect to lose him so soon, he is terribly missed by us all, including his former bandmate James Williamson, who is now our guitarist. We have only played one show so far We have only played one show so far (Sao Paulo, Brazil 7 November, on youtube) but will be touring mostly Europe next Spring and Summer, go to Iggy and the Stooges blog on Myspace I will be doing an Irish Tour with ESTEL in February, and was fortunate enough to be requested by Pulp's Jarvis Cocker to play on the song "Homewrecker" on his new album. There will also be a Steve Mackay: The Radon Years compilation coming out next year, so am happy so much is happening.
I know I have written a lot here, but will eventually find its way into a forthcoming biography that I am working on with Loren Dobson, will also have disc of obscure and unreleased Blasts from The Past. I want to thank you and all the folks who have remembered me or only recently been fans of my and our music. Hope to come to Your Town soon
Punk Globe:Any last words for the Punk Globe readers?
S.M.:Thanks for the opportunity to tell you so much, hope we play So Cal next year, Coachella?
Punk Globe would like to thank Steve Mackay for the fun interview and hope you all go see Iggy and The Stooges when they lay your area next...