Sunday, a day of worship for many, and the STP Records regular show, at The Star and Garter in Manchester, UK on the last Sunday of the month gave followers of Spunk Volcano a chance to worship at the temple of the one-eyed woolly- headed beast! The venue for today's songs of praise extravaganza, and international event, being a public house and grade II listed building close to Manchester Piccadilly Station. I say an international event as support came in the form of Svetlanas from Moscow and Milan, and Choking Susan from Detroit.
The Svetlanas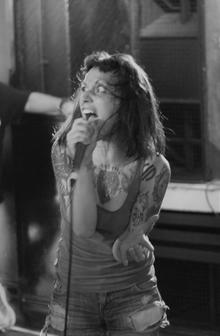 I arrived as pintsize frontwoman Olga Svetlanas was announcing 'Guys, we are the Sveltanas! Fuck Off!' and the introduction set the scene for an angry, aggressive, in your face performance from Olga, literally. Olga barefoot in denim shorts and a grey t-shirt was down with the audience in front of the stage staring out anyone who dared to make eye contact and wasn't afraid to stare down men twice as tall and at least times as wide! I don't think they would have dared to take her on anyway! Olga never stopped moving and made sure everyone in that audience got the force of her glare at some point. When she asked 'Do you like my band' the answer was yes. Were people bullied into submission? Probably not because anyone who didn't like the band was free to go downstairs to the bar. With hard, fast and aggressive songs reminiscent of Motorhead/GBH/The Exploited what was not to like anyway! A really entertaining opening act and the show ended as it began with an aggressive outburst from Olga 'If you don't like us you can go fuck yourself' well we could but not until after the next two bands!
Choking Susan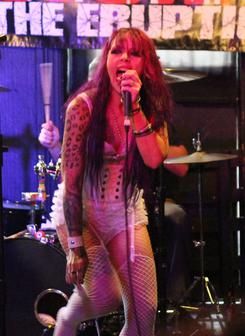 Next up came Choking Susan from Detroit fronted by Colleen Caffeine who, in white stockings but no shoes, white frilly knickers and waist clincher with masses of purple hair made an impressive sight. Waving a white ribbon she seemed almost fragile compared to Olga until she mimicked wiping her ass with the ribbon and threw it into the audience. Songs reminded me of Sham 69, Ed Banger and The Nosebleeds and Hazel O'Connor. Colleen was dancing seductively, posed with an audience member for a selfie, did a crab (the gymnastic move) and although they must be a generation apart she reminded me of Lauren Tate from Hands Off Gretel. Choking Susan another good Punk Rock band, same genre yet completely different in style and delivery to the previous band. Two bands down leaving (the one eyed) one to go.
Spunk Volcano
Choking Susan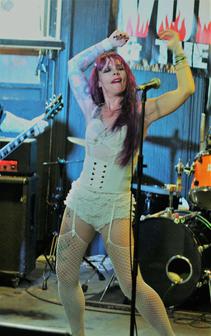 Spunk Volcano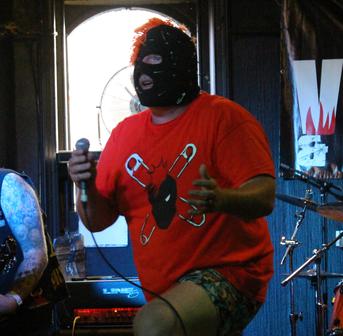 I didn't know where to look when Spunk Volcano erupted onto that stage in a bright orange Spunk t-shirt and a pair of, marvel underpants which were so tight they left little room for any volcanic activity! I kept my eyes firmly fixed on that orange mohawk! With a shout of 'We are Spunk Volcano and the Eruptions and you are The Shit Generation!' the show got underway, we could have taken offence at that remark but Shit Generation was actually the title of the first song. With a new album due to be released at Rebellion festival the following week and several releases already under their belts there was plethora of songs to choose from. They played mainly older songs with only a couple of tracks off the soon to be released album. Love songs like Sellotape and Can't Stop Thinking About You were mixed in with hard hitters like Ram Raid and Crossfire with Spunk's usual comic observations, such as when an audience member did a stage dive Spunk quipped that it was the most impressive stage dive he'd ever seen as it takes pure guts to dive into an empty space! I picked up elements of The Buzzcocks, UK Subs and not surprisingly Dirt Box Disco (three members of the band including Spunk are also in Dirt Box Disco) along the way. The set finished as it started, well nearly 'We've been Spunk Volcano and the Eruptions and You're the Bastard' again You're The Bastard being the title of the short and sweet, Motorhead fast song from the new album Not Wired Up Right and despite a few shouts for more it was time for us Shit Generation of Bastards to head home! I've seen Spunk Volcano and the Eruptions a few times now and they just get better and better. All in all three great bands for £5.00 and I would definitely recommend seeing any of them if you get chance.
Links:
Spunk Volcano and The Eruptions:
Choking Susan:
Svetlanas:
STP Records:
Spunk Volcano
The Svetlanas