I have known Sppike Mike for a couple years now he was a Special Guest and the band played the Whatever68 5 Year Festival,he and the whole band are supportive to the whole music scene,they also played another show for me that rocked as good as the festival they are fun and talented putting on an awesome show go see them live if you can and go check them out on social media.
Hi Guys and thanks for taking time for the interview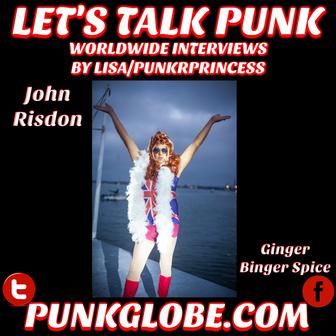 PUNK GLOBE: Tell us the current band line up and how you came up with Spice Pistols
Spice Pistols:(Sppike Mike AKA Hairy Scary Spice) Hi Lisa!! Thanks for having us!! Spice Pistols came about because of my big fat hairy belly.And because of the myth that you have to be young and thin to be a successful musician and get paid.I was on line one night chatting with a couple women friends who are musicians and suggested they start a band. Then I said " you girls could do Spice Girls song Sex Pistols style!!" and one of the girls said " screw that I'd never even listen to their songs let alone play them" and I said " well f$%k you guys then I'll do it in drag!!" mostly as a joke but then I had the vision!!! You know where you see a person get that crazy look in their eyes and you can't talk them out of their idea? Yeah it's been like that. Then I shared the idea with no less than 20 musician friends and I realized I had to do it. The current lineup is:John Risdon AKA Ginger Binger Spice on vocals, Mike Viejo AKA Shorty Sporty Spice on drums, James Hughes AKA Slosh Posh Spice on lead guitar, Michael Fairchild AKA Maybe Baby Spice vocals and guitar and my Sppike Mike AKA Hairy Scary Spice on bass.
PUNK GLOBE: What are the long term goals for the band?
Spice Pistols: We simply want everyone to wear fishnets and not be weird about it.Seriously though. We are currently recording our first record which will be 8 songs. 4 Sex Pistols Covers 3 Spice Girls tunes and one original. I'm inviting a few celebrity friends to be on the record but that's all hush hush until the record comes out sometime around the later part of the year. Then we'll begin writing and publishing our comic book series about the band and its characters. We want to tour extensively and are generating some interest from some management and production companies who I cannot name at this time. Our goal is simple. To make a living playing music.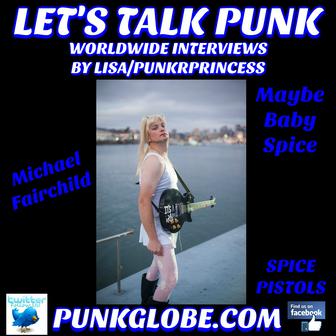 PUNK GLOBE: Tell us about some of the shows you have played
Spice Pistols: Our First show was at The Whatever68 Radio 5 year anniversary and which was an incredibly good time with tons of great band and we all got to meet and make some new friends as well and hang out with old ones. Then we played at The Casbah and they fell in love with us!! Our video from that night had over 3000 hits in the first 12 hours. Next we played the Whiskey A Go Go in Hollywood and filmed that show. There will be a full production video coming out soon with clips from that show. Then we came back to the Bancroft Bar and played at their new Drive Through Stage. Then Back to The Whiskey A Go Go who called us to fill a vacated spot opening for Agent Orange.
PUNK GLOBE: Who writes the songs, what are they about?
Spice Pistols: We cover Spice Girls songs Sex Pistols Style but also play Sex Pistols songs but in our interpretation. The initial idea was to do a couple Sex Pistols tunes Spice Girls style too but we just can't sing like that so we do em PUNK ROCK!!! We are writing originals and will be bringing in a tune or two from time to time to compliment the act and will at some point release a record with nothing but originals.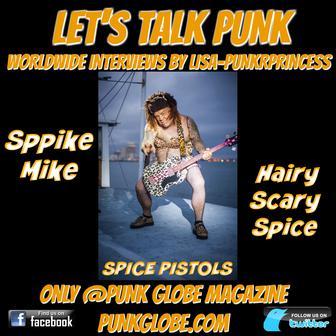 PUNK GLOBE: Describe your show, visual and musically
Spice Pistols: Visually you simply can't UNSEE one of our shows. We work in conjunction with the car to offer a special drink called EYE BLEACH. It's basically a long island ice tea with no sweet and sour and an extra shot of rum. All you will know after a couple of those is that you were there. Just trust us when we tell you that you had the time of your life the next morning. Musically? Your heart will be racing and you'll be unable to not jump in the pit!! What we offer is both visual and musical entertainment. This act is all about having fun and lots of it.
PUNK GLOBE: Please describe your music scene
Spice Pistols: "our scene" is us. Come to a show and find out.
PUNK GLOBE: Is there anything you feel promoters and venues can do to improve the music scene?
Spice Pistols: Always. Never ever settle for what's been established. First of all the pay to play mentality is straight BS. We, the musicians, the performers, are working our ass off for years to perfect and develop something that is entertaining. We spend hours and days and tons of money to do this for the love of the art. And you expect us to spend more going out and doing your job selling tickets? Screw that. I understand that promoters need to make money too but here's the deal. The promoter makes money off the door. The bar/club makes money off the bar. It's the promoter and the bars' responsibility to get people through the door. And if the promoter can't make enough money doing that it's not the entertainers fault. I personally won't do play to play. I am the change. You should be too.
PUNK GLOBE: Who are some of you favorite local bands?
Spice Pistols: Parade of Horribles, Civil Satans, RevoltChix , The Scatter Bombs, The Schizophonics, The Basics, Buck Fast Super Bee, Red Eye, Taken By Canadians, Mrs Henry, League OF Liars, Captian Viejo,
PUNK GLOBE: Any favorite venues?
Spice Pistols: Casbah, Belly up, Bancroft, House of Blues, Whiskey A Go Go,
PUNK GLOBE: Do you guys have any other hobbies besides, obviously, making music?
Spice Pistols: My life is incredible. I not only get to play music with a ton of amazing people but I also get to build Hot Rods for a living.
PUNK GLOBE: What/who inspires you?
Spice Pistols: A lot of the inspiration for this band comes from the lives of the LBGTQA community. Though none of us are LBGTQA we all have personally known members of this community and have compassion and deep respect for what they go through just to be who they are. We consider ourselves ally's
PUNK GLOBE: Where can we find you before and after your performance?
Spice Pistols: In the dressing room attending to our make up and costume
PUNK GLOBE: Any tours in the future?
Spice Pistols: Yes, we are looking at a southwest tour in the early part of 2018 and hope to expand it into the northwest shortly thereafter.
PUNK GLOBE: Any upcoming shows/events you want us to know about?
Spice Pistols: September 2nd at DiPiazzas in Long Beach opening for Mike Watt and the Secondmen
Then November 18th at The Bancroft in Spring Valley Ca with Schizophonics , Red Eye and Captain Viejo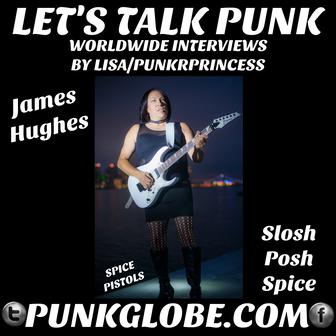 PUNK GLOBE: How do you promote your band and shows?
Spice Pistols: We go old school a lot. We post fliers in the hundreds weeks and days before shows. We use social media as well as go out to other bands shows and promote in person. It's easier to ignore me on social media than in person
PUNK GLOBE: Tell us where on social media can we find you?
Spice Pistols: www.spicepistols.com www.facebook.com/spicepistols on twitter @spicepistols and on instagram
PUNK GLOBE: Any shoutouts you would like to give?
Spice Pistols: Bart Mendoza for sure. Definitely given us some critical guidance. Tim Pyles at 91X radio for giving us a chance on 91X Loudspeaker and breaking the rules by having us on even though we're primarily a cover band. And to Lisa Monday Gomez at Whatever68 Radio.
PUNK GLOBE: Thanks for the interview and the continued support to me,WE68 and the whole music scene