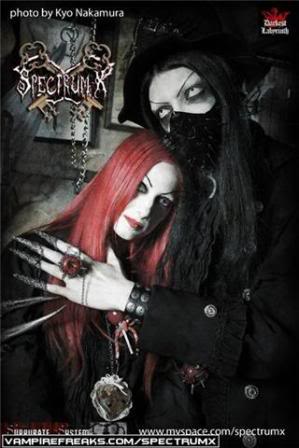 Seasons greetings, you stocking sickos! Look what I have here in my fur-trimmed bag of goodies! Just recently, I was granted an irresistable opportunity to interview with the musical underground's own clockwork couple: Nullifer and Candybones of Spectrum-X. I got to sit with them beside a roaring fireplace on a freezing November night. As Null was hanging plastic skulls and colored bulbs on the Christmas evergreen and Candybones baked some gingerbread men in the oven, I got to find out the duo's fascinating origin as well as the secrets behind their first two albums, TEA PARTY WITH ZOMBIES and DARKEST NIGHT EVER.
Punk Globe: Okay now let's start things off with the obvious question: How did you two meet?
CANDYBONES: There are people that are meant to be together. Nothing can stop that...Let's go back to 5 years ago. Nullifer and I were an ocean away from each other. I livingi n italy, he was living his life in the USA...We didn't even suspect of the existance of each other. One day, my email address stopped working. I can't explain why...it was just strange. Every email friends were trying to send me was empty except with a single word in the body message: NULL I was kind of scared, I just thought it was some kind of email error...After about 1 month, my email started working again. I used to write on this gothic industrial forum, but I wasn't really in contact with anyone, until this guy from the USA sent me a message. He saw my picture and my writings...he just told me he was impressed by me - signed NULL. Everything started from there. We fell in love after 3 months chatting of daily chatting. We had same ideas, same dreams and more, like we were meant to do something together, something important. Nullifer saved all the money he could, bought a plane ticket to italy and came to visit me. We have been together, inseparable and in love from that day!!!!
Punk Globe: Before forming the demented union known as Spectrum-X, did either of you play in other bands?
Punk Globe: Where did the title SPECTRUM-X come from?
NULLIFER: Spectrum-X means "the ghost without a name." It's a creature we met that became a part of us.You can feel his suffering, his madness, his nightmares floating around inside our songs. Our life is full of episodes where spirits and ghosts appeared someway, somewhere..We have tea with them. We are obsessed with tea parties, you probably already know that! Funny thing is...we absolutely do not take drugs and are never drunk. I can't stand alcohol actually. So, is it all real!!! Or are we just insane?? You decide!
Punk Globe:Both TEA PARTY WITH ZOMBIES and DARKEST NIGHT obviously came from your fanatic love for horror films and Grimm fairy tales. But can you name any particular artists that had influenced and shaped your sound?
NULLIFER: No one. Only spirit that scream in your darkest nightmare, or shadows of people that don't exist walking through the roads of ancient medieval towns inspire us. Obscure fairytales that we tell each other before sleeping every night, became our songs...I can tell you the name of a great german artist that we love and we think has the same feelings of us..even if his music is different from spectrum-x... Sopor aeternus...maybe he is the only one that kind of "inspired us."
Punk Globe: Will there ever be a Trauma Factor CD in the horizon?
Punk Globe: How did you first meet up with Kiwamu, your 3rd collaborator and the founder of Darkest Labyrinth?
NULLIFER: One of our fans in that country suggested us a japanese record label. We wrote to them, Kiwamu kindly responded and a good friendship started. He believed in us from the beginning. It's a pleasure to work with such a polite, nice and serious person. 100% professional in his job, and we love that.
Punk Globe: Tell us a little bit about another punk industrial artist you remixed with, DJ Chihiro and Vanished Empire, if you can?
CANDYBONES: Chihiro is avery good artist. he is also ashy, nice person, like almost all japanese people we met. He will go far!
Punk Globe: Here's an interesting question I have to ask: EVER THOUGHT ABOUT MAKING A CHRISTMAS ALBUM?
NULLIFER: ahahahah!!! why not? You mean singing christmas songs in our own personal way? :D
Punk Globe: Any final words for the Punk Globe readers?
NULLIFER & CANDYBONES: NULLIFER & CANDYBONES: We will come to eat your dreams. Make sure your closet is well locked every night before sleeping.. The ghost without a name knows your name.